U.S. Tests First Hypersonic Glide Body, Challenging Russia's Advanced Nuclear Weapons Lead
The United States has tested its first hypersonic glide vehicle, challenging Russia's lead in advanced weapons it, too, has been developing for years.
The U.S. Navy and Army, monitored by the Missile Defense Agency, announced Friday that they jointly conducted the launch of "a common hypersonic glide body (C-HGB), which flew at hypersonic speed to a designated impact point." The flight experiment took place Thursday at the Pacific Missile Range Facility in Kauai, Hawaii, and a Pentagon readout said it "will inform its ongoing development of systems designed to defend against adversary hypersonic weapons."
The U.S. military said it has a "goal of fielding hypersonic warfighting capabilities in the early- to mid-2020s." Lead vehicle designer Vice Admiral Johnny R. Wolfe, director of the Navy's Strategic Systems Programs, said Thursday's test built upon a previous flight experiment in October 2017.
Earlier that year, Russian President Vladimir Putin unveiled an arsenal of nuclear-capable, hypersonic and state-of-the-art weapons that included a boost-glide vehicle called Avangard. Moscow has claimed it could travel up to 27 times the speed of sound, though some in Washington and the Pentagon have shed doubts about this.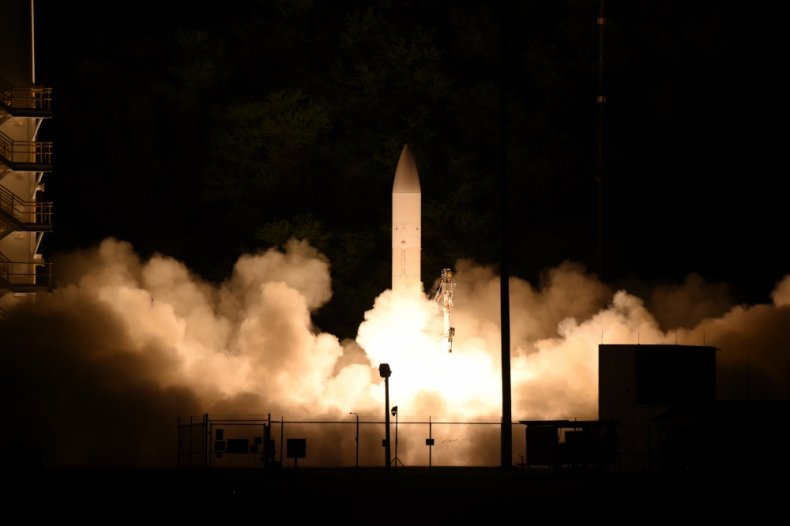 Still, the Russian leader has touted having outpaced the U.S. in nuclear missile technology for the first time in history. Putin's stated motivation for investing so heavily in these weapons is maintaining strategic stability after the U.S. withdrawal of arms agreements such as the Anti-Ballistic Missile (ABM) Treaty that paved the way for the development of for defensive systems off Russia's borders in Europe and Asia.
"While developing their anti-ballistic missile system, the Americans wanted to upset this strategic stability and balance thinking that if they created a missile defense umbrella, then the other side wouldn't be able to respond adequately if they use nuclear weapons," Putin told the state-run Tass Russian News Agency earlier this month.
"However, after having developed these modern [hypersonic] systems, including those which easily evade any anti-missile ballistic system, we maintain this strategic stability and strategic balance. It is essential not only for us, but also for global security," he added.
A Pentagon spokesperson told Newsweek in November that "the United States has been the world leader in hypersonic system research for many decades" but, "Those who sought to be our adversaries have decided to weaponize it, which has created a warfighting asymmetry that we must address."
Defense Secretary Mark Esper told the Senate Armed Services Committee earlier this month that developing hypersonic weapons was "one of our top priorities." He said the U.S. was "doing very innovative work in that field and I will tell you it's more innovative than what's coming out of Russia or China."
Asked by Maine Senator Angus King about a "gap in the fence" between the hypersonic capabilities of Russia and China and those of the U.S., Esper said the Pentagon was working on defensive measures such as a low Earth orbit missile tracking system to monitor potential launches. Joint Chiefs of Staff Chair Army General Mark Milley noted that "there is no defense against hypersonic, it goes five to ten times the speed of sound." The answer, he said, is to become "invisible" in terms of evasive techniques.
The speed and maneuverability of such hypersonic platforms make them nearly impossible for existing defense systems to intercept them.
In January, the Defense Advanced Research Projects Agency (DARPA) awarded aerospace and defense company Northrop Grumman a $13 million contract to work on its Glide Breaker program, which set out "to develop and demonstrate technologies to enable defense against hypersonic systems."
This is a developing news story. More information will be added as it becomes available.