U.S. Will Ignore Kim Jong Un's End of Year Threats After North Korea Conducts 'Crucial' Weapon Test
The U.S. special envoy for North Korea has dismissed Kim Jong Un's end-of-year deadline to resurrect talks on denuclearization and sanctions relief, even after Pyongyang conducted a new "crucial" weapons test over the weekend.
Stephen Biegun spoke with reporters Monday after meeting with South Korean President Moon Jae-in in Seoul, Reuters reported.
"Let me be absolutely clear. The U.S. does not have a deadline," Biegun said. "We have a goal to fulfil the commitments the two leaders made during their historic summit meeting in Singapore."
Negotiations remain stalled with the two sides unable to deliver on the joint pledge from President Donald Trump and Kim to work towards denuclearization on the peninsula. As 2019 draws to a close, Kim's ultimatum has raised concerns that the North may conduct a significant weapons test, smashing the detente with Washington.
Biegun said the Trump administration was "fully aware of the strong potential for North Korea to conduct a major provocation in the days ahead." He continued, "To say the least, such an action will be most unhelpful in achieving lasting peace on the Korean peninsula."
This chart below, provided by Statista, showing a significant uptick in North Korean missile tests in the past 12 months.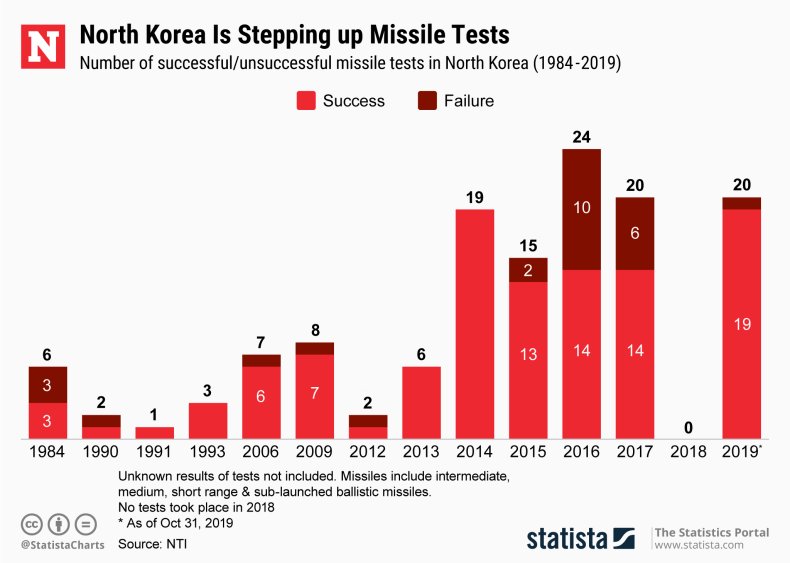 Trump still sees North Korea as a significant foreign policy success, having made history in his three meetings with Kim. But little of note has been achieved, even if the two men are no longer engaging in personal insults or threatening catastrophic conflict.
Trump has been happy to overlook the North's short- and medium-range missile tests, which have accelerated to near-record levels in 2019 after none were conducted in 2018.
The president has described such launches as "very standard," though his own senior aides and regional allies have disagreed.
Pyongyang has also reverted to its characteristically belligerent rhetoric, repeatedly warning Washington of serious consequences if the U.S. does not propose a "new path" to break the negotiating deadlock. Biegun described such threats as "hostile and negative and so unnecessary."
The administration remains publicly confident that a deal can be done, despite bombastic statements and regular weapon tests from north of the border. "Let me speak directly to our counterparts in North Korea: It is time for us to do our jobs," Biegun said Monday. "Let's get this done. We are here. And you know how to reach us."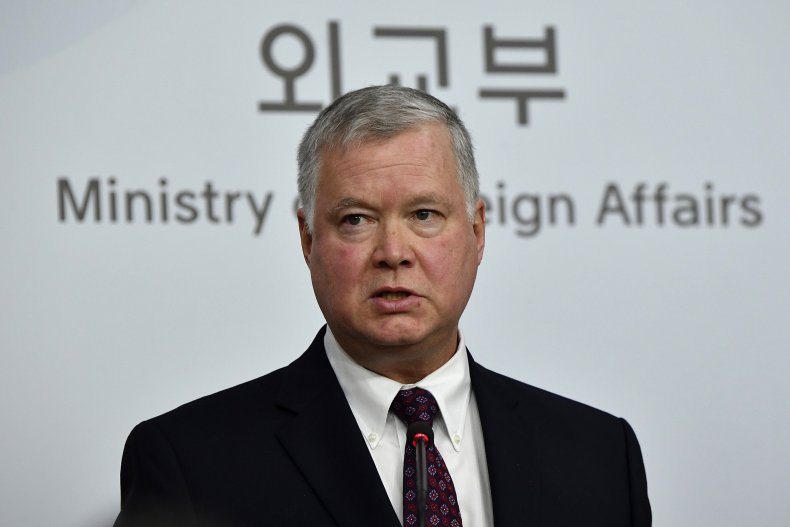 Biegun's comments came soon after the North conducted what is called a "crucial test," without elaborating on what it entailed. The state-run Korean Central News Agency said the test would strengthen North Korea's "reliable strategic nuclear deterrent," CNN noted.
Last week, Pyongyang said it had carried out a "very important test." Both took place at the Sohae Satellite Launching Ground in the northwest of the country, prompting speculation that the trials may have involved long-range missiles or a space launch vehicle.