With U.S. Isolated to Kabul, Afghan Interpreters in Other Regions Could Be Left for Dead
The United States has now evacuated over 104,000 civilians from Afghanistan since August 14, according to numbers offered by General Kenneth F. McKenzie Jr. during the Pentagon's Thursday briefing.
Although the number of evacuated has reached more than 100,000, some U.S. military members have said they are finding that the Afghan interpreters they'd formerly worked with and have offered to help emigrate are getting few answers on when they may be evacuated from the region, especially those outside the city of Kabul.
Taliban spokesman Zabihullah Mujahid has declared that the group is "not in favor of allowing Afghans to leave." Subsequently, the Taliban has blocked off roads and now exerts influence over the perimeter of the Hamid Karzai International Airport. For those allies left in the country, a U.S. declaration of support might be the only avenue left for them to escape an uncertain fate under Taliban rule, according to some military members.
"If you're in a city that's held by the Taliban that doesn't have any Americans, which is every city but Kabul, they're going door to door and disappearing people," Matt Zeller, a veteran Army captain who served during the Afghanistan war and started the nonprofit No One Left Behind which supports efforts to settle American military allies in the U.S., told Newsweek. "Anybody who's been killed right now was an American ally of some type."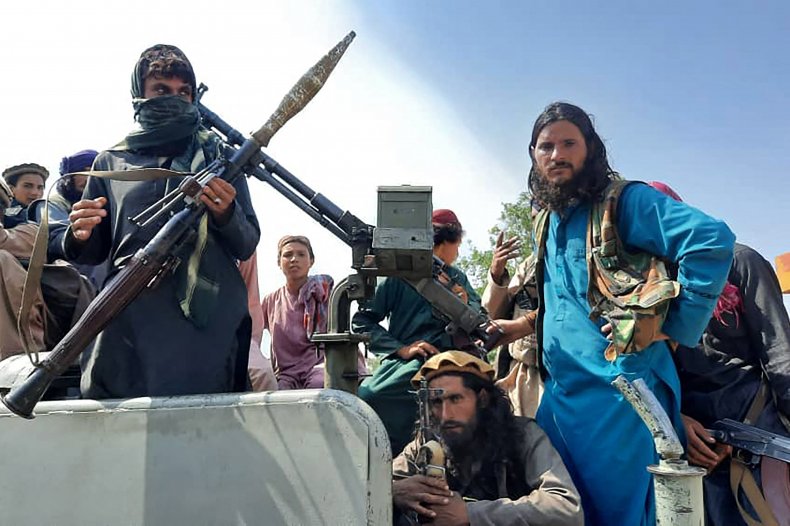 Zeller said seeing this situation play out hurts him deeply because he knows how important Afghan allies are to the United States military. Afterall, his own interpreter saved his life.
During a battle 13 years ago in Afghanistan, Zeller's interpreter Janis Shinwari shot and killed two Taliban fighters who were moments away from taking Zeller's life. "I made him a solemn promise that if I could repay that life debt, all he had to do was ask." About a year after Zeller got home from the war in 2009, he received a call from Shinwari.
Shinwari told him a bounty had been placed on his head because of his support of America's armed forces. Zeller gladly told him he would do everything in his power to facilitate Shinwari receiving a special immigrant visa (SIV) and safe entry into the United States. "Naively," Zeller thought the process would take about six months, at worst a year. It didn't take long for him to discover he'd been sorely mistaken in his estimation.
Shinwari waited four years with a bounty on his head to receive passage. One day, he called Zeller and said he was getting laid off because the military base he worked for was being returned to Afghan forces. The Afghan military didn't need interpreters, and Shinwari said he was told by the army he'd be killed or handed to the Taliban because they suspected interpreters like him were American spies.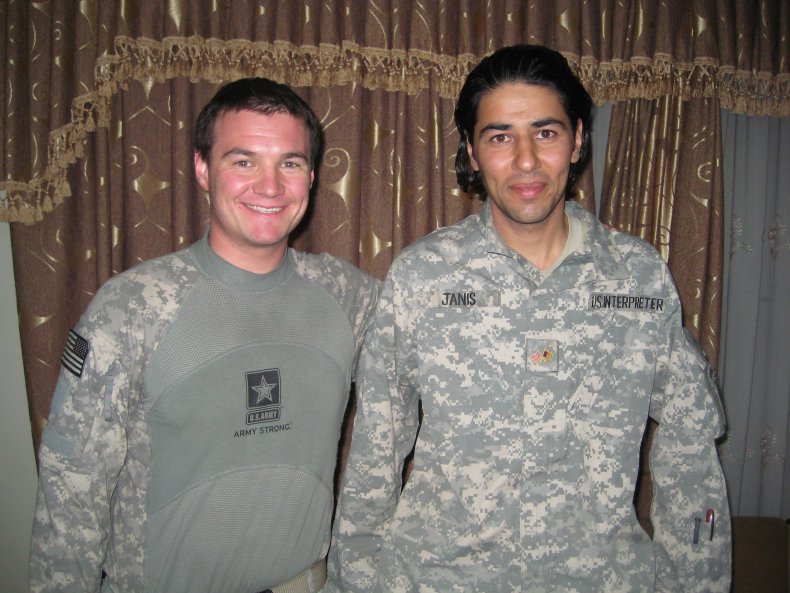 Zeller called news outlets and members of congress, eventually earning Shinwari's passage. Shinwari put his entire life in a less than 50-pound bag, and boarded a flight to the U.S.
Not long after getting settled, Shinwari was dealt one of his first lessons on the uniquely American aspects of U.S. culture on Halloween night. Suspecting the trick-or-treaters were impoverished child "beggars," Shinwari handed out nearly $500 in one-dollar bills to the kids knocking on his door. "You never told me you had so many beggars in America," he said to Zeller, and "why are they wearing such funny clothing and only asking for candy?"
Despite being almost broke, Shinwari supported the children because he suspected they needed the money more than he did. Fortunately, Zeller and Shinwari's story had attracted the attention of CBS which helped the duo raise roughly $38,000 for Shinwari's GoFundMe resettlement fund. Zeller had come over that night to give Shinwari his first check but when Zeller gave it to him, he considered taking the cash for "maybe half a heartbeat."
"Don't [the other interpreters] deserve to be here too?" he asked Zeller. "Can we use this money to start an organization to do for them what you've done for me?"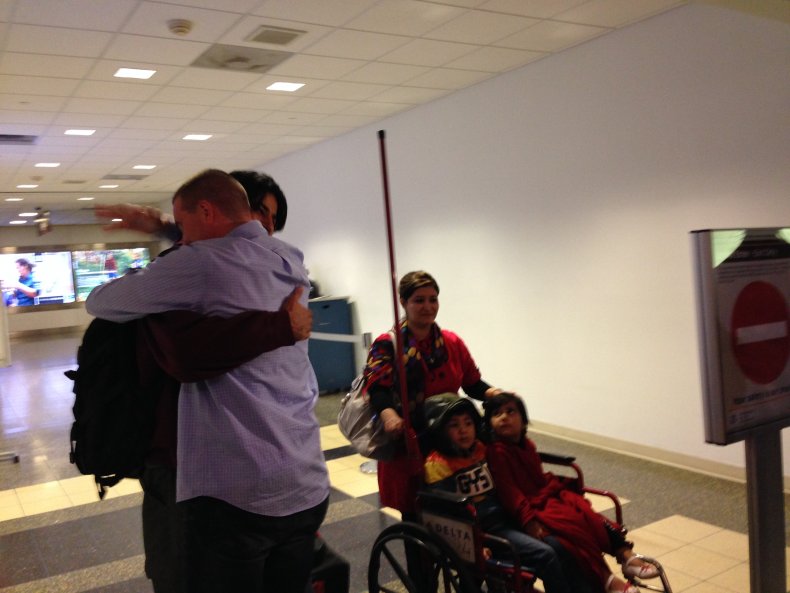 No One Left Behind was born out of that conversation and today the group finds itself as busy as ever. The NGO has helped settle roughly 50,000 people, supported them in getting their visas, furnished their homes, and integrated them into American life. Right now, they're working to coordinate private airlifts but have found getting those allies trapped in areas outside of Kabul to be a nearly impossible task. Zeller has personally tried to facilitate the evacuations of 18 allies who could face death if they cannot get out of the country. So far, despite making media appearances and calls to the government, his efforts have not brought them safe passage.
The brother of U.S. Army Officer Matt Stevens' former interpreter faces a similar situation.
Stevens, who continues to serve in the Army, toured Afghanistan from fall 2017 to spring 2018. He supported the efforts to get his interpreter's visa processed, helping him secure entry to the U.S. in 2019. However, that interpreter was not allowed to bring his brother with him, who also served the military as an interpreter and paid the ultimate price.
This individual, whose identity has been kept private to ensure his safety, has been waiting to get his visa since January 2014. He would later lose his left leg from an explosion in the line of service. Despite finishing his vetting interview in 2015, he has waited six years since to gain entry, Stevens said.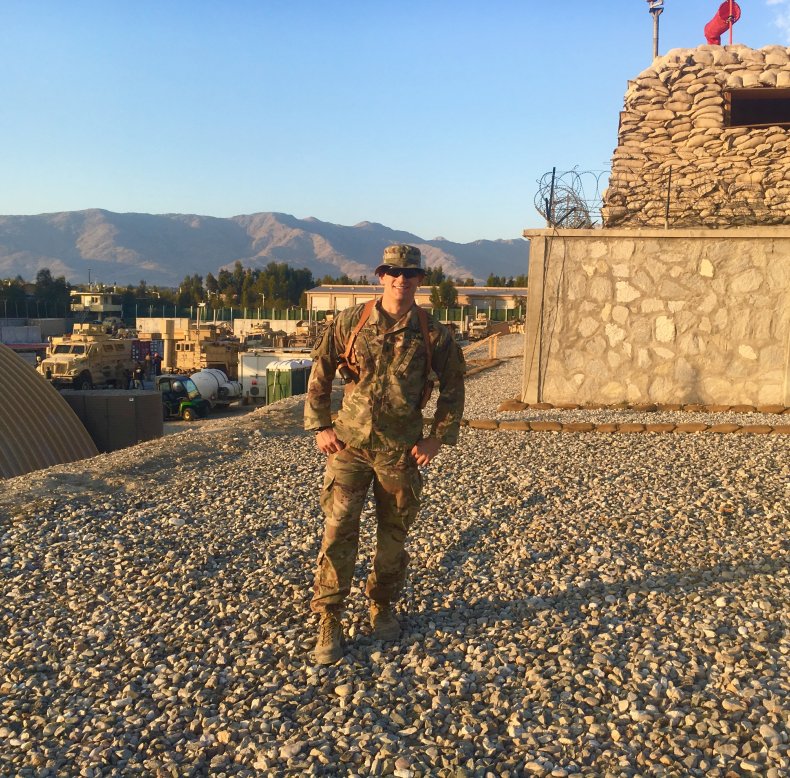 Because he is disabled and must protect his wife and four children, he has not made the four-hour trip to Kabul due to safety concerns surrounding his lack of a formal visa and the fact that the Taliban knows his identity. He told Stevens as long as he does not have instructions or paperwork from the U.S. Embassy, he essentially has nothing. For him, the risk-reward ratio of traveling to the city along Taliban-controlled highways does not weigh in favor of making the trip, unless he receives approval of his visa from the United States.
"This guy literally put his body on the line and his life on the line with us out there, almost didn't make it back, and now what, we're having trouble getting the whole thing actually processed? Come on now," Stevens told Newsweek.
Stevens said he has called his Senators, congress people, and been in touch with the U.S. State Department. He's yet to hear of any developments.
On Thursday, Stevens said he drove an hour and a half to the State Department field office in Greensboro, North Carolina only to find the lights off and the doors locked. He said he rang the doorbell and called the phone number, but got no answer. It wasn't until the following day that Stevens heard back, being told the office was carrying out a criminal enforcement operation. He said he was subsequently referred to general avenues through the State Department where he could check on the inquiry. So far, the situation has not changed, according to Stevens.
As the Kabul airport now faces ISIS attacks and President Joe Biden faces greater pressure from the Taliban to be out by August 31, the window out of the country appears to be closing. Stevens isn't sure if his former translator's brother will make it through that gap.
"You call [your interpreter] brother, you tell them 'I trust you,' you ask them how their family are, you stay in contact with them after you get out, and now I'm in the position where I have an email drafted in my account right now that's basically an apology letter," he told Newsweek. "I feel like my government has made a liar out of me, and that really hurts."