U.S. Man Escapes Bali Prison After Cutting Through Ceiling's Steel Bars
Two American men attempted to flee a Bali prison on Monday. One, 57-year-old Paul Anthony Hoffman, was captured. The other, a 32-year-old identified as Chrishan Beasley on his mugshot, managed to escape and is wanted by Indonesian police.
Authorities believed the pair managed to cut through steel bars above the ceiling and scale the prison's 20-foot-high wall with a ladder that was used in a construction project.
Read more: After breaking out of prison in Bali, the first thing Christian Beasley did was to find his mother
"It is thought that the prisoner escaped ... by cutting through the steel bars above the ceiling," local police chief Yudith Satria Hananta said in a statement quoted in Reuters, without adding details of how the escape went undetected.
Hoffman, who was serving a 20-month sentence for robbery, was caught soon after he jumped the wall after the pair was spotted by a worker at a women's prison construction site nearby.
"The construction worker caught Paul, but Beasley managed to escape," Kerobokan chief warden Tonny Nainggolan told The Jakarta Post, adding that prison officials were coordinating with the police and immigration authorities to find the fugitive.
An investigation into whether Beasley received assistance from prison guards also was underway, Surung Pasaribu of the local office of the Law and Human Rights Ministry told the Associated Press.
Beasley was imprisoned on drug-related charges after he was caught carrying 5.7 grams of hashish in a post office. He appeared in court last week and was awaiting sentencing, with the next trial session scheduled for Tuesday.
It's unclear what sentence Beasley faced, but Indonesia has some of the strictest drug laws in southeast Asia. Punishment for drug-related charges depends on the quantity and the type of the substance. For possession of hashish, people risk between four to 12 years in prison, and fines from roughly $90,000 to $896,000. Those sentenced for drug trafficking could face life imprisonment or even a death sentence.
President Joko Widodo has been carrying out a "war on drugs" that's left at least 60 people dead as a result of extrajudicial killings in the first nine months of 2017, according to Amnesty International.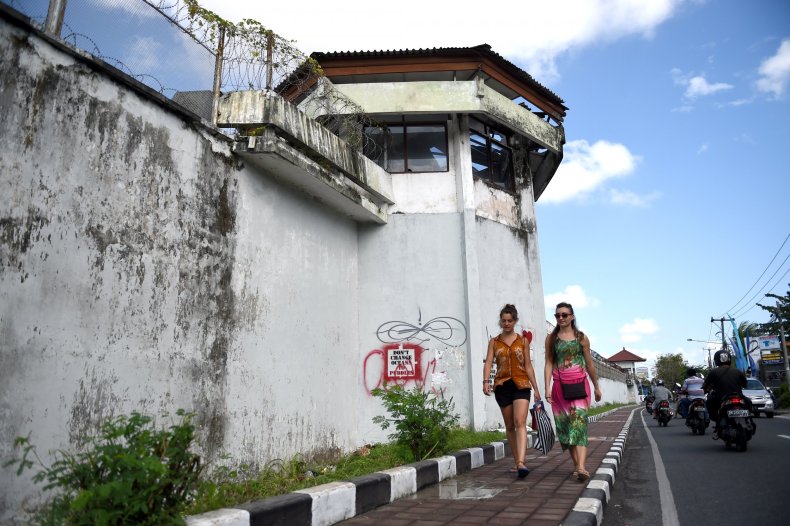 Bali's Kerobokan prison lies less than 5 miles away from the island's popular Kuta area, a tourist and surfing hot spot. The prison was built in 1979 to contain just over 320 inmates, but it holds more than four times that number at any given time, ABC News Australia reported earlier this year, and is notoriously understaffed.
Beasley's escape marked the second successful prison break in Kerobokan this year. In June, four other foreign prisoners staged a jailbreak, digging a 13-yard tunnel under the prison walls.
Two of the inmates, Indian citizen Sayed Mohammed Said and Bulgarian citizen Dimitar Nikolov Iliev, were later caught in Timor-Leste and returned to Bali. Australian inmate Shaun Edward Davidson and Malaysian Tee Kok King are still at large.