Militarization of Police: U.S. Law Enforcement Has $1.9 Billion of Army Equipment at its Disposal
Police forces in the United States have received around $6 billion worth of hand-me-down weapons and vehicles from the U.S. military in the past 18 years.
The items fall into two categories: controlled (weapons, vehicles, drones) and uncontrolled (office supplies, laptops, tools). According to figures from the Rand Corp., Department of Defense items held by law enforcement agencies (LEAs) in the U.S. today have a cumulative value of $1.888 billion.
The majority of products fall into the uncontrolled category ($1.2 billion worth). Of the LEAs to receive items, 2,790 were state or local, 174 were federal, and 22 were tribal.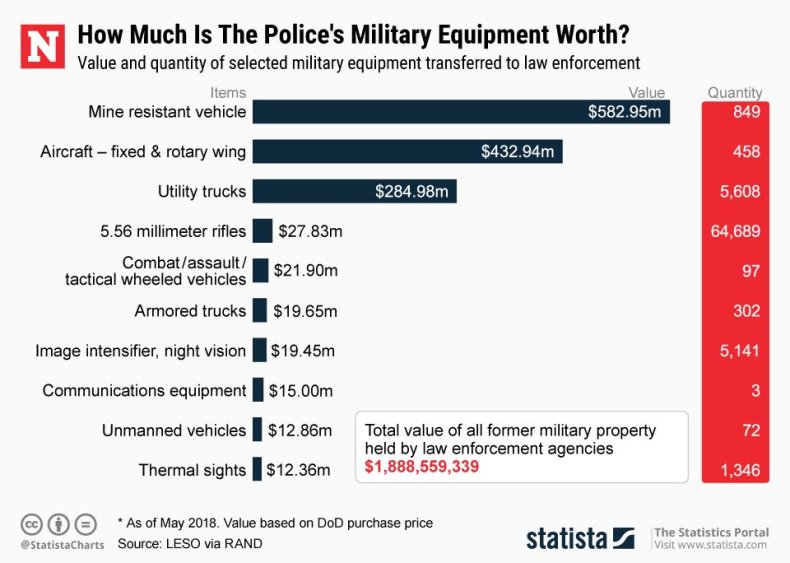 According to Statista, some of the most expensive items transferred to LEAs include:
Mine-resistant vehicles: There are 849 across the United States, with a value of $582.95 million;
5.56 millimeter rifles: Just under 65,000 in circulation, worth $27.83 million; and
Aircraft (fixed and rotary wing): 458 in circulation, at a value of $432.94 million.
Between 2014 and 2016, 268 LEAs were suspended from the program; 24 have been expelled. The most common reasons for suspension and termination include missing weapons and a lack of compliance.
Despite this, Rand recommended the program continue as it is. "We find that the Law Enforcement Support Office program is professionally managed, with some recurring issues, but overall there is appropriate attention to managing to congressional intent," the report states.
The United States has the most powerful military in the world, with a budget of $587.8 billion. It includes more than 2 million soldiers, 13,762 aircraft, 5,884 tanks and 70 submarines.
The next closest military force is Russia, with a budget of $44.6 billion. Its forces include 3.4 million soldiers, 3,794 aircraft, 20,216 tanks and 63 submarines.