U.S. Military 'Ready to Fight' Even as Joint Chiefs in Quarantine, Trump Sick with COVID-19
The Pentagon remains prepared to take on adversaries and U.S. military readiness is unaffected, even as the country's defense leadership is placed in quarantine and the commander-in-chief is sick with COVID-19, U.S. officials told Newsweek.
Amid concerns for national security as the coronavirus disease swept through Washington, affecting defense chiefs, lawmakers and White House officials, including President Donald Trump himself, a senior U.S. intelligence official told Newsweek that the Pentagon's ability to respond to threats remained robust.
"As in any issue of national security situation or threat to the United States, our military forces are prepared and ready to fight any enemy, seen or unseen," the official said.
Recognizing the danger of the illness, however, he affirmed that the Pentagon had long been following protocols as outlined by the Centers for Disease Control and Prevention (CDC), scientists and the military's health and safety experts, "with an understanding that with any single member of our military and civilian force impacted by COVID, our readiness and ability to carry missions across the globe and to defend the security of our homeland, would be degraded."
Measures taken included social distancing, wearing masks or other face coverings, limiting the number of personnel in attendance at in-person meetings, and developing alternative work schedules. These steps, the official said, "were key in the success of avoiding outbreaks throughout installations around the US and the globe."
Extensive physical changes were also made to defense facilities, he said.
"Additional measures including the installation of plexiglass dividers in office spaces, daily symptom screenings, and restriction of non-essential movement have also been vital for our safety and readiness," the official added.
And yet despite these precautions, news emerged Tuesday that the most senior echelons of U.S. military leadership would self-isolate after Coast Guard Vice Commandant Admiral Charles Ray contracted the novel coronavirus disease.
"We are aware that Vice Commandant Ray has tested positive for COVID-19 and that he was at the Pentagon last week for meetings with other senior military leaders," Pentagon spokesperson Jonathan Hoffman said in a statement sent to Newsweek. "Some meeting attendees included other Service Chiefs."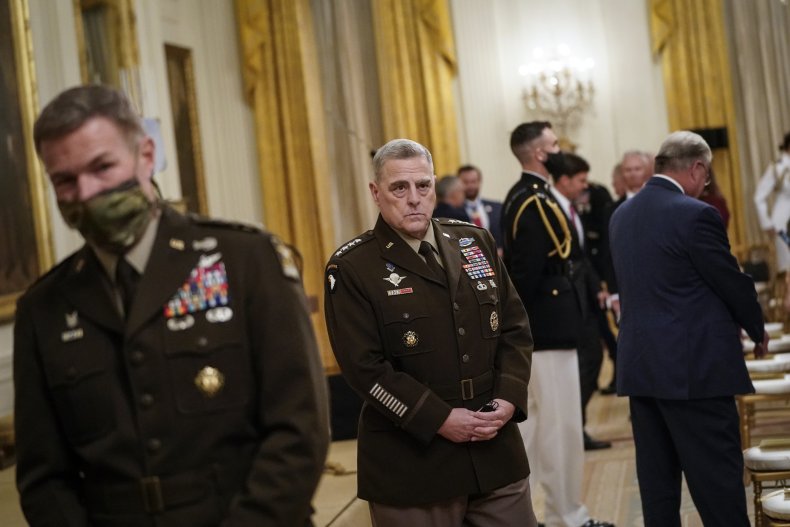 As a result, even more stringent steps were being introduced in an attempt to halt the further proliferation of COVID-19 among the top ranks of the U.S. military.
"We are conducting additional contact tracing and taking appropriate precautions to protect the force and the mission," Hoffman said. "Out of an abundance of caution, all potential close contacts from these meetings are self-quarantining and have been tested this morning. No Pentagon contacts have exhibited symptoms and we have no additional positive tests to report at this time."
He affirmed that the Pentagon's posture had not been affected and that officials had been following CDC protocols.
"There is no change to the operational readiness or mission capability of the U.S. Armed Forces," Hoffman said. "Senior military leaders are able to remain fully mission capable and perform their duties from an alternative work location."
"DoD has been following CDC guidelines since April with respect to temperature testing, social distancing, and the wearing of masks to the greatest extent when social distancing is not possible and will continue to do so," he added.
The Pentagon's adherence to CDC measures was further affirmed by Joint Staff spokesperson U.S. Army Colonel Dave Butler, who also argued there would be no security implications to the recent developments.
"The important thing here is that national defense is intact," Butler told Newsweek.
"Wherever these leaders are, they have full ability to command, control and direct forces in support of our national defense."
The measures come on the heels of a series of COVID-19 infections that hit the White House, including the president himself, along with his wife and several top aides. The president, the first lady and deputy Coast Guard commander, along with a number of other officials, were present at an event last Sunday commemorating the mothers of fallen service members, known as Gold Star families.
Among others in attendance was Army General Mark Milley, the chairman of the Joint Chiefs of Staff, one U.S. defense official confirmed to Newsweek.
While no conclusive link has been drawn between the gathering and the spread of COVID-19, experts say the timing of recent events indicated irresponsible decisions.
"Our Gold Star families are the best of us," Fred Wellman, senior adviser for veterans affairs with The Lincoln Project, a political action committee formed by Republicans who opposed Trump's reelection, told Newsweek. "They've sacrificed so much, and to find out that they were recklessly exposed to COVID by the president himself shows how little he truly cares about the military community."
After news emerged of his diagnosis early Friday, Trump was administered an antibody cocktail and transferred to Walter Reed National Military Medical Center, where he spent the weekend.
Since being released on Monday, Trump has continued to downplay the severity of the disease.
"I learned so much about coronavirus and one thing that's for certain, don't let it dominate you. Don't be afraid of it. You're going to beat it," Trump said in a video address on Monday.
"Don't let it dominate," he said. "Don't let it take over your lives."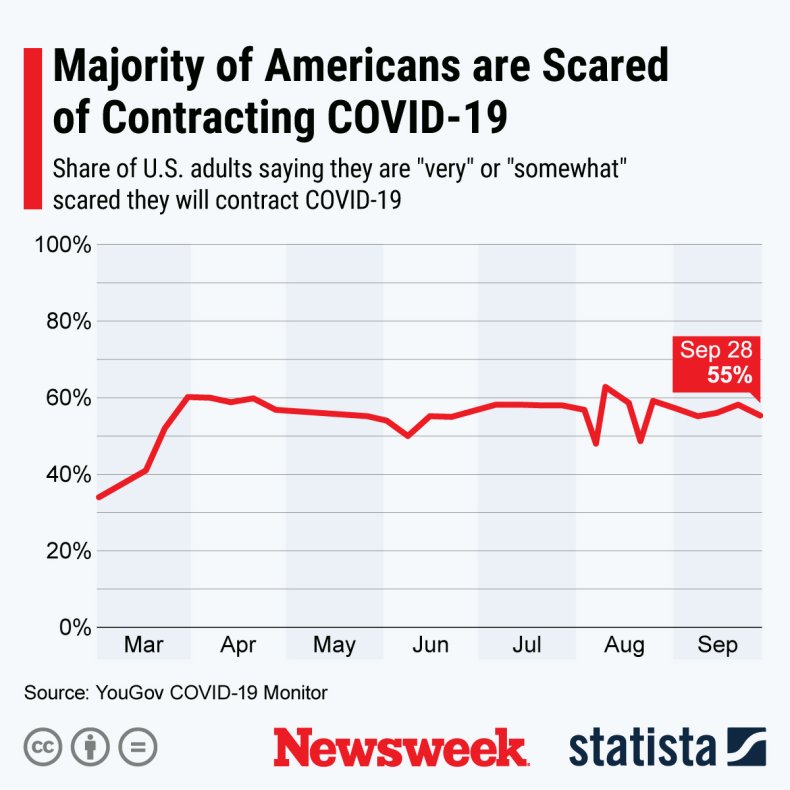 The above graphic was provided by Statista
But the novel coronavirus has also spread through his party's ranks. As Trump was treated for the illness, three Republican lawmakers—Senators Ron Johnson of Wisconsin, Mike Lee of Utah and Thom Tillis of North Carolina—also tested positive for COVID-19.
The Trump administration continues to face scrutiny over its response to COVID-19, which has infected nearly 7.5 million and killed more than 210,000 people in the United States. The pandemic model developed by the Institute for Health Metrics and Evaluation at the University of Washington, the epidemiological analytics organization relied on the by the White House and many government agencies during the pandemic for statistical data on the epidemic, projects that with the current level of mask use in the U.S., more than 360,000 Americans will have died from COVID-19 by January 1.
The U.S. military has always maintained it was prepared to weather the pandemic, even as outbreaks gripped an aircraft carrier in the Asia-Pacific, and ABC News reported Tuesday that a Pentagon official tasked with handling the president's nuclear football—the briefcase containing the nuclear launch codes—also came down with the disease.
As Newsweek reported in April, when the Pentagon first began to institute comprehensive anti-epidemic protocols, the U.S. Intelligence Community had been tracking reports of an infectious pathogen spreading through China since November. Potential risks were identified the following month, while warnings about domestic impact first emerged in February.
On February 27, two days after a soldier stationed at Camp Carroll, South Korea, became the first U.S. service member to test positive for COVID-19, the Defense Intelligence Agency's National Center for Medical Intelligence published a detailed assessment of the disease's likely impact on military readiness.
The document, seen by Newsweek, did not predict a short-term impact on the preparedness of the U.S. armed forces, but a more serious threat was observed in a second report produced on March 5.
This article has been updated to include confirmation of Joint Chiefs of Staff Chairman Army General Mark Milley's attendance at a Gold Star families event on September 27 at the White House.