Soldiers from the U.S. and the U.K. allowed robots to take the lead in an unprecedented exercise that gave human troops the opportunity to traverse a minefield from the safety of their tanks and armored vehicles.
The Army's 2nd Armored Brigade Combat Team, which is currently serving in Europe, and the British army's 22nd Engineer Regiment conducted the Robotic Complex Breach Concept demonstration Friday at the Grafenwoehr Training Area in southern Germany. The exercise showcased autonomous weapons and equipment performing a number of tasks, including the first-ever remote-controlled breaching exercise.
Related: Will Robots Fight the Next War? U.S. and Russia Bring Artificial Intelligence to the Battlefield
"We did a robotic breach today, which has never been done before. This is a historic moment," 1st Lieutenant Cody Rothschild, an officer of the 2nd Armored Brigade Combat Team told Stars and Stripes. "This is a great step forward for the Army, and for robotics."
"Any breach like this will have enemy weapons trained in on the area," British Warrant Officer Robert Kemp told the official military newspaper. "Roboticizing breach operations takes away the risk of life and makes clearing enemy obstacles much safer."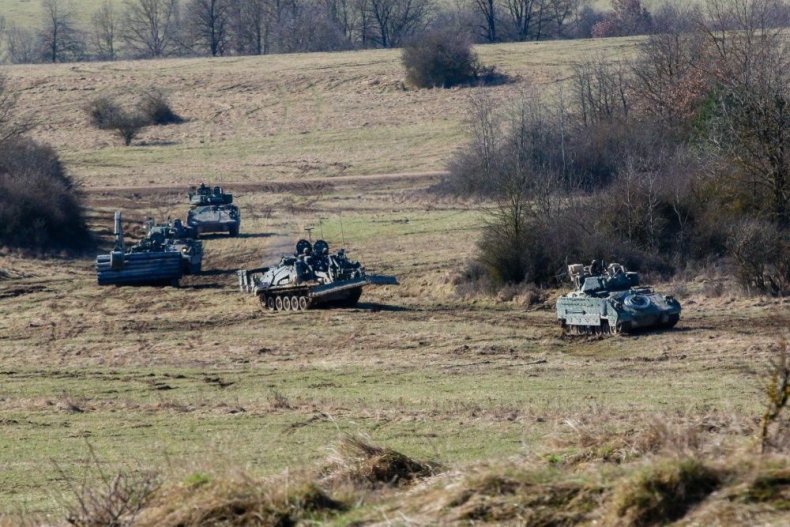 Remote-controlled U.K. Terrier armored diggers cleared explosives and filled in a trench, while an unmanned M58 Wolf variant of the U.S. M113 armored personnel carrier provided cover with a white smokescreen. Human soldiers in U.S. M2 Bradley fighting vehicles and M1A2 Abrams tanks opened fire to cover their robotic vanguard as the group advanced.
The military vehicle-mounted Automated Direct and Indirect Mortar displayed the combat roles of unmanned weapons. Other robots reportedly took to the air for the demonstration, including the RQ-20 Puma unmanned aerial system, used for reconnaissance, and the Instant Eye mini-drone, tasked with detecting chemical weapons.
"Being able to take soldiers out of harm's way and accomplish the mission is very an attractive option to any commander," U.S. Army Lieutenant Colonel Jesse Curry of the 2nd Armored Brigade Combat Team, said Tuesday, according to the Pentagon's official science blog. "It's a capability that the enemy will not know how to counteract when we implement it. This type of technology enables us to stretch further while conserving resources."
"This has been a great opportunity to show each other how to work on new systems, as well as each other's systems," British Army Staff Sergeant Joe Ferries, a combat engineer with the U.K. 22nd Engineer Regiment, 8th Engineer Brigade told the official online publication. "All the lessons learned here are going to have massive benefits for our armies and the next mission."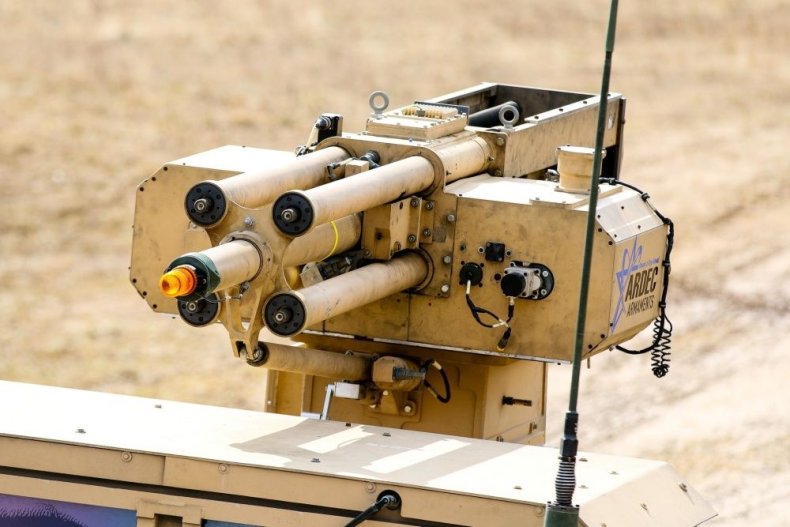 Leading military powers—especially the U.S., Russia and China—have devoted special efforts toward modernizing their armed forces and many have already begun to deploy weapons that utilize robotics and artificial intelligence capable of performing, or even outperforming, human soldiers.
"This training its quite relevant," Ferries added. "We will always have to compare and improve our procedures and technologies."
While the U.S. is widely considered to have a comfortable lead in terms of military research and development, Russia and China have sought to catch up with their own innovations, including Russia's dual-pistol-wielding, car-driving, space-traveling robot and China's workforce automation said capable of tripling the country's bomb and ammunition production.