The U.S. military has acknowledged that equipment it provided to Afghan security forces and left behind might prove useful for the Taliban, but said such assets would not prove a security concern for the United States or those aligned with it.
"We are aware there is likely a large amount of equipment provided to Afghan forces now in Taliban hands," Pentagon spokesperson Eric Pahon told Newsweek.
Pahon said, however, that the Defense Department was "not concerned with the loss of any significant technological or sensitive capability" as the Afghan National Defense and Security Forces "were not provided with these kinds of capabilities."
He declined to "speak to what the ultimate disposition of this equipment may be" or "speculate on what a future government entity in Afghanistan may or may not do" with such equipment at a time when the Taliban was facing resistance from opposition forces in the Panjshir valley as well as the lurking threat of the Islamic State militant group's Khorasan branch (ISIS-K).
But he said he expected the Taliban's newfound arsenal would not be turned on the U.S. or those it supports.
"While seizing this equipment may be beneficial to the Taliban," Pahon said, "it does not represent a threat to the U.S., Allies or partners."
As the Taliban took province by province in Afghanistan over recent months, fears have mounted that the Taliban could find itself in possession of some $85 billion worth of military equipment provided to Afghan forces over the past two decades. For some, the worst appeared to be realized as Taliban fighters were seen capturing and then later operating Black Hawk helicopters.
But others with knowledge of such advanced systems were less worried. One retired sergeant major once attached to the 1st Special Forces Operational Detachment–Delta, commonly called Delta Force, "doesn't see it as a strategic loss."
"Black Hawks are highly sophisticated and require maintenance and software updated and like those downloads are blocked," the retired sergeant major told Newsweek. "They probably have six months of parts, but they need technicians."
And there could be an added benefit of spying on the Taliban.
"It was likely a decision because as with software downloads for the Black Hawks it gives intel on what they're doing," the retired sergeant major added.
Rather than simply anticipate a reliance on U.S. equipment, however, this former military official said that "the question will be: Can Taliban buy parts or will they use Chinese or Russian equipment?"
"Likely you will see them transition to Chinese stuff," the retired sergeant major said.
Still, the Taliban's display of sophisticated U.S. systems could prove "a big propaganda win for them," even if some of the more high-tech materiel may "be sitting around on the side of the road like the Soviet stuff the Russians left behind," the retired sergeant major said.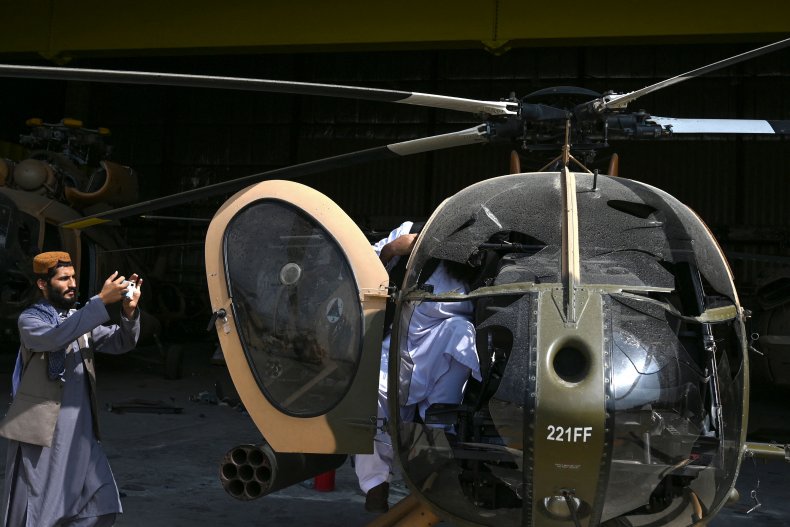 It's unclear exactly how many aircraft, vehicles or other types of equipment were abandoned, damaged, destroyed or somehow extracted from the country by either U.S. or Afghan forces before the effective Taliban takeover.
Open source experts Stijn Mitzer and Joost Oliemans of the Oryx blog have maintained a list of aircraft seized by the Taliban based on images and videos being shared from Afghanistan.
The potentially intact fixed-wing aircraft featured as being in Taliban control included an A-29B light attack aircraft and Cessna 208 utility aircraft from the U.S. and three inoperational L-39 jet trainers and eight inoperational An-26/32 transport aircraft from China.
Rotary aircraft were said to include four UH-60A Black Hawk transport helicopters and 10 MD 530F attack helicopters from the U.S. as well as 11 Mi-17 transport helicopters and 13 Mi-24/Mi-35 attack helicopters, two to 13 of which were believed inoperational, from Russia.
As for drones, the list included seven Boeing Insitu ScanEagle unmanned aerial vehicles.
Oryx also compiled a list of the aircraft seen in the military compound of Hamid Karzai International Airport (HKIA), where Taliban Badri 313 special forces units entered brandishing U.S. uniforms and arms after the last U.S. military flight had departed the capital just ahead of midnight local time, marking the August 31 deadline set out by President Joe Biden.
Shortly after Newsweek's reported that the 20-year, U.S.-led war effort in Afghanistan had officially ended, U.S. Central Command chief Marine Corps General Kenneth F. McKenzie Jr. offered remarks to the press in which he confirmed the news and shared details about the equipment that remained in Afghanistan.
"On the ramp at HKIA are a total of 73 aircraft. Those aircraft will never fly again," McKenzie said. "They'll never be able to be operated by anyone. Most of them were non-mission capable, to begin with, but certainly, they'll never be able to be flown again."
Of these 73, 48 were noted by Oryx, including eight A-29B light attack aircraft, two AC-208 attack aircraft, one C-130 Hercules transport aircraft, four Cessna 208 utility aircraft, one PC-12NG special mission aircraft, 10 UH-60A Black Hawk transport helicopters, five CH-46 transport helicopters, seven MD 530F attack helicopter and 10 Mi-17 transport helicopter.
Figures shared in June by the congressionally mandated watchdog the Special Inspector General for Afghanistan Reconstruction (SIGAR) suggest the Afghan Air Force fixed-wing fleet was in possession of 23 A-29s, 10 AC-208s, 23 C-208s and four C-103 Hercules, three of which were usable, while helicopters included 32 usable Mi-17s out of a total of 56, 43 usable MD-530s out of a total 50 and 33 usable UH-60 Black Hawks out of a total of 45.
Depending on what's left, Mitzer said the best bet for the fledgling Taliban air force would be the Soviet-era Mi-17 due to the widespread proliferation of a helicopter used by dozens of nations in nearly every corner of the world over the course of nearly half a century.
"They probably would have little problems operating Mi-17 helicopters and spare parts for them could easily be acquired from abroad/the black market. It's a different story for U.S. equipment such as the UH-60s," Mitzer told Newsweek. "Even if they would be able to gather enough pilots and maintenance personnel to work on them, they would still suffer the same problems as the Afghan Air Force was having, namely a lack of qualified personnel and spare parts."
Also demilitarized were the counter rocket, artillery and mortar (C-RAM) systems used to defend the airport against rocket attacks, such as one claimed by ISIS-K on the final day of evacuations, 70 Mine-Resistant Ambush Protected (MRAP) vehicles and 37 High Mobility Multipurpose Wheeled Vehicles, better known as Humvees, according to McKenzie.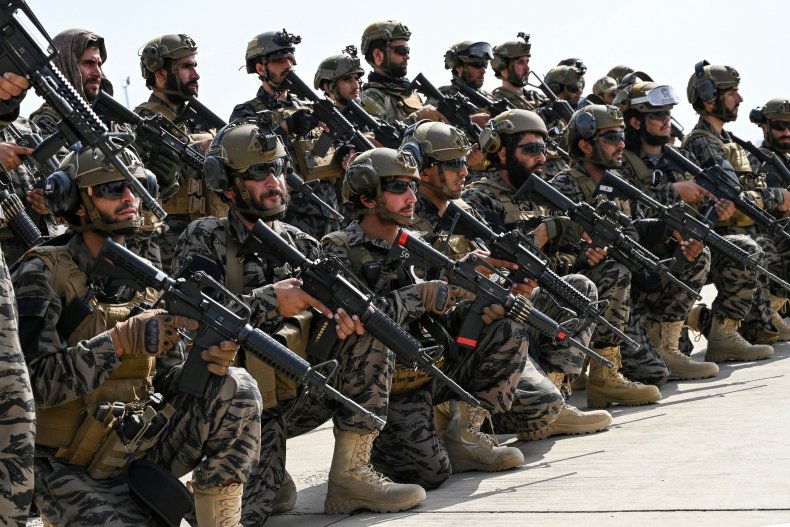 The possession of U.S. and U.S.-provided equipment by insurgent forces has proven a major issue for the Pentagon, especially since the start of the "war on terror" that began with the 9/11 attacks in September 2001 and the start of the U.S.-led offensive in Afghanistan less than a month later.
Over-the-shoulder, anti-aircraft Stinger missiles supplied by the CIA to mujahideen to down Soviet aircraft in the 1980s quickly became a strategic headache throughout the U.S. conflict in Afghanistan. U.S. military equipment given to the Iraqi military after invading that country in 2003, and supplied to rebels in Syria and Libya after civil wars erupted there in 2011 also found its way into the hands of militant groups such as ISIS.
Like Pahon, however, McKenzie expressed little concern that the Taliban would turn any weapons on the U.S. or those it supports. In fact, he credited the group extensively for its "very helpful and useful" role in helping to secure the airport as the U.S. wrapped up its operations after the Taliban took Kabul nearly overnight earlier this month.
The group has also sought to offer assurances to both the U.S. and regional countries like Russia, China, Iran, India and Pakistan that it would not allow Afghan soil to again be used to stage attacks on other countries as Al-Qaeda did two decades ago.
McKenzie was reticent, however, about how future cooperation might look like between the U.S. military and its historic foe.
"I can't foresee the way future coordination between us would go," McKenzie said. "I would leave that for some future date. I will simply say that they wanted us out; we wanted to get out with our people and with our friends and partners. And so for that short period of time, our issues, our view of the world was congruent, it was the same."
"Finally, I do believe the Taliban is going to have their hands full with ISIS-K," he added. "And they let a lot of those people out of prisons, and now they're going to be able to reap what they sowed."
But he did vow to work with the Taliban or whoever ends up formally running Afghanistan to ensure that the country did not again become a safe haven for militant groups looking to harm U.S. interests, especially as more than 100 U.S. citizens and potentially thousands of Afghans seeking to Special Immigrant Visas for their work with the U.S. remain behind.
"I think that the terror threat is going to be very high. And I don't want to minimize that," McKenzie said. "But I think what we'll do is we will work with the Taliban and work with the next governor of Afghanistan, whatever his characterization is going to be in order to ensure that our citizens are protected and that they have an opportunity to leave."