Afghanistan's Fall is China and Russia's Chance in Asia, Iran Wants to Join
The sudden collapse of the Afghan government as the U.S. military withdrew from a 20-year war is providing a chance for China and Russia to showcase their growing ambitions as a common force for stability in Asia.
And Iran wants to be a part of the plan.
On Wednesday, newly sworn-in Iranian President Ebrahim Raisi held telephone conversations with his counterparts from China and Russia, seeking to assure them that the Islamic Republic planned to play a constructive role alongside the two major powers.
In his talk with Chinese President Xi Jinping, Raisi said that Iran "is ready to cooperate with China in establishing security, stability and peace in Afghanistan and contributing to development, progress and prosperity for the people of the country," according to a readout shared by his office.
"We believe that the withdrawal of foreigners, as well as past experiences in the country, has highlighted the need for the support and participation of all Afghan groups to ensure the security and development of Afghanistan more than ever," the Iranian leader was quoted as saying.
He delivered a similar message to Russian President Vladimir Putin, with whom Tehran has already worked to take on militant groups in Syria.
"The successful experience of Iran-Russia cooperation in the fight against takfiri terrorism in Syria has opened new windows for the two sides to increase Tehran-Moscow interaction," Raisi said.
And while Tehran has steadily shifted for some time toward Beijing, with which it has signed high-profile, long-term strategic cooperation last year, as well as Moscow, with Iranian officials have sought to soon expand on a 20-year-old strategic agreement, next month should prove pivotal.
Raisi is set to join Xi and Putin for the first time at the upcoming summit of the Shanghai Cooperation Organization. The bloc includes China, India, Kazakhstan, Kyrgyzstan, Pakistan, Russia, Tajikistan and Uzbekistan as members, while Afghanistan, Belarus, Iran and Mongolia are observer states.
Last week, Iranian Supreme National Security Council Ali Shamkhani announced Iran was seeking full membership as "political obstacles" had "been removed," and indications are that the bid is all but confirmed, giving the country a new seat in an institution preparing to prove itself to the region and world beyond.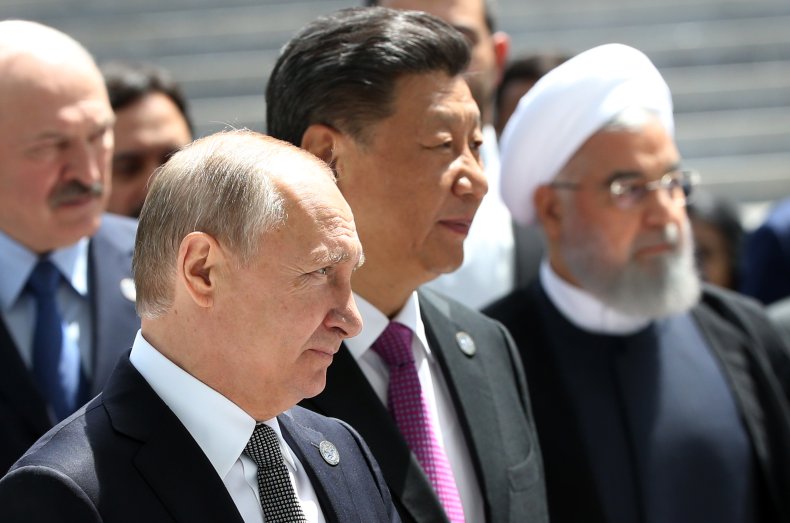 Just months before the U.S. led a massive military intervention in Afghanistan in response to the 9/11 attacks, the Shanghai Cooperation Organization was established in June 2001, then without archfoes India and Pakistan on board. The following month, China and Russia signed their Treaty of Good-Neighborliness and Friendly Cooperation, a symbolic end to their Cold War-era tensions and the start of a new kind of strategic partnership that would develop over the years.
These bonds have been on full display this year as Xi and Putin commemorated the 20th anniversary of the signing of the pact, which they have since renewed following a warm phone call and lengthy joint statement in June.
As the situation in Afghanistan continued to deteriorate, Chinese and Russian officials closely coordinated their efforts as they did last month on the sidelines of two ministerial meetings, gathering the top diplomats and defense chiefs of the Shanghai Cooperation Organization in the Tajik capital of Dushanbe. There, the group emphasized the need to adopt a common approach not only to Afghanistan, but to regional security and counterterrorism efforts in general.
It was also announced that the partnership would hold its regular joint exercises, dubbed Peace Mission 2021, in September, with a heavy emphasis on the situation in Afghanistan. Even before these drills, however, China and Russia joined forces for a massive training event earlier this month.
The maneuvers gathered 10,000 personnel and various military equipment from both sides for the first strategic exercise of its kind to be held on Chinese soil, It came as both countries are intensifying their ties across Central Asia.
"These events are directly related to the situation in Afghanistan," Velina Tchakarova, director of the Austrian Institute for European and Security Policy, told Newsweek.
"Afghanistan is geo-strategically located in a hotspot linking the Middle East, Central and South Asia, and Europe," she said. "China and Russia view the country as an important geopolitical puzzle piece between Pakistan and Iran, both of which have already deepened their ties with Beijing and Moscow, and Central Asia, which integrates South and Central Asia through various connectivity, transportation, and trade corridors."
And while Beijing and Moscow "are already competing for influence and presence in Afghanistan's Central Asian neighbors," she said they "are also coordinating their actions in preventing other outside powers, such as the United States, from gaining a foothold in the region."
Russia has been especially concerned in recent months about the prospect of the U.S. establishing a military presence in the former Soviet republics of Central Asia, from which the USSR once led its own failed incursion into Afghanistan in the 1980s.
But China and Russia also had a common interest in demonstrating their mutual capability to guard the region against non-state threats, such as those that could potentially emanate from Afghanistan if the situation does not stabilize.
"China and Russia want to send a strong signal to their Central Asian neighbors in a coordinated manner by demonstrating their willingness to prepare for the worst-case scenario of a spillover of terrorist activity from Afghanistan by providing security and defense services, equipment, and training bilaterally and multilaterally," Tchakarova said.
Here it was Beijing that was most concerned, especially due to its own experiences in the Afghanistan-adjacent province of Xinjiang, where Tchakarova cites China's determination to crack down on what officials have described as the "concept of 'three evil forces'-extremism, terrorism, and separatism."
The group that Beijing has most frequently associated with this threat is the East Turkestan Islamic Movement (ETIM), or Turkistan Islamic Party, a Uighur group known to operate in both Syria and Afghanistan.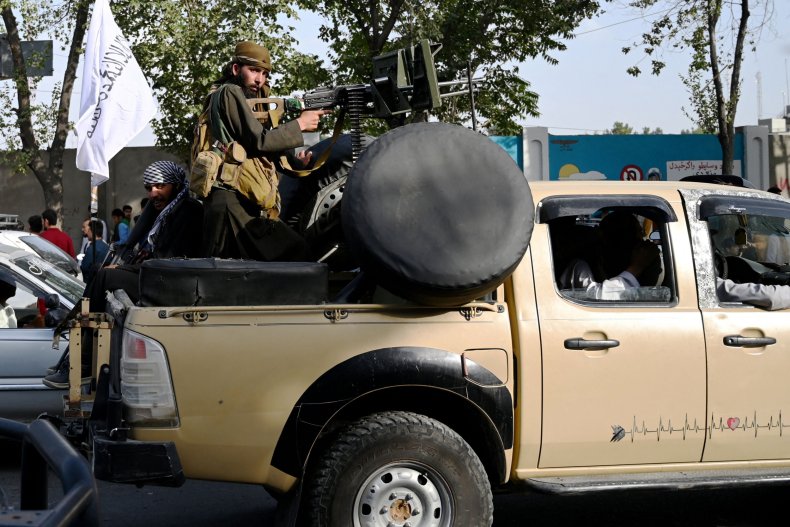 Samuel Ramani, an Oxford University researcher who has briefed the NATO Intelligence Fusion Center and State Department on the influence of external powers in Afghanistan, noted that the "three evils" notion was mentioned in the context of the recent joint Chinese-Russian exercises.
"The expansion of Russia-China security cooperation is a mixture of routine drills to bolster Sino-Russian cooperation, as it's the 20th anniversary of their Friendship Treaty, and exercises to guard against the fall-out from Afghanistan," Ramani told Newsweek.
But even more important for securing regional unity would be next month's Shanghai Cooperation Organization leaders' summit, which he described as "a major test of the organization's credibility."
While all members call for stability in Afghanistan, conflicting views exist. The group would have to navigate pitfalls such as the deep-rooted fault lines between India and Pakistan, both of which accuse one another of sponsoring militant groups to target the other in Afghanistan, and China's own simmering border tensions with India, which has drifted closer to a U.S.-led Asia-Pacific group called the Quadrilateral Security Dialogue, which also includes Australia and Japan.
But in the conversation next month in Dushanbe, Iran's voice is likely to be a welcome one.
"Iran will likely be much more integrated in decision-making this time around, as it's a regional actor that has supported intra-Afghan dialogue," Ramani said. "And it has experience working with SCO anti-ISIS activities in Afghanistan that it can draw upon."
Prior to the momentous ascent of the Taliban in the past few weeks, a Middle Eastern power appeared to be a strange fit for an organization that focused on Central Asia.
Hossein Malaek, who previously served as Iran's ambassador to China and Switzerland, said Tehran's top priorities remain to the west, where Iran has invested heavily in partnered networks stretching to the Mediterranean and Red Sea, and, in the process, also engaged in a shadowy conflict with Israel.
"Iran's foreign policy is and will remain mainly a Middle East focus and not Central Asia," Malaek told Newsweek.
The highly sensitive nature of the geopolitics of the region has for years prompted the Shanghai Cooperation Organization to keep Iran at a certain distance. It had found itself unable to fully endorse the country's positions and wary of the sanctions imposed by the U.S., which remain in place despite President Joe Biden's stated intentions of reentering a 2015 nuclear accord abandoned by his predecessor three years later.
And Tajikistan, host of the upcoming group meeting, had particular objections toward Iran's full entry due to tensions between the two Persian-speaking nations.
In turn, Tehran could not fully embrace a bloc that did not prove useful to its most immediate concerns.
"Iran mainly looked forward to seeing a security margin within the SCO," Malaek explained. "The last two years marked the unusefulness of such an organization to foster security for Iran due to the highly conservative nature of such apparatus vis-à-vis Iran foreign policy agendas."
But the latest developments in the region linking the two sides have fostered common ground. Malaek noted that "there might be potential unrest due to crisis in Afghanistan," prompting the Islamic Republic to react.
"The role of Iran seems to be totally defensive," Malaek added. "Iran tries to be in contact with all parties."
Despite Iran's historical enmity with the Taliban, Tehran has hosted intra-Afghan peace talks, demonstrating the Islamic Republic's diplomatic prowess, as Russia and China also sought a stake in Afghanistan's future by interacting with both sides of the conflict. Iran also has unique ties to Afghanistan's largely Shiite Muslim Hazara minority, of which a number of members have joined the Iran-aligned Fatemiyoun Division supporting Tehran's war effort in Syria.
Now, this latest convergence of interests on Afghanistan appears to be enough for the concerned parties, as Tajikistan showed a willingness to drop its concerns and pave the way for Iran to become a full-time Shanghai Cooperation Organization member.
"I believe, if that is true, this reflects the new attitude of Russia and China toward global politics and their hope to tame Iran within their programs," Malaek said.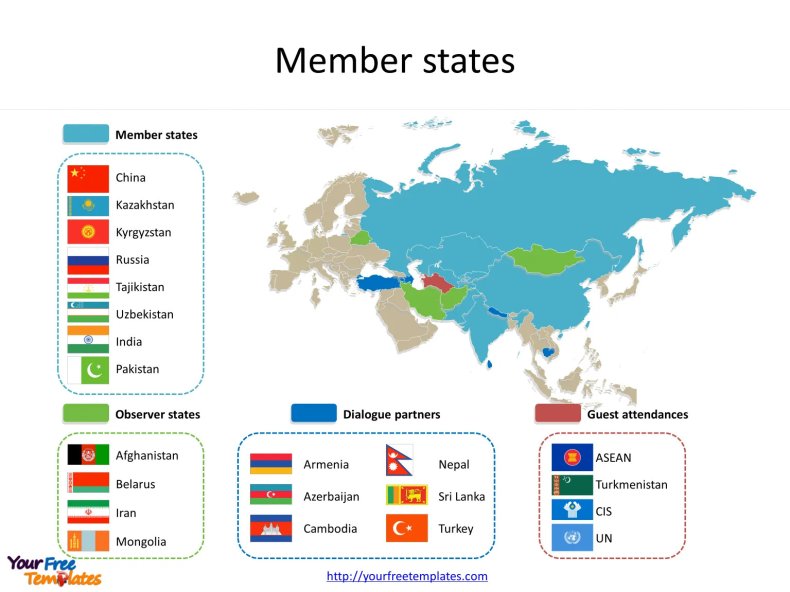 According to Niva Yau, a researcher at the Organization for Security and Co-operation in Europe's OSCE Academy in Bishkek, Kyrgyzstan, "it has been confirmed that Iran will join this year as a full member of the Shanghai Cooperation Organization."
"The inclusion of Iran has been many years in the discussion, mostly facing obstacles from economic sanctions and political problems," Yau told Newsweek. "But right now, this year, we know that in a month at the SCO heads of state meeting, at which Putin will be present and Xi will be present, in Dushanbe, Tajikistan this year, Iran will sign there in the witness of all the heads of states as a full member of the Shanghai Cooperation Organization."
"And this comes at the perfect time," she added, "because the SCO will be the regional organization that will manage the evolving situation in Afghanistan, and it provides the best platform for all of the neighbors that border Afghanistan to sit together."
For China, a rising power not only in the region but across the globe, the opportunity is particularly important.
Echoing Tchakarova and Ramani, Yau identifies Beijing's "three evils" as a central tenet of how the People's Republic plans to approach Afghanistan. While this ideology has largely been applied thus far to the ETIM, the scope is now expanding to Afghanistan, where Beijing expects its partners, including Iran, to be on board.
"The shift to other international terrorist organizations like the ones that are present in Afghanistan, which the region worries more about, will be just as effective as the group gets to work," Yau said.
"And with the inclusion of Iran as well," she added, "there are no gaps anymore to deal with the Afghanistan problem."