U.S. Military Is Underprepared for War With China, General Warns
The United States military is underprepared for a war with China, retired U.S. General Jack Keane warned on Monday.
Diplomatic relations between China and the West, including the U.S., have long been tense but flared up last year amid heightened Chinese military actions around Taiwan, an island located off the country's coast. Although Taiwan considers itself independent, China has claimed it as its own and views control of the island as essential to its policy of reunification.
Amid rising tensions, four-star Air Force General Mike Minihan, who leads the Air Mobility Command, said in a memo to his commanders last Friday that armed combat between the U.S. and China could be possible by 2025. This would mark a sharp escalation between two of the most powerful militaries in the world.
Meanwhile, a spokesperson for Air Mobility Command confirmed the veracity of the memo to NBC News, though the Department of Defense (DOD) said Minihan's "comments are not representative of the department's view on China."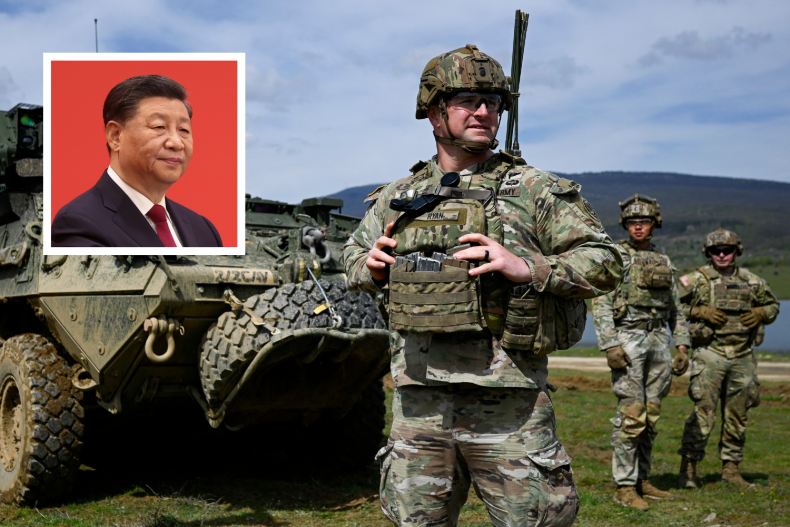 During an appearance on Fox News on Monday, Keane warned that the U.S. may be ill-prepared if such a conflict arose.
"The reality is, and what we should focus on, is the fact that we are not as prepared as we should be. We do not have an effective military deterrence in the region. China has more ships, more planes, and more missiles than the United States has," he said, adding that includes "our allies wrapped into that."
Keane continued to sound the alarm about Taiwan's wartime readiness, drawing a comparison to the Russia-Ukraine war, which has dominated European politics in the past year after Russian President Vladimir Putin ordered his "special military operation" on Ukraine last February.
He pointed to a $19 billion backlog of equipment scheduled to be sent from the U.S. to Taiwan, which the island's government has already paid for, that is yet to be shipped. Keane added that Congress has to "fix that system" to ensure Taiwan will be prepared to defend itself in the case of an attack.
"We have to help Taiwan, and we have to fix our own problem," he said. "That is really what we should be focusing on. Let's remove the risk and be prepared, and that's how we prevent war. We prevent war by being prepared for it."
In addition, he said that he disagrees with Minihan's assessment that war with China is "eminent."
"He's clearly raising their expectations that they could be at war in a couple of years," Keane said. "The truth is, the general, myself and others, we really don't know that answer. And it's a subjective analysis that leads you to some kind of conclusion. His, that war is imminent. Mine is that I don't think it is in the near term, but it's certainly possible."
Howard Stoffer, a professor of international affairs at the University of New Haven, told Newsweek on Tuesday that he disagrees that the United States is underprepared for war with China. He explained that the Chinese military is not experienced compared to the United States.
"If we had to go to war today, we would be able to do it," he said. "The Chinese are not combat experienced. They have had no wars. They haven't had any of their navy or ground forces involved in combat experience."
Still, he agreed that the United States needs more ships, noting that the Navy that succeeds is usually that which has more ships.
He also pointed to the U.S.'s more advanced silicon chip technology, which China does not have, as a major benefit for the United States. These tanks are used to run ships, aircraft and artillery.
"Without these advanced chips, you can't have an advantage in a war," he said.
Will the U.S. Go to War With China? Experts Weigh In
Other experts on diplomacy and foreign relations also weighed in on the possibility of a U.S.-China war following Minihan's memo. Representative Michael McCaul, the Texas Republican who chairs the House Committee on Foreign Affairs, told Fox News on Sunday that he fears Minihan may be correct.
"I hope he is wrong...I think he is right though," he said.
Stoffer said he does not believe the U.S. will go to war with China in the coming years, pointing to positive contact between the Biden administration and the Chinese government.
"Xi understands that a war with the United States would be utterly devastating for China," he said. "It would set them back by decades. Potentially, a war like that could lead to nuclear use."
Admiral James Stavridis offered a different perspective, writing on Twitter that he believes Chinese President Xi Jinping will be deterred by ongoing Russian failures in Ukraine.
"The job of the military is always to be ready to fight, but in my view, odds of a war with China are decreasing not increasing at the moment. The reason? President Xi is watching the Russian debacle in Ukraine and will likely be more cautious as a result," he tweeted.
When reached for comment, a Department of Defense spokesperson told Newsweek that Keane is a private citizen and does not speak for the department.
Update 1/31/23, 10:40 a.m. ET: This story was updated with comment from Professor Howard Stoffer and a response from the Department of Defense.