The US Must Brace for More Political Violence From the Far Right | Opinion
Former President Donald Trump is courting violence by leaning into conspiratorial narratives about the intentions of the January 6th Select Committee and investigation. He is stoking domestic extremists' distrust of American institutions and their belief that there is no political solution to addressing their grievances. If new attacks on these institutions follow, who will be surprised?
Further stoking the flames, Trump has once again used the power of the presidential seal to promote narratives that undermine American democracy and that echo far-right extremist rhetoric. Sticking to his usual talking points at the 2022 Faith and Freedom Conference in Nashville, Tennessee, on June 18, Trump pushed more election fraud conspiracies and unrepentant rhetoric surrounding the Jan. 6 insurrection. Most concerningly, Trump's fixation on former Vice President Mike Pence's unwillingness to illegally overturn the election results on Trump's behalf will further invigorate domestic extremists. It could also spur political intimidation and violence ahead of the 2022 midterm elections.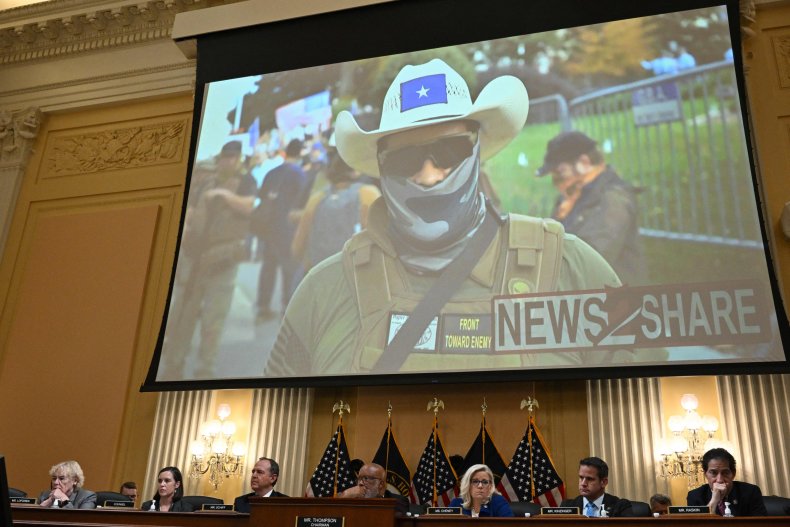 Trump's speech wove together some of the worst portrayals of President Biden, Hillary Clinton, and even erstwhile Trump allies like former Attorney General Bill Barr into a tapestry of fear and threat from imagined and exaggerated cultural change. Among his main areas of focus in an otherwise rambling speech were the Jan. 6 insurrection at the Capitol and the ongoing hearings about his and others' complicity in instigating that day's violence. Headlines quickly shared that he said he would "very, very seriously" consider pardoning people criminally charged with their actions that day, people he effectively suggested were political prisoners as he claimed they were being "treated worse than terrorists and murderers." Trump's wink and nod to such a mass pardon is not just a retrospective hallway pass for actions that attempted to prevent the peaceful transfer of power in 2021, but also an implicit promise that future, similar actions to reinstall him as president would be forgiven.
Recall that when pressed in the 2020 presidential debates to denounce the Proud Boys, a fascist street gang with leaders now charged for seditious conspiracy due to their vanguard role in the Jan. 6 insurrection, he opted to advise the group to "stand back, and stand by." Nor was this the first time America's far-right extremists have enjoyed tacit endorsement from Trump.
Take, for instance, his reluctance to denounce the deadly 2017 "Unite the Right" white supremacist rally in Charlottesville, instead saying there was fault on "both sides." Trump's most recent endorsement of vigilante efforts to ensure his success, something experts call stochastic violence, only further underscores his admiration for the fervor and zeal of the Jan. 6 insurrectionists. He has called them "strong people, great patriots," who, he implied, would have been successful at stopping the election certification had that been their real goal.
But despite praising those who took part in the insurrection, throughout his speech, Trump repeatedly referred to the assault as a "hoax" that was part of "an unprecedented attack" on Republicans and relied exclusively on heavily edited video evidence. He also threatened a Benghazi-style investigation into the hearings themselves to address this unfairness, claiming it would be in pursuit of a fair and equitable application of laws under another term in office.
The speech also illustrated a clear reality in America today — extreme right ideology is now going mainstream. Trump's radical delivery resonated with its cheering audience as it conflated Christian nationalism with individual liberties, particularly those purportedly connected to religious freedom and parental rights.
For example, his assertion that parents should be able to choose whether their children are "indoctrinated" about "woke gender ideology" captures the fears that some conservatives have about the content of public education while advocating for solutions like school choice programs that are well-known to contribute to racial segregation and disparities in schooling outcomes.
Trump's suggestion that America is under imminent threat of collapse due to liberal views on issues like transgender rights, abortion, critical race theory, and defunding the police is a common refrain among militia groups and other far-right ideologues such as Christian Identity (a white supremacist religious and conspiratorial network). In the speech, Trump hid his own intent to undermine American democracy by deflecting towards a "radical left" that is waging a "merciless assault" on "every last tenet of American tradition." His attack of the left, not just as an the enemy at the gate but as a cause of "destruction of the nation from within" sits uncomfortably close to antisemitic and deep-state conspiracy theories rampant within the far-right.
Trump has moved the Overton window a bit further right for the Republican Party. Even long-time Republicans who are disloyal to the Trump brand are maligned as threats to the nation and to "true patriots."
Republicans who appeal to their own Christian faith are not excused from these attacks if their faith leads them to a different conclusion than unwavering support for Trump. Rusty Bowers, Arizona's Republican house speaker, who testified Tuesday to the Jan. 6 committee, has been the target of repeated threats from within his own Party due to his refusal to overturn Biden's victory in his state. These Republicans now occupy the same space in Trump's mental real estate as the "radical left."
Looking ahead to the midterm elections, Trump's Faith and Freedom speech highlights a populist political movement that has escaped the bounds of conventional democratic politics and seems destined to embrace political violence as a means of regaining power. It's critical the American people and law enforcement take the threat seriously. America's very democracy could be at stake.
Dr. Amy Cooter is a sociologist who has studied groups on the right for nearly 20 years. She is an advisory board member for the Acceleration Research Consortium and consults internationally on issues related to right-wing extremism.
Matthew Kriner is a Senior Research Scholar at the Center on Terrorism, Extremism, and Counterterrorism (CTEC) where he leads the Accelerationism Threat Assessment and Research Initiative. Twitter: @mattkriner
The views expressed in this article are the writers' own.