The U.S. National Debt Has Increased $5.2 Trillion Since Start of 2020
The Senate released its $1.1 trillion infrastructure bill on August 3, and it was met with disapproval by many experts already concerned about adding to the country's growing national debt. Critics of the bill included analysts from the conservative think tank The Heritage Foundation, which said the national debt has increased $5.2 trillion since the start of 2020.
The increase of $5.2 trillion equates to roughly $40,000 of extra burden to each household in the United States. The current overall national debt is roughly $28.6 trillion.
When former President Donald Trump left office in January, the national debt had risen by around $7.8 trillion during the course of his term. The Washington Post reported data from the Federal Reserve Bank of New York showed that figure represents about twice as much debt as what Americans owe on student loans, car loans, credit cards and every other type of debt other than mortgages combined.
During Trump's first three years in office, the national debt increased by around $5.2 trillion. According to the Peter G. Peterson Foundation, a non-partisan fiscal watchdog group, the national debt grew $5 trillion during the first three years of former President Barack Obama's administration.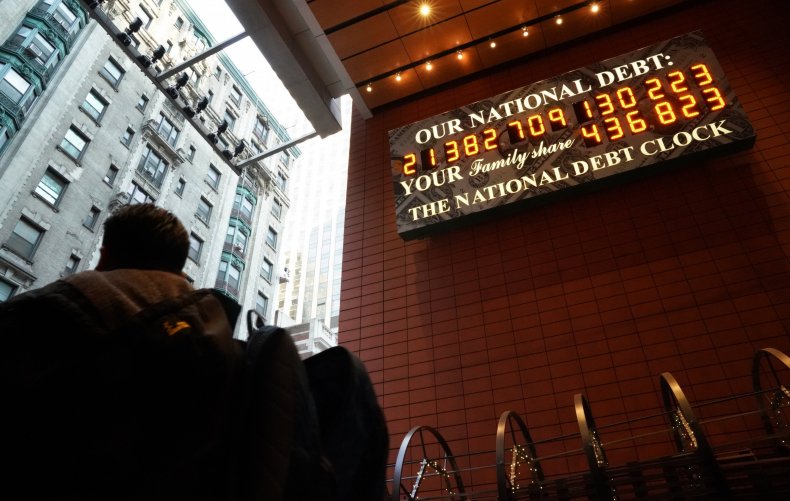 A large part of the new debt was related to the response to the COVID-19 pandemic. This included hundreds of billions of dollars going toward public health measures, as well as more than a trillion dollars to expand unemployment insurance and pandemic-related costs such as offsetting lost tax revenue and helping companies avoid layoffs.
The Heritage Foundation's media news website The Daily Signal published a lengthy critique of the infrastructure bill after the Senate unveiled it. Along with taking exception to the added debt the bill would carry, the article pointed to several other misgivings it had.
One issue mentioned was giving $118 billion to the Highway Trust Fund, which The Daily Signal authors said "suffers from chronic deficits due to overspending. Rather than bring it into balance, senators are whipping out the national credit card, and then pretending they didn't when it comes to keeping score."
The Daily Signal story also argued that the bill was overestimating the money that would come in cryptocurrency tax. The bill estimated $28 million would be derived from crypto tax, but The Heritage Foundation felt it "will almost certainly bring in far less."
One of the largest arguments the article had against the bill had to do with climate initiatives. The authors argued that alternative fuel allowances, grants for electric refueling stations and various other incentives designed to be more "green" went too far and would cost too much.