A U.S. Navy warship has sailed through the sensitive international waters between Taiwan and China for the 11th time this year, exactly one week after President Joe Biden and Chinese leader Xi Jinping held a high-level dialogue to manage fundamental differences between the two nations.
A statement by the Japan-based U.S. 7th Fleet said Arleigh Burke-class guided-missile destroyer USS Milius "conducted a routine Taiwan Strait transit" on Tuesday local time in accordance with international law.
"The ship's transit through the Taiwan Strait demonstrates the U.S. commitment to a free and open Indo-Pacific," said the 7th Fleet. "The United States military flies, sails, and operates anywhere international law allows."
China's response arrived through Col. Shi Yi, a spokesperson for the People's Liberation Army Eastern Theater Command. Shi said Chinese forces conducted "close-in" monitoring of the American vessel throughout its passage.
"This move by the United States creates security risks and undermines regional stability," added Shi, who said Chinese troops would take "necessary measures to resolutely counter all threats and provocations."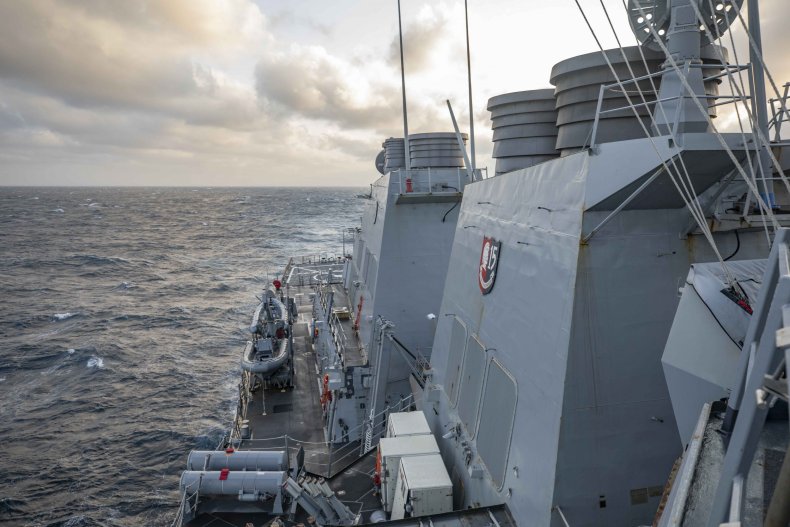 Taiwan's Defense Ministry said conditions in the surrounding seas and skies remained normal as the destroyer traveled through the strait in a northerly direction. The U.S. Navy has averaged one Taiwan Strait transit per month since the Biden administration took office in January.
The Biden-Xi summit held late on November 15 gave both leaders the chance to clearly articulate the many areas of disagreement in the U.S.-China relationship. Biden called for the establishment of "common-sense guardrails" to prevent the intensifying rivalry from sparking an unintended conflict.
However, Washington and Beijing remain at loggerheads over their respective positions on Taiwan—specifically, China's assertive claims to the self-ruled island and the U.S.'s increasingly firm stance in favor of the current status quo.
Although the U.S. has not stated publicly its intention to defend Taiwan from a Chinese military invasion, Taipei considers the consistent U.S. military presence in the region a stabilizing force that might deter Beijing from using force.
The belief of policymakers in Taiwan and the U.S. is that a hypothetical cross-strait conflict is unlikely to remain confined to East Asia and would have economic consequences for markets surrounding the Pacific and Atlantic oceans.
Tuesday's 7th Fleet operation was USS Milius' maiden transit through the Taiwan Strait and came roughly six weeks after American destroyer USS Dewey and Canadian frigate HMCS Winnipeg made the same journey on October 15—a joint navigation that would've been planned with a strong Chinese reaction in mind.
But the pattern of Beijing's responses shows that its opposition to nearby American naval forces—and those of other countries—is not solely about their presence, but also the fact that their presence has been announced in an official capacity as part of the U.S. government's public diplomacy efforts.
Despite being aware of USS Dewey and HMCS Winnipeg's Taiwan Strait transit, Beijing didn't issue a response until two days later—after the 7th Fleet had offered its first public confirmation of the operation to Hong Kong newspaper Oriental Daily.
At the height of U.S.-China tensions in 2020, the outgoing administration of former President Donald Trump sanctioned a total 13 Taiwan Strait transits by U.S. Navy destroyers—a record that could be matched or broken this year.