U.S. Navy Chief Says Military Should 'Push First' Against Russia, Let Them 'Respond to Our First Move'
The commander of the United States Navy has called for a more aggressive approach toward tackling an increasingly powerful Russia at sea.
Discussing a new age of "great powers" competition between the U.S., Russia and China at the Atlantic Council in Washington on Wednesday, Navy Admiral John Michael Richardson called for proactive measures toward Russia's growing maritime presence in areas such as the Mediterranean and Black Seas. Asked about how the Navy should formulate its strategy toward perceived aggressions from Moscow, Richardson said that it was not only about "responses and pushing back, but how about we push first in a couple of areas."
"It would be great if we could get folks, Russians, some of these competitors to respond to our first move. There's an advantage every now and then to playing the white side of the board, and so that could come under a number of different options," he continued.
"We've been consistently present in the Black Sea, the United States Navy, and, in fact, we did two deployments up there just in the month of January alone," he added. "We're working very closely in exercising with the navies in the Eastern Mediterranean, the Black Sea region, and so staying engaged in there, staying present. Actions consistent with words, I think, is an important part of that."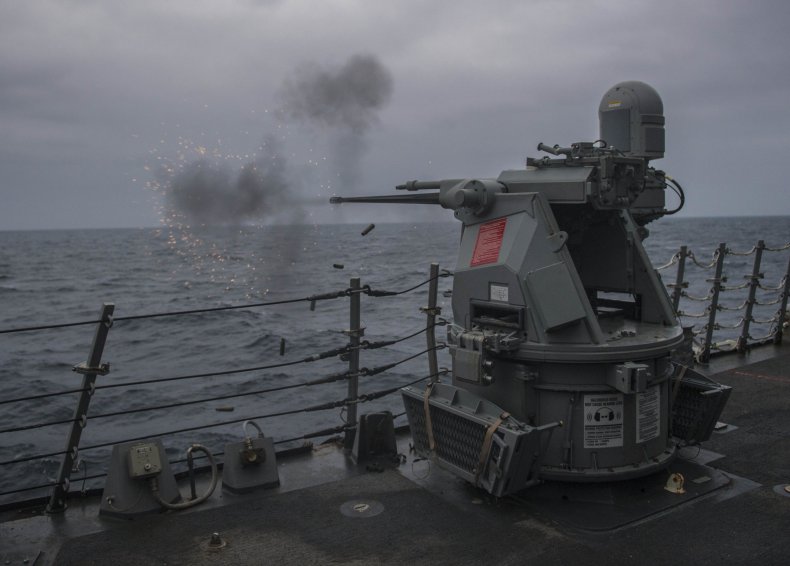 The U.S. commands by far the most powerful naval force in the world, with more so-called "supercarriers" than the rest of the world combined and bases spread across the globe. Still Russia, even with its only aircraft carrier out of commission due to damage sustained in an October dry dock crane incident, has begun to field new and powerful vessels capable of advancing Moscow's interests abroad.
This was evidenced by a November clash between Russia's Black Sea Fleet and Ukrainian vessels charged with violating international maritime law as they sailed through the disputed Kerch Strait in the Sea of Azov. Moscow annexed the nearby Crimean Peninsula in a disputed referendum amid a 2014 political uprising in Kiev and has been further accused of sponsoring separatist insurgents in eastern Ukraine.
Russia's annexation of Crimea led to a deterioration in Moscow's relations with the U.S.-led NATO Western military alliance, and both sides have since conducted military exercises in the Black Sea. Elsewhere in Europe, Russia has bolstered its naval presence in the Baltic exclave of Kaliningrad and has devoted an entire contingent of its Black Sea Fleet toward NATO's southern flank in the Mediterranean, where Washington and Moscow were on opposing sides of another conflict.
The war in Syria has witnessed naval strikes from both U.S. and Russian warships against the Islamic State militant group (ISIS), but the two powers backed different local forces. With President Donald Trump having ordered airstrikes against the Syrian government, an ally of Russia and Iran, on two occasions, Moscow has threatened to retaliate should its own troops working alongside the Syrian armed forces be harmed.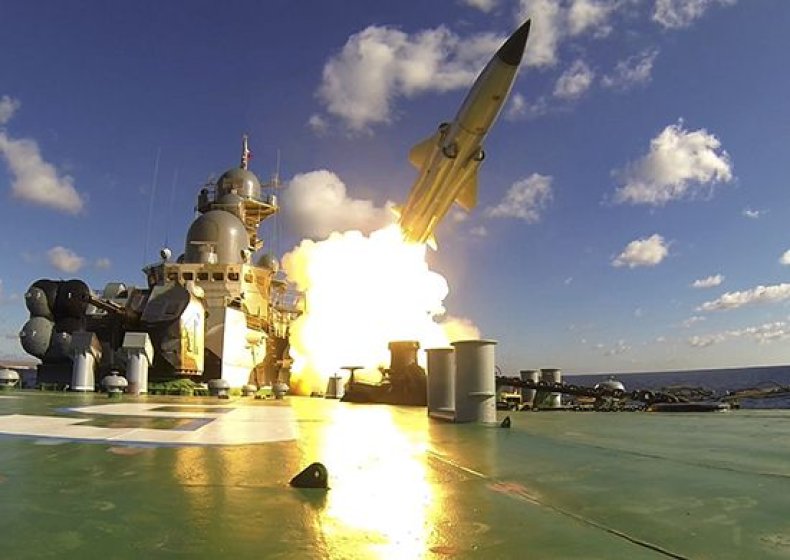 The Arctic has been another burgeoning venue for U.S.-Russia interactions. Moscow has already installed bases there and the Pentagon has been looking to catch up as higher global temperatures created new routes where ice once blocked the way. Russia has stepped up exercises in the Barents Sea, where Norway—the only Arctic NATO country other than the U.S.—hosted massive war games in October.
The Russian Defense Ministry's official Krasnaya Zvezda newspaper reported in November that the country's navy was planning on establishing four groups of warships carrying Kaliber cruise missiles in the Baltic, Barents, Black and Mediterranean Seas, all waters witnessing competing interests between the U.S. and Russia.
With the Ukrainian sailors still in Russian custody following the November clash, the U.S. has already twice sent its warships through the Black Sea in the past month. Over the waters of the Baltic, Russian Sukhoi Su-27 jets have in the past two weeks intercepted both a Swedish and a U.S. spy plane accused of approaching the Russian border.