U.S. Navy Sends Aircraft Carriers, Warships to South China Sea for Drills
Two U.S. Navy aircraft carriers with warships in tow will conduct military exercises in the South China Sea as Washington and Beijing accuse each other of stoking tensions in the region.
In the coming days, USS Nimitz and USS Ronald Reagan Carrier Strike Groups will conduct dual carrier operations in the region, including in the Philippine Sea, although the Navy did not specify the exact location, The Wall Street Journal reported.
"The purpose is to show an unambiguous signal to our partners and allies that we are committed to regional security and stability," Rear Adm. George M. Wikoff, commander of the strike group led by the USS Ronald Reagan, told the paper.
The timing is significant as Beijing faces criticism for conducting five days of military drills of its own in the area starting on July 1, near the disputed Paracel Islands which are claimed by China, Vietnam and Taiwan.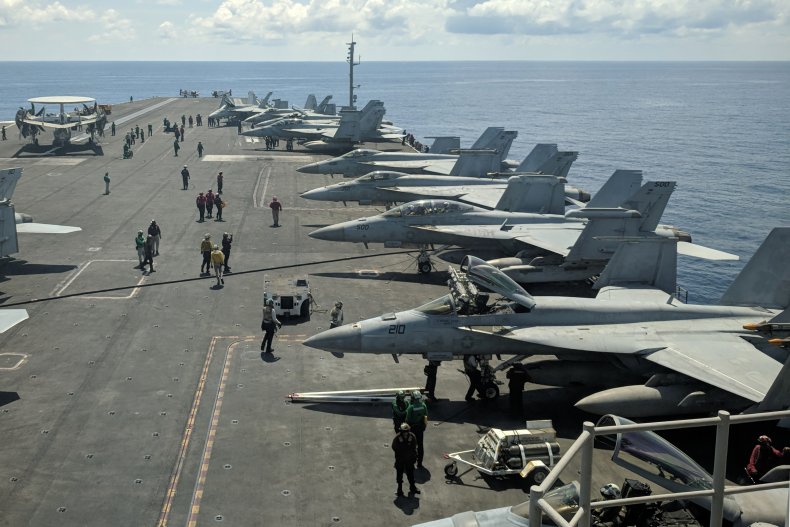 The U.S. has accused Beijing of militarizing the islands through its deployment of military hardware and construction of military facilities.
Spokesman for the Seventh Fleet, Lt. Joe Jeiley said that the upcoming drills were not in "response to any political or world events," but showed how the U.S. Navy "promotes security, stability, and prosperity throughout the Indo-Pacific."
"Operating two carrier strike groups in the Philippine Sea and South China Sea provides advanced training opportunities for our forces and provides combatant commanders with significant operational flexibility should those forces be called upon in response to regional situations," he said, according to CNN.
The U.S. Navy conducts "Freedom of Navigation Operations," to challenge Beijing's claims to the islands in the strategically important region through which about $3 trillion of trade passes each year.
Adding to the growing tensions between Beijing and Washington is the move by China to impose a security law in Hong Kong.
On Thursday, the U.S. Department of Defence said it was worried that Chinese military drills in the South China Sea were aimed at cementing "unlawful maritime claims" and would destabilise the region.
Secretary of State Mike Pompeo tweeted: "America agrees with our Southeast Asian friends: The PRC's [People's Republic of China] military exercise in disputed waters of the South China Sea is highly provocative. We oppose Beijing's unlawful claims. Period."
However, the Chinese Foreign Ministry said it was entitled to hold the military drills.
Spokesperson Zhao Lijian said, according to state-run media outlet CGTN, that "countries outside the region often travel thousands of miles to the South China Sea to engage in large-scale military activities, and show off their power."
He said it was that, and not China's actions, which was "the fundamental reason that affects the stability in the South China Sea."