As Kim Jong Un Threatens U.S., South Korea's Top Presidential Candidate Vows to Pull Away From Washington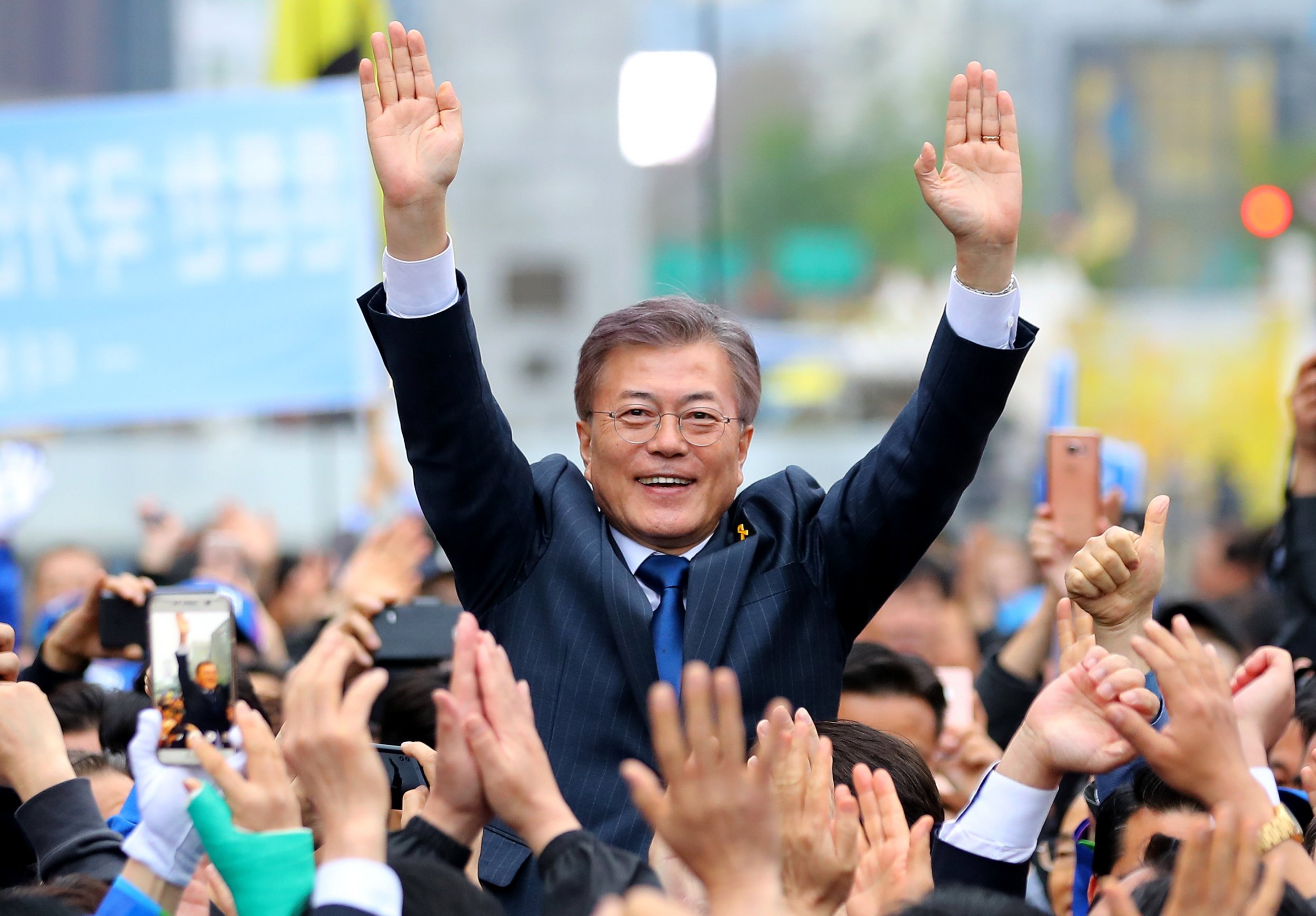 While much of the world focuses on Sunday's vote in France, just two days later South Koreans will go to the polls for a presidential election that could have equally important global implications. At a time when the United States is attempting to use every lever at its disposal to pressure North Korea into curtailing its nuclear ambitions, South Korea is poised to elect a liberal with far cooler views of the U.S. and a much more open-minded disposition to dialogue with its neighbor to the north after nearly a decade of conservative governments.
Related: U.S. THAAD missile system in South Korea ready for action
While the Korean Peninsula has been experiencing one of its deepest crises in recent memory, with missiles and rhetoric flying at an alarming rate between the U.S. and North Korea, South Korea has been without a president since the impeachment of Park Geun-hye in March. Both Park and her predecessor, Lee Myung-bak, helped forge close ties with the U.S. under President Barack Obama. But, in large part as a reaction to the corruption scandal that toppled Park, both South Korea's internal politics and its relationship with the U.S. is poised for a major shakeup Tuesday.
As conservatives continue to flounder in the wake of Park's ouster and insurgent centrist Ahn Cheol-soo reels from poor debate performances, opinion polls show Moon Jae-in with a lead of up to 20 percent. Should the vote play out that way, it would pose yet further headaches for President Donald Trump when it comes to trying to blunt North Korea's military threats and tests.
Rather than continuing the policies of Park, Moon seeks a return to the more peaceful-minded "Sunshine Policy" when it comes to relations with North Korea. Enacted during South Korea's last period under a liberal government, the "Sunshine Policy" saw the country engage in greater dialogue and business ventures with North Korea and even participate in summits between the countries' leaders. Moon was an aide for former President Roh Moo-hyun, who continued the policy set in place by Kim Dae-jung, a Nobel Peace Prize winner for his efforts in deescalating the conflict in the Korean Peninsula.
"At least when it comes to North Korea policy, it looks like it's going to be pretty much diametrically opposed to what the Trump administration is trying to do with North Korea, which is trying to put maximum pressure on North Korea," Sue Mi Terry, managing director for Korea of BowerGroupAsia and a former CIA analyst for Korea, told Newsweek Tuesday. "Moon is the opposite. He's all about engagement and pursuing the so-called Sunshine Policy version two. There are potential flashpoints which could be problematic."
Moon has criticized the past nine years of conservative governments for derailing the progress made under a decade of liberal administrations. Perhaps most significantly for Trump, Moon has pledged to review the decision of the Park administration to deploy the U.S. Terminal High Altitude Area Defense antimissile system, which is designed to intercept and destroy just the kind of ballistic missiles North Korea has been testing.
It is also highly controversial. As the equipment was transported to a southeastern region of the country last week, hundreds of protesters clashed with police. Moon, meanwhile, strongly criticized the decision of the caretaker government to deploy the system just days ahead of the election.
"Would it happen this way in the United States?" he said. "Could the administration make a unilateral decision without following democratic procedures, without ratification or agreement by Congress?"
The project became yet more controversial Thursday, when Trump, in an interview with Reuters, said he wanted South Korea to pay the estimated $1 billion cost. In terms of helping to get a South Korean government favorable to his policies, it was a far from advisable move.
"That only helps candidates who have been opposed to that and does not candidates that have been pro," Terry said. "It wasn't clear to me how much Trump is aware of this. Does he understand there's an election coming up right now, that he might not want to do this?"
It is not the only talk from Trump that has been fostered concern in South Korea of late. Detailing a call he had with Chinese President Xi Jinping last month, Trump casually and erroneously stated that "Korea actually used to be part of China."
Such comments have gone down particularly badly with South Korea's younger generation, which heavily favor Moon.
"The older generation is more conservative and more pro U.S.," Terry said. "It makes sense, the older generation experienced the Korean War, experienced poverty and are thankful to U.S. and scared of North Korea. The younger generation, they don't have those experiences. And they were educated under the sunshine policy years."
As well as softening the military stance toward North Korea, Moon has called for the restarting of the Kaesong Industrial Complex, in which South Korean companies operate in North Korean territory with North Korean workers. The project, which was launched in 2004 under President Roh Moo-hyun, would, said Terry, in part undermine economic sanctions against the government of Kim Jong Un.
It all adds up to a potentially very different relationship between the U.S. and an ally that is arguably as key as it has ever been.
"I am quite concerned about the alliance going forward," Terry said. "It doesn't mean it's going to break down or anything, it's just that on all these things you have to work closely together and how do you do that when you have totally different views?"