'The Office': 5 Controversial Episodes That Haven't Aged Well
Since its debut in 2005, The Office has garnered a huge fanbase and has proven to be enduringly popular in both the U.S. and overseas. But while it's no doubt a comedic masterpiece and satirical by nature, there's also no denying some of the storylines are a little dubious.
Only this week, Comedy Central pulled one episode, "Diversity Day," from rotation. Although some have put it down to so-called "cancel culture," the network has not confirmed the motivation behind removing the controversial clip. The episode is still available on other platforms and may have been skipped due to licensing issues. Newsweek has contacted the network for comment.
Regardless of the motive, the episode has been hotly debated over the years for its questionable content—which involves Michael Scott (Steve Carell) doing an impression of Chris Rock's stand-up routine, putting on an exaggerated Indian accent, and asking people to name an ethnicity she or he finds sexually attractive.
Here, we take a look at some of the show's more controversial storylines and episodes that haven't aged so well.
1. Season 3, Episode 1 - 'Gay Witch Hunt'
Perhaps one of the hardest episodes to watch is the Season 3 opener, in which Michael calls Oscar (Oscar Nunez) "f**gy" for preferring Shakespeare in Love to Die Hard.
To justify the use of the offensive term, Michael then goes on a warpath, defending his choice of words, before delivering a non-apology to Oscar and outing him as gay.
Word then spreads around the office, with Oscar's deskmate Kevin (Brian Baumgartner) sniggering about the revelation and Angela (Angela Kinsey) proceeding to make homophobic comments and pointedly using hand sanitizer after Oscar returns to his desk.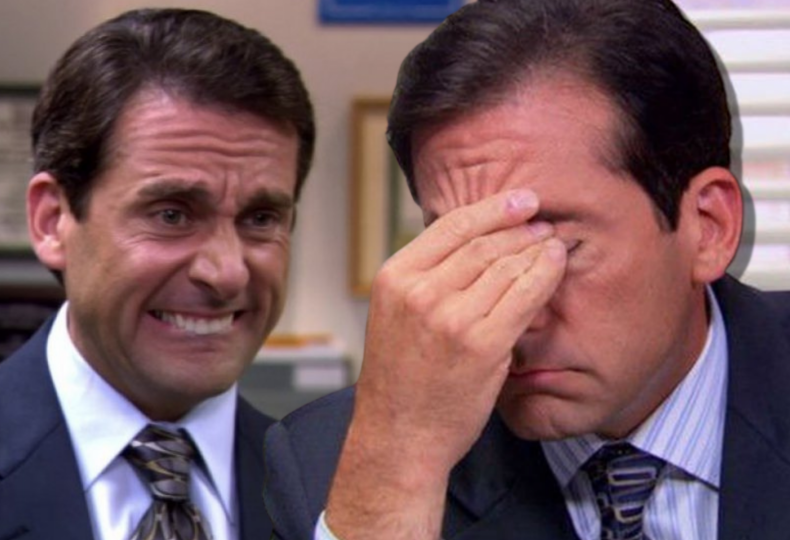 Michael then enlists Dwight (Rainn Wilson) to help him figure out who else in the office might be gay before the pair call Jim (John Krasinski) at his new office to enquire about buying a "gaydar" (a prank Halpert pulled on Dwight previously).
Despite Jan (Melora Hardin) reprimanding Michael for outing Oscar, quite rightly pointing out that it's his decision if, when and how he tells people about his sexual orientation, Michael (true to form) calls an emergency meeting—in which there are several uncomfortable comments made.
Oscar says to the camera: "This is the worst, most backwards day of my life," before telling Michael to his face that his behaviour is "ignorant." Michael then gets emotional for being called out, somehow flipping things around so that Oscar feels obliged to back down. The squeamish scene then ends with Michael forcing Oscar into an embrace, then "raising the stakes" by kissing him in front of the team.
2. Season 3, Episode 10 - 'A Benihana Christmas'
This is the first of two Christmas specials that have made it onto the list, and it sees Andy (Ed Helms) take Michael out for lunch to forget his heartache. Michael quickly invites his "entourage"—Jim and Ryan (B.J. Novak)—and Dwight tags along.
They go to the Japanese teppanyaki restaurant, Benihana, where they meet two young waitresses and invite them back to the office party that Angela and the committee are putting together.
Once back at Dunder Mifflin, though, Michael says that he can't tell them apart, and so marks the arm of the one he likes with a pen.
Actress Kat Ahn, who played one of the waitresses, Amy, has since spoken out about taking on a "racist role." In a video uploaded to TikTok, Ahn said: "I actually understand why BIPOC actors play racist roles. You know, sometimes you've gotta pay your rent; sometimes you enjoy the union; sometimes you just don't want your agent to drop you."
She then went on to label the episode as "problematic."
3. Season 3, Episode 11 - 'Back From Vacation'
Following his split from Carol (Nancy Walls), Michael heads to Jamaica. Only, when he returns to Scranton everyone discovers that he was, in fact, with Jan.
Michael not only has a hair braid with beads the color of the Jamaican flag, but he also has a questionable tan and puts on an accent, telling Stanley (Leslie David Baker) he's not as relaxed as his Jamaican "brothers."
To make matters worse, he accidentally sends a picture of Jan sunbathing topless to the packaging department, which then quickly circulates the office. He both relishes the praise from his male co-workers and panics—not because of how Jan would feel about her subordinates seeing her exposed body, but because she might end their relationship as a result.
What we will say about this episode is that there's a very heartwarming exchange between Pam and Dwight.
4. Season 2, Episodes 2 - 'Sexual Harassment'
Aside from the blonde jokes and crass remarks about women made by Todd Packer (David Koechner), it comes to light that the CFO of Dunder Mifflin was fired after sexually harassing his secretary.
Despite Toby's (Paul Lieberstein) best efforts to remind everyone of the HR protocols and about crossing the line, Michael sees the rules as an affront to his sense of humor, calling it his "retirement from comedy."
During an HR training video that Michael and some of the warehouse workers are watching, Darryl (Craig Robinson) points to the woman featured in the clip and alleges he's slept with her, which prompts locker room "banter" and Michael to call her a hypocrite for appearing in a video about sexual harassment.
At the very end of the episode, it appears as though Michael has finally learned the error of his ways, as he attempts to save Phyllis (Phyllis Smith) from the inane (and offensive) chat of Packer.
Very soon, however, he slips right back into routine, planting a kiss on her cheek. She tells him he needn't worry about her reporting him to HR, to which he replies: "The only thing I'm worried about? I'm getting a boner."
5. Season 5, Episode 11 - 'Moroccan Christmas'
After discovering that Angela has been sleeping with Dwight while engaged to Andy, it's Phyllis' turn to arrange the Christmas party. She decides to go for a Moroccan theme, much to the disgust of Angela and arranges various dishes, decorations and dancing.
After several drinks, however, Meredith (Kate Flannery) starts belly dancing, eventually setting her hair alight by accident and having to be extinguished by Dwight.
Michael then interrupts the festivities in order to host an intervention. Getting everybody to sit around in a circle on the floor, he then tells Meredith she has a drinking problem. First, he goes through a checklist to determine whether or not she's an alcoholic, then he asks her colleagues to identify ways in which her drinking has affected them, not only killing the party vibe but putting Meredith on the spot.
Despite her usual resilience, this is the first time fans see real vulnerability in her character. She looks visibly distressed by Michael's line of questioning, especially as it's in front of all her co-workers. Her boss then tries to admit her into rehab against her will in an equally uneasy scene.
Another questionable moment in the same episode is when Angela takes a bite of a cookie and spits it out as soon as Phyllis mentions they are a traditional sweet prepared for Ramadan, a month of fasting, prayer and reflection in the Islamic faith.
Elsewhere, Toby is desperate to get a coveted Unicorn Princess doll for his daughter, but when he goes to buy one from Dwight (who has stocked up in advance to exploit desperate parents in the lead-up to Christmas), he finds Darryl has bought the last toy. After some bartering, he finally manages to convince Darryl to let him have the toy, but when he sees it is a Black version of the doll, Toby's face visibly changes.
Update 09/04/2021 4:45 a.m. ET: This article has been updated with comments from actress Kat Ahn.