U.S. Orchestrating Covert Terror Attacks Inside Russia, Foreign Intelligence Claims
The U.S. military is recruiting "jihadist militants" to carry out terrorist attacks in Russia and the CIS countries, Russia's Foreign Intelligence Service (SVR) has claimed.
Like the CIA or MI6, the SVR garners intelligence on foreign countries, rather than on domestic operations.
"According to credible data received by the Foreign Intelligence Service of the Russian Federation, the U.S. military is actively recruiting militants of jihadist groups affiliated with the Islamic State (IG, a terrorist organization banned in the Russian Federation, approx. TASS) and Al-Qaeda (banned in Russia, TASS), to commit terrorist attacks on the territory of Russia and in the CIS countries," the statement relayed from the SVR to the state-owned TASS news agency said Monday.
The SVR said in January, 60 "terrorists with experience in combat operations in the Middle East" were selected, and they undergoing training at the U.S. al-Tanf base in Syria.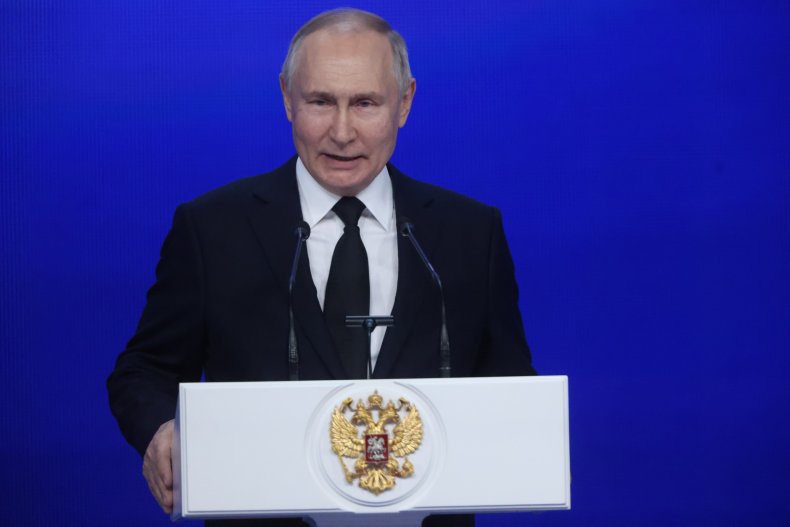 As part of the training, the 60 fighters will be taught how to make and use improvised explosives, as well as sabotage techniques.
"Particular attention is paid to the planning of attacks on well-guarded facilities, including foreign diplomatic missions," the SVR said, TASS reported.
The SVR said that the U.S. plans to organize the deployment of the militants in small groups to Russia and the CIS countries.
"They will be tasked with preparing and carrying out terrorist attacks against diplomats, civil servants, law enforcement officers and personnel of the armed forces," the statement added.
The agency accused Washington of working with "underground cells of international terrorist groups," including Hizb ut-Tahrir, Jamaat Ansarullah and the Islamic Movement of Uzbekistan, all of which are banned in Russia, TASS reported.
"Obsessed with the insane idea of 'bleeding' Russia, Washington strategists consider it acceptable to directly use terrorists for their dirty purposes. Such actions put Washington on a par with the largest international terrorist groups," the SVR added.
Newsweek has contacted the Pentagon for comment on the allegations.
In October, Russian President Vladimir Putin said that the explosion that caused major leaks in the Nord Stream gas pipelines running from Russia to Europe was an "act of international terrorism." Russia believes that the West was behind the attacks, though the West has denied involvement.
Meanwhile, NATO said on Monday that Russia's new offensive in eastern Ukraine has started.
"We see no sign whatsoever that [Russian] President [Vladimir] Putin is preparing for peace ... What we see is President Putin and Russia still wanting to control Ukraine," NATO chief Jens Stoltenberg told reporters at a news briefing in Brussels.
"We see how they are sending more troops, more weapons, more capabilities," he added. "The reality is that we are seeing the start [of a new offensive] already."