U.S. Parents Are Nearly Split on Whether to Get Their Children Vaccinated: Poll
Roughly as many parents who plan on vaccinating their younger children against COVID-19 say they don't want their kids to receive the jab, according to a new poll.
Published by CBS News and YouGov, the survey also found that many parents are still undecided about whether to give their children the vaccine.
Thirty-seven percent of parents with children between the ages of five and 11 say they plan on giving them the coronavirus vaccine, according to the result, while 35 percent say they won't. Twenty-six percent of parents responded with "maybe."
The poll surveyed 2,054 U.S. adult residents between October 6 and October 8.
Parents who are vaccinated themselves are more likely to plan on vaccinating their children. Sixty-one percent of vaccinated parents say their children will get the shot, while only 10 percent of unvaccinated ones say they plan to get their kids vaccinated.
The Centers for Disease Control and Prevention currently recommends that children 12 and older receive the COVID-19 vaccination. At this point, they are eligible to receive the Pfizer vaccine.
The CDC says that children between the ages of two of 12 "should wear a mask in public spaces and around people they don't live with."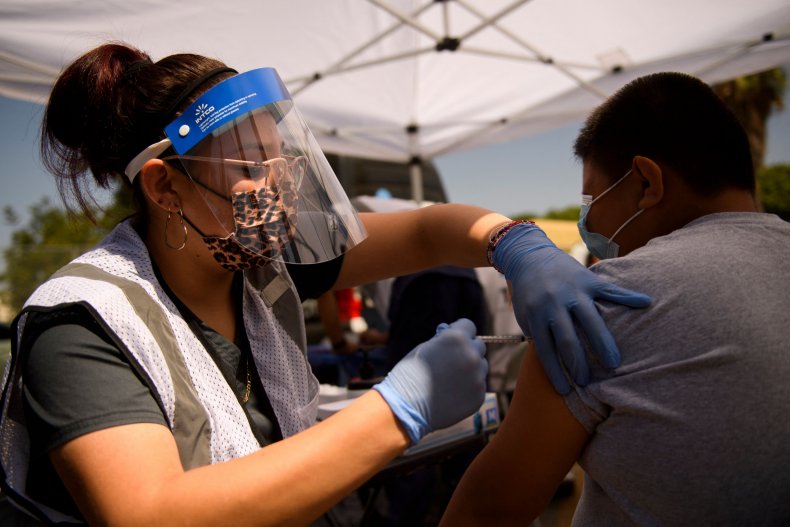 On Thursday, Pfizer announced that it submitted the COVID-19 vaccine for children between 5 and 11 years old to the U.S. Food and Drug Administration for approval.
According to the Associated Press, the drug company says its research demonstrated that younger kids should be given a third of the dose that's provided to everyone else, and that children can develop effective antibodies. If the FDA approves the vaccine for younger children, it could be rolled out within weeks.
The poll also found that a majority of parents of school-aged kids—55 percent— say they believe that wearing masks should be required in schools. Thirty-nine percent said masks in schools should be optional, while 6 percent said masks shouldn't be allowed there.
The majority of respondents also said that they approved of President Joe Biden's handling of the COVID-19 pandemic. Fifty-seven percent of those surveyed say Biden is doing a "good job" with the pandemic, while 43 percent said he is doing a "bad job."
Biden's high marks for his handling of the pandemic come as his overall approval rating has fallen in recent weeks. On Thursday, a Quinnipiac University poll found Biden at his lowest ever approval rating, at 38 percent.