Government officials are preparing for a "worst-case scenario" in which 400,000 migrants could cross the southern border this October, marking what would be the biggest influx in almost two years.
A COVID restriction, Title 42, implemented by the Trump administration, has kept most asylum seekers out of the United States but a new ruling may lift the authority and allow a surge of border crossings.
During a call with senior officials this week, Department of Homeland Security (DHS) Secretary Alejandro Mayorkas asked whether the department was prepared for between 350,000 to 400,000 migrants to cross the border this month, according to NBC.
The number is not based on internal intelligence or calculations, NBC reported, but it's an estimate based on the worst-case situation and what's expected to be an overwhelming surge in border traffic if Title 42 is lifted.
In July, a 21-year record was broken when more than 210,000 migrants crossed the border. The figures expected for this month are expected to be nearly double.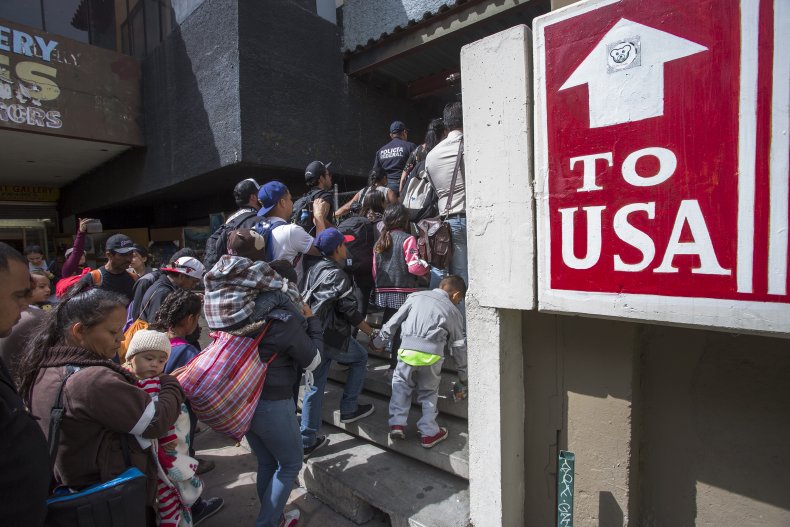 Title 42, which was authorized by the Centers for Disease Control and Prevention (CDC) and implemented by the Trump administration in March 2020, denied entry to the U.S. for most asylum seekers in order to lessen the spread of COVID-19.
The policy continued under the Biden administration but was lifted for unaccompanied children. However, since Mexico doesn't have the capacity for the majority of migrants, many have been allowed to claim asylum, according to NBC.
On September 16, U.S. District Judge Emmet Sullivan ruled that the current administration does not have the power to block asylum seekers at the U.S. Mexico border using the restriction. It would become effective in 14 days.
DHS officials are concerned that migrants will misunderstand the change in policy as a message that the border is open regardless of the legal process for obtaining asylum.
An appeal has been filed on the ruling and the Biden administration may appeal the Supreme Court if Title 42 is lifted by the lesser court.
"Given that the administration was already this summer allowing most families to seek asylum and has now been in power for eight months, there's no reason why there needs to be any further delay ending Title 42," said Lee Gelernt, lead counsel in the litigation for the American Civil Liberties Union (ACLU), which sought to stop the use of Title 42 to block families seeking asylum.
Single adults would still be subject to the restriction under Sullivan's order but families would be allowed to stay in the country. U.S. officials considered lifting Title 42 in July but many feared it would cause a migrant surge.
"It is currently our government's intention to continue to exercise our Title 42 authority in light of the public health imperative as determined by the Centers for Disease Control," Mayorkas said during a September 21 MSNBC appearance.
The news comes as President Joe Biden received his lowest approval rating yet on immigration with just 35 percent of Americans saying they support his handling of the issue—weeks after controversial images of Border Patrol agents interacting with Haitian migrants sparked an internal investigation.
Newsweek reached out to DHS for comment but did not hear back by the time of publication.