Donald Trump's "Patriotic Devotion" Day, Explained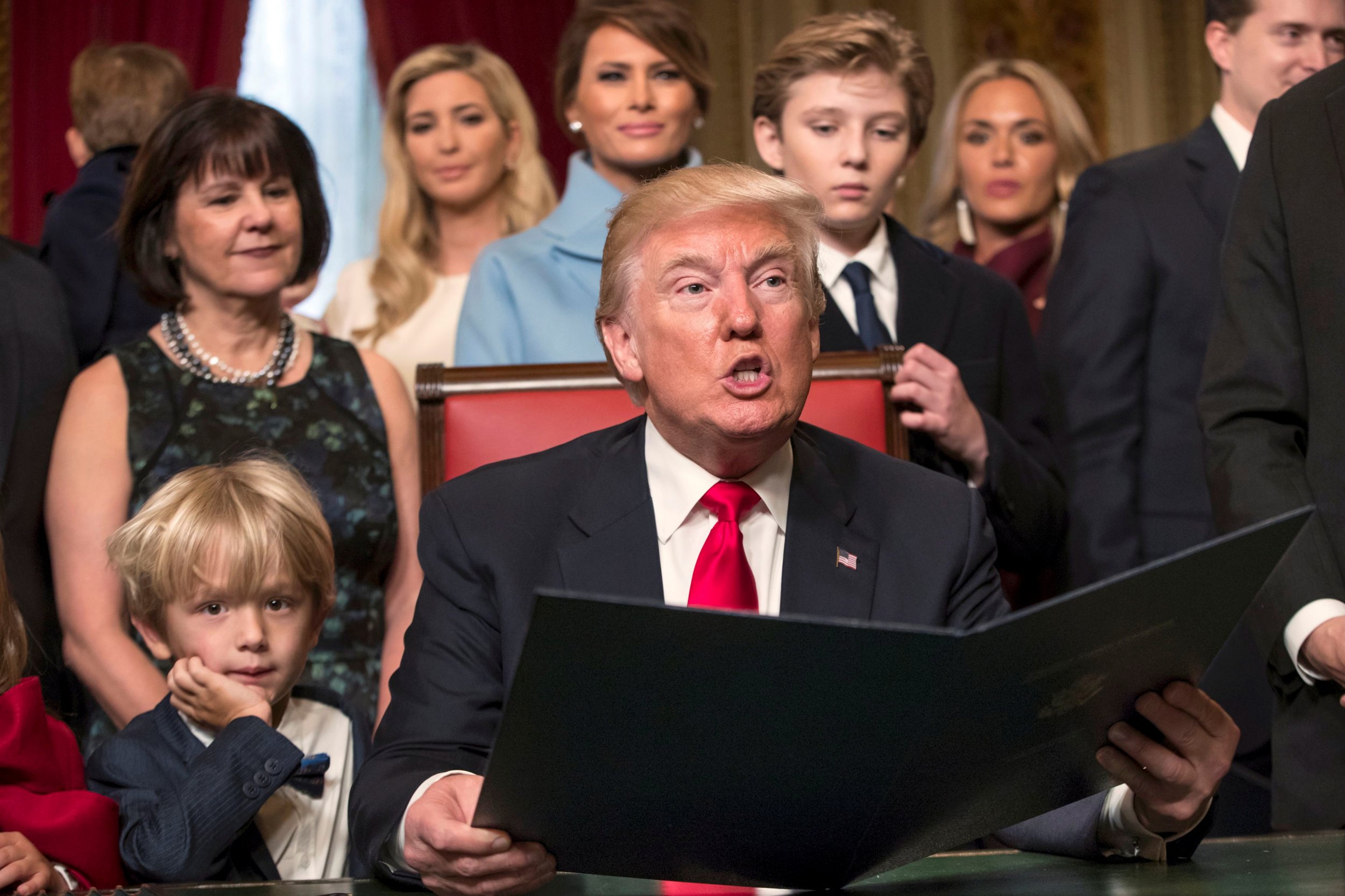 Updated | President Donald Trump proclaimed a new national holiday for "patriotism" on his first day in office, according to a tweet by White House Press Secretary Sean Spicer on Friday.
By Monday, eagled-eyed Ken Klippenstein spotted a document posted to the Federal Register outlining more specifics. The "National Day of Patriotic Devotion" was established by Trump in order to "strengthen our bonds to each other and to our country — and to renew the duties of Government to the people," according to the document.
If a new holiday sounds like a big deal, it's because it is. Federal holidays stamp out an entire day for government employees to receive a full day's wages while enjoying some personal time off — think of all the millions of pieces of mail which are delayed by the U.S. Postal Service alone. Federal holidays are so rare, in fact, they have only been approved ten times in American history. One of those ten federal holidays is Inauguration Day, which happened to fall on January 20 in 2017.
The National Day of Patriotic Devotion falls on the same day as a federal holiday—Inauguration Day
Historians may find other cases of this instance, but Trump may be the first president to declare a national holiday on top of a pre-existing federal holiday. He's also likely the first president to declare a national day-federal holiday duo on his Inauguration Day. This is quite confusing, to be sure, so let's review how holidays are usually declared.
RELATED: Trump promises to 'put America first'
Each nationally-celebrated holiday evolved into formal federal holidays in their own unique ways, but none were quickly or widely celebrated in the sort of mass uniformity we see today. For example, Congress waited to declare Independence Day a federal holiday until 1870, according to the Library of Congress, as well as New Year's Day, Thanksgiving, and Christmas. As the decades flew by, Congress eventually added Washington's Birthday, Decoration Day (Memorial Day), Labor Day, Armistice Day (now Veterans Day), Inauguration Day (celebrated exclusively in Washington, D.C. every four years, for obvious reasons), Columbus Day, and Martin Luther King Jr.'s Birthday.
And yes, Inauguration Day fell on January 20 this year. That means it was already a holiday before Trump declared it one, though of a different sort.
While presidents can proclaim national holidays and/or, by executive order, enact one-time federal holidays on the spot, it always takes Congressional approval to enact an annually-observed paid federal holiday, of the sort Inauguration Day is.
As CNBC reported on Friday, former presidents George W. Bush and Barack Obama have proclaimed national days, most notably Patriot Day in honor of those who died on September 11, 2001. A president's alternative option, declaring a one-time federal holiday, is vastly more politically difficult to pull off. According to the Washington Post, George W. Bush's mandated observance after Ronald Reagan's death may have cost taxpayers more than $400 million, and quite unexpectedly so.
Here's where semantics matters. It's a safe bet the Trump Administration has little interest in making the National Day of Patriotic Devotion a federal holiday or alternatively expanding Inauguration Day into a nationally-celebrated federal holiday. It is odd that we now have two holidays roughly on the same day and both presumably celebrate freedom. For now, federal employees (or employees of companies which follow the federal holiday schedule) shouldn't plan on having an extra paid day off thanks to the new president, even if you do intend on being doubly patriotic on January 20.
This story has been updated to include the Federal Register document.