Railroad Strike Could Cause Prices to Spike Again for Americans
The stock market entered a free fall Tuesday morning after the release of new data showing the consumer price index—the monitor for how expensive goods are—had increased more than 8 percent over the last year.
While already bad news for consumers, whose wages increased at an even lower rate, a looming potential railroad strike could make that situation even worse. As of Tuesday, unionized workers for several of the nation's largest railroad companies have refused to accept the terms of a tentative collective bargaining agreement arbitrated by the Association of American Railroads (AAR), setting the stage for roughly 116,000 railworkers to go on strike after negotiations hit a key deadline on Friday.
If rail traffic stops, it could be disastrous for the economy. Any given year, railroads deliver approximately 40 percent of all U.S. long-range freight traffic, industry figures show, with delivered goods ranging from electronics and pharmaceuticals to animal feed and fossil fuels. Interruptions of any sort, experts say, would only exacerbate existing supply chain issues that have already fueled hefty spikes in prices that have only recently begun to level off, according to federal numbers released Tuesday.
"Since a good portion of final goods, intermediate goods and raw materials are carried by trains, then a strike will likely impact prices," Daraius Irani, a professor of economics at Towson University, told Newsweek. "This would already magnify the challenges of a recovering supply chain."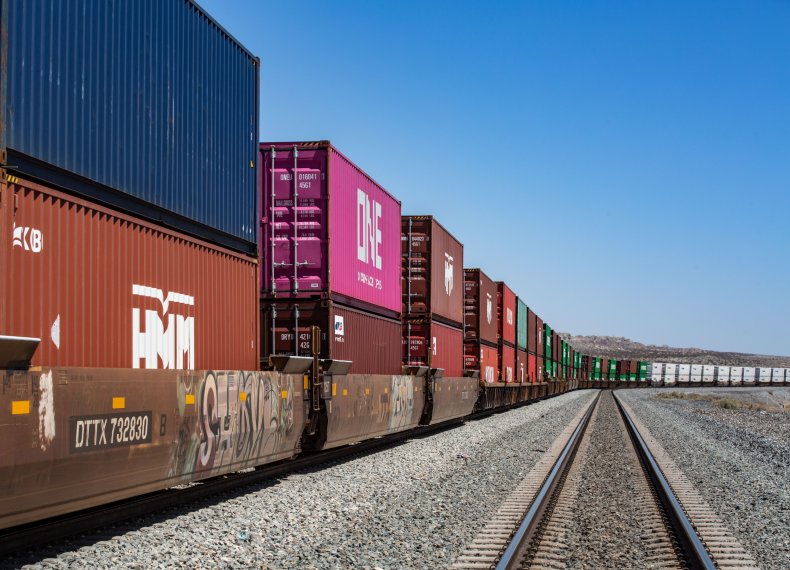 Food producers have already warned Congress a shutdown would quickly overwhelm the nation's grain storage facilities, leaving farmers with few options to store their crops, increasing spoilage rates, and raising the price of bread and other commodities as producers shut down. Commodities groups like the timber industry, already facing challenges, have warned any hindrance in their ability to deliver goods could also lead to shutdowns and soaring prices. According to the AAR, rail is the most prevalent method for transporting timber and is critical in defining the cost of developing new housing.
The most significant implications of a rail strike, however, could be seen in the energy sector, as a stressed power grid in states like California and heightened fuel prices have already forced consumer costs to rise. At its annual meeting in Denver this week, attendees at the National Coal Transportation Association said their number one concern for the coming year was a looming strike and its implications on an industry that has already faced challenges from a dwindling number of rail workers who either left their careers voluntarily or were laid off during the COVID-19 pandemic.
"This has been an issue for a long time," Travis Deti, a conference attendee and executive director of the Wyoming Mining Association, told Newsweek. "We are just not getting enough trains to move our coal. It's caused a lot of heartburn with the utilities, and that's putting it mildly. We're in a situation right now where gas prices are so high and there's so much demand for Wyoming coal, we should be having a really good year. We're selling well into 2023. But we're just having difficulty getting that coal to customers because of the rail service."
A shutdown, however, could eliminate even the small percentage of coal being provided to utilities providers in states like California, forcing them to rely on already expensive and limited stores of oil and natural gas. Over the last year alone, energy prices have increased 24 percent, the Bureau of Labor Statistics reported Tuesday, with any other challenges to existing supply chains only likely to worsen the problem.
In talking points provided to the media Tuesday morning, the AAR argued that worker grievances about lack of paid leave or sick time alleged by the railroad unions were "false" and that, as things stand right now, a majority of rail unions, the White House and various industry groups have stood by a bevy of recommendations that include 24 percent pay raises and a new scheduling policy for workers.
Entering Tuesday, both BLET (Brotherhood of Locomotive Engineers and Trainmen) and SMART TD (International Association of Sheet Metal, Air, Rail and Transportation Workers)—which represent roughly half of the nation's rail workers—had declined to accept a deal, arguing it fell well short of workers' demands.
Some, like Deti, say the problem is the railroad's own making after widespread layoffs before the pandemic and their refusal to meet worker demands began contributing to increasing worker strife and heightened turnover.
"The railroads are doing actually quite very well right now on their bottom line," he said. "There's not a lot of incentive for customer service right now. They're dealing with their labor issues, and it's just all coming to a head. Something's got to give. Regardless of what happens, the cost of rail shipping is gonna go up for utilities and it's going to drive the costs up for everybody. It's kind of a Catch-22."