U.S. and Russia Hit Back At Turkey's Threat to Attack Their Allies in Syria
The United States and Russia have both expressed opposition to Turkey's threats to resume an offensive in northeastern Syria, where insurgents backed by Ankara have engaged in deadly clashes with allies of both Washington and Moscow.
In a parliamentary speech Monday, Turkish Foreign Minister Mevlut Cavusoglu accused both the U.S. and Russia of failing to live up to back-to-back ceasefire deals last month promising the withdrawal of Kurdish People's Protection Units (YPG) fighters from designated areas along the Turkish-Syrian border. The top diplomat warned that the two countries have still not "fulfilled whatever was necessary under the agreements" and that his government "will do whatever is necessary in northern Syria" to ensure its goals were met.
Both U.S. and Russian officials disagreed with his assessment.
"We informed the Turkish Government on October 22 that the withdrawal of YPG from the areas controlled by the Turkish military, as stipulated in our Joint Statement of October 17, was complete," a State Department spokesperson told Newsweek Tuesday. "We stand by that assessment, and note that the Turkish Government has not formally raised any claim of non-compliance with the U.S. Department of State."
"We expect Turkey to live up to their obligations under the October 17 Joint Statement, including to halt offensive operations in northeast Syria," the spokesperson, who was authorized only to speak on background, added. "Any new offensive would further undermine regional stability and provide malign actors with opportunities to exploit this instability for their own purposes."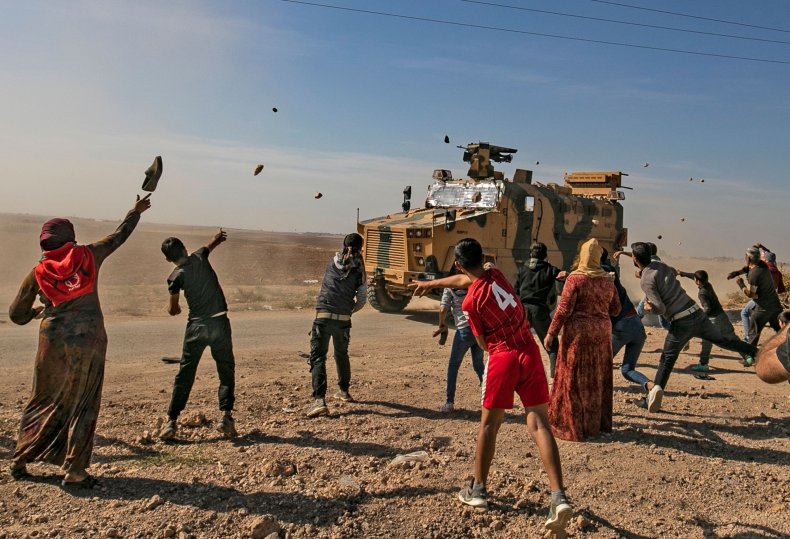 Also on Tuesday, Russian Defense Ministry Spokesman Major General Igor Konashenkov told reporters that Moscow's military "was surprised to hear Turkish Foreign Minister Mevlut Cavusoglu's statement about Russia's alleged failure to fulfill its promises, as well as his threats about an operation in northern Syria," according to the state-run Tass Russian News Agency.
"The Turkish top diplomat's statement calling for military activities may raise tensions in Syria's north instead of easing them in accordance with a joint memorandum signed by the presidents of Russia and Turkey," Konashenkov warned, arguing that "a series of measures that Russia has been taking made it possible to significantly stabilize the situation in the region," including its deal with Turkey and deployment of military police patrols.
The U.S., Russia and Turkey have all taken opposing sides in Syria's eight-year civil war. While Washington and Ankara were initially united in supporting the 2011 rebel and jihadi uprising against Syrian President Bashar al-Assad, the former came to back the YPG-led Syrian Democratic Forces against the Islamic State militant group (ISIS) as Russia joined Iran in supporting the government against all insurgent forces.
With ISIS largely defeated and Syria's opposition widely reduced to small stretches of territory in the northwest, the Syrian Democratic Forces have come to rule much of the country's northeast as the Syrian government reclaimed the majority of the nation elsewhere. Turkish President Recep Tayyip Erdogan, however, views the YPG as an extension of the outlawed Kurdistan Workers' Party (PKK), a separatist group that has waged its own bloody war against the Turkish state.
Erdogan has twice launched incursions to allow the Syrian rebels his country sponsors to take territory from the YPG. As he commenced a third cross-border offensive last month, President Donald Trump decided to withdraw troops to avoid a fight between a NATO ally and a local partner force.
The exit—followed by additional U.S. forces sent to the country's eastern oil fields—saw the Russian and Syrian militaries assume abandoned U.S. outposts as Moscow oversaw a security agreement between Damascus and the Syrian Democratic Forces, both of whom view Turkey as an invading power and its allied rebel groups as existential threats. To halt the Turkish-led advance, both the Trump administration and Russian President Vladimir Putin struck overlapping deals with Erdogan, vowing to ensure a withdrawal of YPG fighters from designated border regions.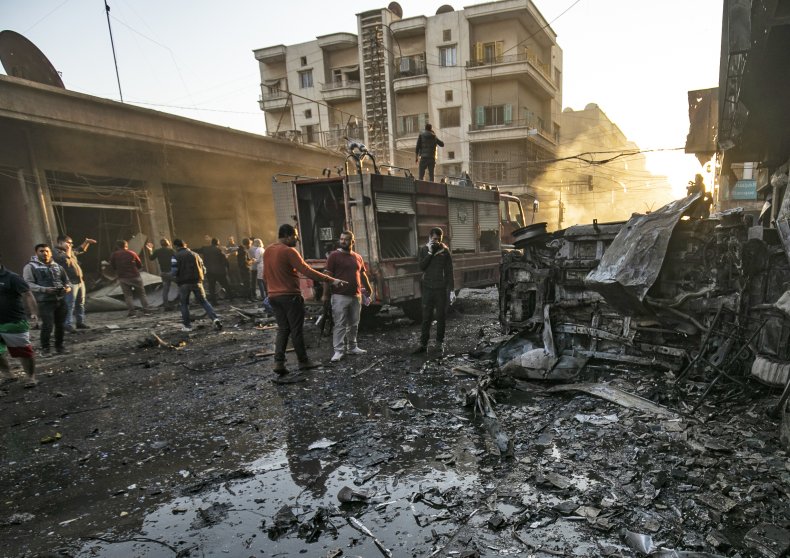 Both the Turkish-led campaign and the joint Syrian Democratic Forces-Syrian government campaign have accused one another of since violating these ceasefires as the death toll continued to mount. The Syrian Observatory for Human Rights, a U.K.-based monitor with ties to Syria's opposition, reported fresh clashes Tuesday in villages near Tal Abyad in Raqqa province and elsewhere Monday across Hasakah province.
The state-run Syrian Arab News Agency reported Tuesday that the Syrian military had expanded its deployment in Hasakah, accusing Turkey-backed forces of committing acts of looting and kidnapping against the civilian population. That same day, the Syrian Democratic Forces spokesperson Mustafa Bali accused the opposing side of ethnic cleansing.
"The last Armenians living in Turkish occupied Jarablus in northern Syria were forced to convert to Islam by [Turkish]-backed militias," he tweeted. "Artin and his wife Siron became Marouf and Fatima. Persecution of ethnic and religious minorities continue in everywhere Turkey has occupied."
Meanwhile, Erdogan tweeted an excerpt of his speech the day before, vowing that his country's "fight will continue until all terrorist threats to Turkey, particularly in Syria and Northern Iraq, have ended and the last terrorist has been neutralized."