U.S. and Russia Refuse to Back Down as Black Sea Tensions Rise
NATO and Russian forces are both refusing to change course in the Black Sea, where recent military confrontations have raised fears of a sudden violent escalation dragging in the U.S., Russia, the European Union and Ukraine.
In recent weeks, Russian forces have confronted British and Dutch ships sailing close to Crimean territorial waters, a region annexed by Moscow in 2014, and considered Russian by Moscow. However, NATO allies have never accepted the annexation, while also condemning the Kremlin's 2014 invasion of Ukraine.
Russia claimed to have fired warning shots at the British destroyer HMS Defender—a claim denied by British defense officials—and Russian jets reportedly conducted mock attack runs against Dutch frigate HNLMS Evertsen.
The Black Sea has long been a hotspot for Western-Russian tensions. The Ukraine crisis made it an even more potent flashpoint, with Moscow's seizure of the strategically valuable peninsula winning it a strong outpost in the Black Sea to go along with its existing naval base in the coastal city of Sevastopol.
The Black Sea is one of the triggers that "creates the potential for an explosion in U.S.-Russian tension," explained Mark Simakovsky, a senior non-resident fellow at the Atlantic Council who formerly served as Russia country director and Europe/NATO chief of staff in the Office of the Secretary of Defense for Policy.
Both sides, Simakovksy said, will likely be "very worried and concerned about" such triggers.
But both are refusing to blink first.
A NATO official told Newsweek that alliance nations would not be changing their operations despite Russian protests.
"NATO ships routinely operate in the Black Sea, consistent with international law, usually patrolling the waters for around two-thirds of the year," the official said.
"NATO supports Ukraine's sovereignty and territorial integrity within its internationally recognised borders, extending to its territorial waters. We do not and will not recognise Russia's illegal and illegitimate annexation of Crimea and denounce its temporary occupation."
Dutch forces, too, will continue operations as before, a military official told Newsweek. HNLMS Evertsen was "operating in full accordance with international law and the United Nations Convention on the Law of the Sea," said Defense Ministry spokesperson Lieutenant Commander Alex Kranenburg.
"Therefore, there is no reason for HNLMS Evertsen to change its modus operandi."
Kranenburg said Eversten will leave the Black Sea by the end of the week, as part of planned operations with a British carrier task group heading to Asia.
"The presence of HNLMS Evertsen in the Black Sea fits within our normal operational pattern," Kraneburg said.
"It is not unusual for NATO warships to operate in the Black Sea. We are there to enhance maritime situational awareness, to exercise with NATO and non-NATO partners and to visit several ports from partner nations. This fits within the assurance of our partners in the area. The Netherlands respects the territorial integrity and sovereignty of Ukraine."
British Defense Minister Ben Wallace said Defender "maintained a safe course throughout her innocent passage."
The British view is that Defender's course was fully legal. Wallace's statement on the incident read: "The United Kingdom does not recognise any Russian claim to these waters, nor do we recognise the assertion from the Russian Ministry of Defence that HMS Defender was in violation of the UN Convention on the Law of the Sea."
Previously, Russian forces have conducted numerous close flybys of several NATO vessels—including U.S. Navy ships—while shadowing others.
Russian jets also routinely intercept NATO aircraft over the Black Sea, all part of the typical probing of adversaries' airspace conducted by nations around the world.
In 2019, Russia seized three Ukrainian vessels and 24 sailors off Crimea in the Black Sea, prompting fears of a major escalation in eastern Ukraine. Though that was avoided, Russia has since continued what its critics fear is a gradual effort to establish de facto control of the Black Sea, and by extension Ukraine's coastline.
Both sides also regularly hold military drills in the area. This week, the U.S.- and Ukraine-led Sea Breeze naval drills began in the Black Sea, according to the U.S. Navy involving 32 countries, 5,000 troops, 32 ships, and 40 aircraft.
A spokesperson for the U.S. Navy's Sixth Fleet—responsible for European operations—cited the Sea Breeze exercises as proof of America's commitment to a free and stable Black Sea region, even though Russia might see such drills as provocation.
"The approximately 30 nations participating in Sea Breeze demonstrate an international commitment to stability of the Black Sea," Lieutenant Commander Matthew Comer told Newsweek.
"Misinformation threatens that stability of this vital international waterway. Our operations during the annual execution of Sea Breeze are designed to build cohesion among Allies and partners, and are not in response to any real world events."
"U.S. Sixth Fleet along with allies and partners will continue to conduct routine operations in international waters and airspace, ensuring freedom of navigation and uninhibited maritime trade across the global commons."
Russia sees any Black Sea maneuvers as a challenge to its control of Crimea; essentially ploys to bolster the Ukrainian government and undermine the Kremlin. NATO patrols in the Black Sea are more ammunition for Russia's historic fear of encirclement and subjugation by its Western adversaries.
The Crimea problem is not going away.
Russia will not relinquish the territory voluntarily, but the West has no way to force the issue. The simmering conflict in eastern Ukraine is the most pressing problem for Kyiv; the government's continued vow to reclaim Crimea a stirring but distant goal.
Operating in the Black Sea is one way for the U.S. and its allies to keep the pressure on Moscow without risking a conflagration in Ukraine itself. There is little to be gained from fresh violence in Donbas, but Biden and his Western counterparts cannot let Russia project de facto control of the Black Sea region unchallenged.
Black Sea operations also put pressure on some of Russia's geopolitical ambitions.
The Black Sea is central to the Russian oil and gas trade, plus the main route for its military power projection into the Mediterranean and around European, African, and Middle Eastern coastlines.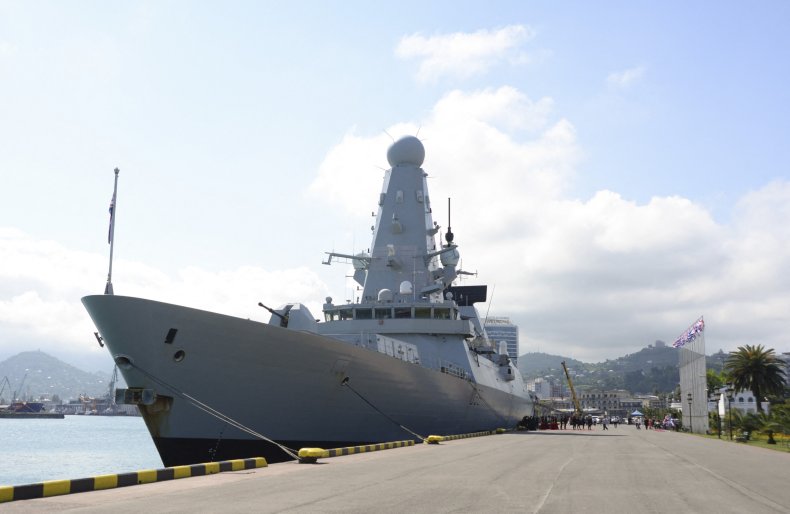 Russian President Vladimir Putin has blamed NATO nations for the confrontations. He accused the U.S. and U.K. of a "complex provocation," planned to evoke a Russian response. The president suggested the incident was part of a plan to set up military bases either in Ukraine or nearby.
"They know they cannot win this conflict: we would be fighting for our own territory; we didn't travel thousands of miles to get to their borders, they did," Putin said.
The Russian embassy in Washington, D.C. did not respond to Newsweek's request for comment in time for publication.
But Foreign Ministry spokesperson Maria Zakharova said Thursday: "Washington and its allies are consistent in turning the Black Sea water zone from an area of cooperation that was being built into a forceful confrontation zone."
"It is done deliberately in order for another region in the world under the U.S. leadership to become unstable and threatening."
The current situation plays somewhat into both Russian and Western hands.
Simakovsky described it as a "typical diplomatic, political and military dance" between Moscow and Washington, D.C.
Putin gets to push back on perceived Western encroachment and protect Russia's sphere of influence, while the U.S. and its NATO allies get to assert their support for a sovereign Ukraine and free Black Sea.
Russia's reported firing over or near NATO ships, Simakovsky added, is not normal and will not be welcomed in the West. But added "both sides are getting what they want, potentially, from this."
Ukraine needs Western support. Even with NATO, U.S. and EU backing, its eastern Donbas region remains frozen in conflict with seperatist militants backed by Moscow. Russia would overwhelm Ukraine in any conventional conflict, and maintains a steady drip of regional unconventional operations, for example cyber attacks.
Ukrainian Foreign Minister Dmytro Kuleba told Newsweek Friday that while he does not expect Russia to spark off a "suicidal" confrontation with NATO powers in the Black Sea, Kyiv needs its Western allies to keep pushing back against Moscow's strategy of "pinch and provoke."
"In our conversations with NATO we are very frank on this: if things continue as they are, there is a risk that Russia may significantly increase its control over the Black Sea and further expand its influence in the region," Kuleba said. "Which means elevated threats for the security and stability of Ukraine and NATO allies there."
At the end of the NATO summit in Brussels in June, the alliance reiterated its support for a Black Sea presence, plus its continued backing of Ukraine, Georgia and Moldova. Both Ukraine and Georgia are already on the path to NATO membership, much to Russian fury.
"We strongly condemn and will not recognise Russia's illegal and illegitimate annexation of Crimea, and denounce its temporary occupation," the summit communique read.
"We call on Russia to reverse its military build-up and stop restricting navigation in parts of the Black Sea. We also call on Russia to stop impeding access to the Sea of Azov and Ukrainian ports."
"We commend Ukraine's posture of restraint and diplomatic approach in this context. We seek to contribute to de-escalation. We are also stepping up our support to Ukraine."
President Joe Biden is expected to take a tougher line on Moscow than his predecessor. On the campaign trail, Biden attacked former President Donald Trump for perceived weakness on Russian affairs, and vowed to take on Putin, who he called a "killer."
Biden has already spoken out against Russian covert operations and introduced a series of new sanctions on Moscow, related to cyber attacks, attempted assassinations, and suppression of domestic dissenters.
After his Geneva summit with Putin last month, the White House and Kremlin released a joint statement on "strategic stability," pointing to the extension of the New START arms control treaty as an example of the stabilizing steps the two adversaries could take together even while in conflict elsewhere.
Biden and Putin, the joint statement said, "demonstrated that, even in periods of tension, they are able to make progress on our shared goals of ensuring predictability in the strategic sphere, reducing the risk of armed conflicts and the threat of nuclear war."
The Black Sea will remain an area of tension, though for now at least one unlikely to boil over into serious conflict.
"Inevitably there's going to inherently be latent competition between the United States and Russia in what Russia considers its privileged sphere of influence," Simakovsky said.
"As long as the United States asserts the right to sustain its engagement support for allies and partners in Eastern Europe, Russia is going to have a problem with it."