US-Russia Tensions On Rise in Europe, But the Arctic Is Their True Frontier
Temperatures are running high in Eastern Europe as the United States warns an unprecedented buildup of Russian forces could invade Ukraine at any moment despite repeated denials by the Kremlin.
And with Washington and Moscow at worsening odds, a faraway frozen frontier connecting the world's top two nuclear powers threatens to one day erupt should conflict ever break out between them.
In the Arctic, tensions are rising precipitously as Cold War-era rivals pursue competing interests and prepare for a potential confrontation.
"Even through the Cold War, through increased military activities in most recent years, the Arctic still has been a place where the eight Arctic nations come together and actually keep, for the most part, outside global politics separate from focusing on the Arctic," Michael Sfraga, founding director of the Polar Institute and President's Joe Biden's selection to chair the U.S. Arctic Research Commission, told Newsweek.
"That, sadly, is no longer the case," he added.
Sfraga, an Alaska native and geographer by training who has dedicated much of his life to studying the northern stretches of the globe, emphasized his concerns that souring relations between Washington and Moscow could lead to the most serious breakdown ever of cooperation and communication in the Arctic.
"If the Arctic was a bubble, and it's not, but if it were, it had a pretty good surface tension around it when it came to resisting external forces. You no longer see that," Sfraga said. "You see issues like Crimea and Ukraine, in particular, and other areas now pressuring this bubble, this balloon, that was around the Arctic."
If that bubble bursts, critical collaborations are at risk, such as data-sharing, research and joint exercises that have so far eluded some of the tensest moments of the long-tortured U.S.-Russia relationship, even as recently as when unrest first broke out in Ukraine eight years ago.
"The trend line held through the Cold War, the trend line held through 2014 up until just recently," Sfraga said, "and now I'm seeing and worrying about a very different dynamic, where the scale and scope of what could happen in Ukraine dwarfs any other matter that we've been dealing with for the last few decades."
In fact, he warns it "is something on a scale we have not had to deal with since the Second World War likely."
The buildup of what U.S. officials estimate to be 150,000 Russian troops on the border of Ukraine comes as Moscow demands a re-litigation of the European security order that has allowed NATO to expand eastward over the years, bringing bases and missile defense systems to Russia's borders.
Russian officials repeatedly reject the notion of any planned attack against Ukraine, and the Kremlin's true intentions ultimately remain a mystery to the White House. But the Biden administration has laid out in no uncertain terms that an imminent conflict remains a distinct possibility, and is actually more likely than not.
"I think if there is an invasion, let's just drop the veil here, if there is an invasion or a significant encroachment of whatever magnitude one would consider to be significant," Sfraga said, "I think all bilateral and multilateral agreements and cooperations could be frozen — literally and figuratively — and that would include the Arctic."
Perhaps most concerning to Sfraga and other Arctic-oriented experts and officials is the potential breakdown of longstanding deconfliction measures at a time of heightened military activity in the region. While a Pentagon spokesperson told Newsweek that no U.S. units were currently on heightened alert in the Arctic, a U.S. official with whom Newsweek recently spoke expected Russia to take such a measure, including in its Northern Fleet, should Ukraine-related tensions boil over.
And Sfraga said a potential "miscalculation" between the rivals, which could break down to just one pilot making the wrong call in the heat of the moment, has for years been high on the lists of concerns for him and for his colleagues.
But what was once theoretical is becoming an all-too-real fear.
"It's a concern that went from a 'small c' to a 'big C' just in the last year," Sfraga said, "and now that 'C' is flashing to me because the tensions are high, the pace is higher, the risks, the stakes are higher."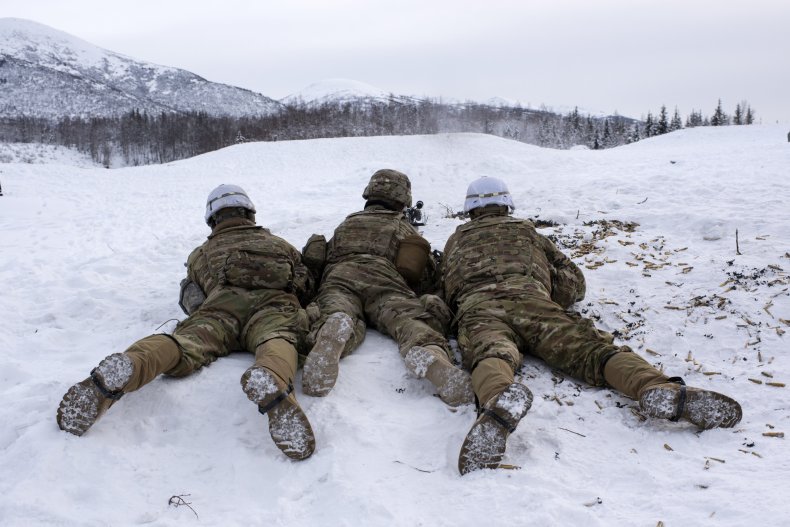 As the collapse of longstanding U.S.-Russia arms control measures such as the Anti-Ballistic Missile Treaty and the Intermediate-range Nuclear Forces Treaty contribute to the deterioration of the security situation in Europe, the erosion of risk reduction mechanisms in the Arctic has also elevated concerns that any confrontation could quickly spin out of control.
Friction over Ukraine has already claimed one such casualty. The defense chiefs of the eight Arctic Council states—Canada, Denmark, Finland, Iceland, Norway, Russia, Sweden and the U.S.—used to gather annually to discuss security issues in the region.
But this forum was canceled after Russia annexed the Crimean Peninsula in a referendum rejected by Washington and other countries, including the other Arctic Council members, amid turmoil in Ukraine, which continues to wage war against pro-Moscow separatists in the east.
"That's not a good thing," Sfraga said. "I certainly understand the motives, but it's not a good thing to have that happen."
Among those who have called for the restoration and revival of the Arctic Council's defense chief meetings is Nikolay Korchunov, who serves as Russia's ambassador-at-large to the group as Moscow holds the presidency from 2021 to 2023.
Korchunov told Newsweek that such meetings "were an effective mechanism for confidence-building and maintaining regional stability."
In their absence, however, he offered an alternative.
"Meetings at the level of military experts of the Arctic states could be launched to discuss all the aspects related to the threats to military security," Korchunov said, "in order to enhance the effectiveness of relevant national efforts in high latitudes and cover the entire agenda of the international cooperation in the Arctic."
Korchunov, a career diplomat who has served as the Russian Foreign Ministry's senior Arctic official since 2018, said Moscow sought to avoid, not promote, the threat of conflict in the Arctic.
"What Russia consistently stands for is the comprehensive holistic approach to the development of the Arctic," he said, "including prevention of risks and threats and response to challenges through the mechanisms of the regional co-operation including mil-to-mil dialogue between the Arctic states."
Russia, the largest country in the world, comprises more than half of the Arctic Ocean's coastline and about a third of the entire Arctic region. Arctic Russia is home to about 2.5 million people and holds critical natural resources contributing up to 11% of the country's GDP and a fifth of its exports.
As such, Korchunov said that "Russia bears special responsibility for this territory." However, he emphasized that "the Arctic as a theater of war is not an option for us."
"Russia believes that there are no problems in the Arctic that need a military solution," Korchunov said. "On the contrary, we view this region as one with a great potential for cooperation and teamwork in the face of global challenges. We hope that all Arctic states that have undertaken obligations to maintain peace, stability and constructive relations in the Arctic will be unconditionally guided by this."
But he too saw troubling indications that this may not be the case.
"Among the alarming trends bringing the elements of escalation, military and political tensions in the region is a growing internationalization of military activity by non-Arctic states that become more assertive and provocative," Korchunov said.
"It causes a great concern when countries remote from the Arctic include the region in their zone of military activities," he added.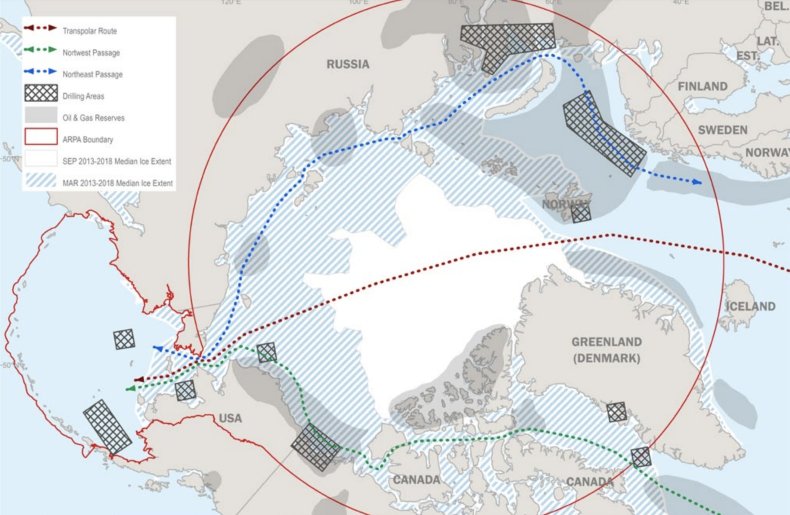 Just as Russia has long protested NATO's expansion into the former Soviet sphere of influence in Eastern Europe, Moscow has for years criticized the growing number of alliance exercises in the Arctic, despite only five of the bloc's 30 members being Arctic states.
The NATO-led Trident Juncture 2018 conducted that year on the edge of the Arctic Circle marked the largest drill of its kind since the end of the Cold War, and featured an estimated 50,000 personnel from 31 nations to simulate a scenario in which the alliance's Article 5 clause for collective defense was triggered. In March, some 26 countries and 35,000 troops will come together for Cold Response 2022, the largest Norway-led exercise since the 1980s, simulating war in a similar icy environment.
A spokesperson of the joint U.S.-Canada North American Aerospace Defense Command (NORAD) provided Newsweek a list of Arctic training exercises to be held between February and April of this year. In addition to Cold Response 2022, this list includes U.S. Northern Command's Arctic Edge, the U.S. Navy's ICEX 2022 and the joint U.S.-Canada Joint Pacific Multinational Readiness Capabilities 22 and Operation Noble Defender.
In the leadup to Cold Response 2022, NATO will also hold Brilliant Jump 2022, and in April, U.S. forces will conduct Northern Viking 2022 in Iceland. Already ongoing is Canada's Operation Nanook, "a series of comprehensive activities designed to exercise the defense of Canada and to secure our northern regions," according to the spokesperson.
The U.S. military has also expanded its Arctic presence beyond U.S. territory to include the northernmost Thule Air Base in Greenland, which is part of NATO as a constituent country of Denmark, as well as the deployment of nuclear-capable B1 bombers in Norways' Ørland Air Base.
Further focus on this region is evidenced by Defense Secretary Lloyd Austin's announcement last year of the establishment of the Pentagon's Ted Stevens Center for Arctic Security Studies.
During a visit to Alaska's Eielson Air Force Base last July, Austin asserted the importance of the Arctic.
"We are an Indo-Pacific nation, and we are an Arctic nation, and here in Alaska, those two critical regions intersect," Austin said at the time. "This is where we can project power into both regions and where we must be able to defend ourselves from threats coming from both places. It's also where we can better posture ourselves and prepare for climate changes that will impact our future."
At this remote base sits the largest F-35 fighter jet nest on Earth. Also in Alaska, where the U.S. and Russia meet directly, is the northern stretch of the anti-ballistic missile Ground-Based Midcourse Defense system. The largest and most sparsely populated U.S. state also hosts a regular array of exercises conditioning U.S. forces to fight in the adverse weather of the Arctic.
Even the U.S. Marine Corps has a mandate to fight in the extreme conditions of the Arctic.
"The Marine Corps is capable of supporting cold weather mission requirements," U.S. Marine Corps spokesperson Captain Ryan Bruce told Newsweek. "Any clime and place is not just a slogan — when the nation calls, the Marine Corps is ready to respond to crisis around the world."
A Marine Corps Training and Education Command spokesperson told Newsweek the branch was already preparing for such a conflict at the Marine Corps Mountain Warfare Training Center, established in 1951 as a result of a high number of cold-weather injuries sustained by U.S. forces during the Korean War, the first major conflict of the Cold War.
"Today, the MCMWTC annually trains over 6,000 joint and combined personnel during the conduct of 13 separate formal schools' periods of instruction and four Service Level Training Exercises across 61,000 acres of US Forest Service Land (Humboldt-Toiyabe National Forest) ranging in elevation between 6,700-11,200 feet and experiencing temperatures between 100 and negative 30 degrees Fahrenheit," the Training and Education Command spokesperson said.
Skills taught here "include cold weather and mountain survival, over the snow mobility, obstacle negation, avalanche considerations, weapons employment in cold weather, expeditionary logistics and foraging, long haul communications, and distributed command and control," the spokesperson added.
The U.S. military's recent focus on the Arctic has drawn the ire of Moscow, which has accused Washington of seeking to assert new claims to a region where a changing climate has expanded and prolonged shipping routes while opening new opportunities to exploit lucrative natural resources.
"In the Arctic, the US seeks to challenge Russia's legitimate rights, and get unfettered access to the region's resources and to the Northern Sea Route," Russian Security Council Deputy Secretary Mikhail Popov told Russia's Rossiyskaya Gazeta newspaper on Wednesday. "Based on this, over the past two years, Arctic strategies have been adopted by the U.S. Departments of Defense, Army, Air Force and Navy."
"On the Arctic track, the U.S. envisages the expansion of its military presence by deploying U.S. guided-missile destroyers in the Barents Sea, constructing three new icebreakers by 2027, creating new facilities and naval bases, as well as setting up 'an Arctic division' in the future," he added.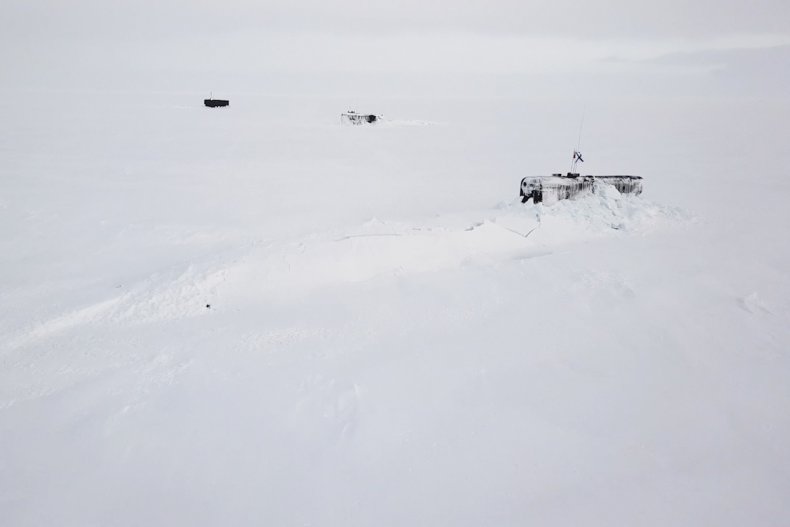 The U.S. and NATO allies have shored up their readiness in the Arctic with new equipment, including Canada's new ice-breaking offshore patrol vessel HMCS Harry DeWolf.
But both sides regularly accuse one another of stoking an Arctic arms race, and Russia has invested heavily into bringing unprecedented military might to its northern posture.
Korchunov acknowledges Moscow's military buildup in the north, but says Russia has been honest in its endeavor.
"Russia is transparent in strengthening its military potential," Korchunov said, "and takes adequate defensive measures to ensure sovereignty and protection of our northern borders that are based on a logic of reasonable sufficiency."
Russia's Arctic military expansion includes an intensification of activity at the isolated Franz Josef Land archipelago, where installations such as the northernmost Nagurskoye airbase have seen new runways, radars and air and missile defense systems. Back in Moscow, Russia has flexed Arctic-camouflaged weapons and vehicles during Victory Day parades marking the anniversary of the end of World War II, during which the Allies and Axis powers clashed at sub-zero temperatures.
The U.S. and the Soviet Union would both move to build covert bases in the Arctic given its strategic proximity to the front lines of the Cold War. But now more than ever Russia has sought to leverage its geographic advantage here.
Straddling the Barents Sea near Finland is the Kola Peninsula, a major hub of Russia's massive nuclear weapons arsenal. Russia's Northern Fleet also constitutes up two-thirds of Moscow's total maritime might, and has become an increasingly important component of the Kremlin's military modernization campaign.
Last year, the Russian Defense Ministry broadcast footage of three nuclear-powered submarines emerging from underneath the Arctic ice side-by-side in an event lauded as a first for the nation's armed forces. More recently, the Northern Fleet took part in a major exercise last month geared toward protecting northern shipping lanes as part of a sweeping set of drills encompassing all of Russia's navy commands.
The massive training series was ordered as tensions over Ukraine mounted and the U.S. first began to warn that a Russian military attack against the neighboring country was becoming increasingly likely.
But it isn't just Washington and Moscow raising the stakes over the crisis in Europe. A number of Washington's allies have also stepped in, and not only on the continent on the brink of conflict.
In a statement shared with Newsweek by the Canadian Armed Forces, the northern neighbor of the U.S. committed late last month to the deployment of 60 more troops to help train Ukrainian forces, adding to a contingent of roughly 200 personnel already stationed there.
And at home, Canada was also taking special measures to defend its sprawling northern border, which includes about a quarter of the Arctic Ocean's coastline. Like Russia, Canada considers the Arctic critical to its national interests, especially given the fact that its Arctic stretch constitutes about 40% of the country's total territory.
And, also like Russia, this region in Canada is home to scores of indigenous peoples who now live at the precipice of a worsening geopolitical dispute between Russia and NATO. To prepare for a potential conflagration in the Arctic, the Canadian military has recruited thousands of Canadian Rangers comprised of native peoples including Inuit, First Nations, Métis and other Canadians.
"Canadian Rangers are Canadian Armed Forces members who are always ready for service," a statement shared with Newsweek by the Canadian military's liaison office in Washington read.
"They are on duty when they are training or when they are called upon during an emergency situation or a domestic operation," the statement detailed. "Unlike the traditional CAF promotion practices, Canadian Rangers elect their patrol leaders, Canadian Ranger sergeants. There are approximately 5,000 Canadian Rangers living in more than 200 communities who speak 26 different languages and dialects."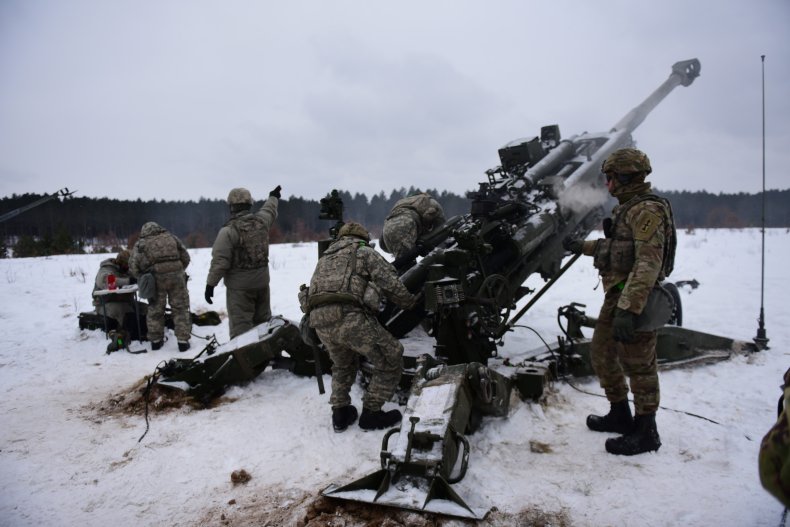 And while these units present a potentially formidable foe should hostilities ever break out among major powers across the top of the globe, both Korchunov of Russia and Sfraga of the U.S. emphasize that war is not inevitable.
"We are open for long-term partnerships in the region with any nation, be it the Arctic Council member state or any other country, in the interest of its sustainable development and well-being of its inhabitants, including Indigenous Peoples," Korchunov said. "The only competition we advocate for in the High North is a fair market competition."
As Russia prepares to host the sixth "Arctic: Territory of Dialogue" International Arctic Forum from April 11-13 in St. Petersburg, he said that the "Arctic Council has served as a stable meeting ground where Arctic States, Indigenous Permanent Participants and Observers can collaborate peacefully despite geopolitical tensions elsewhere."
Sfraga too noted the Arctic Council's "longstanding tradition" of providing a space for countries both like-minded and in disagreement to discuss and cooperate. And while there may a future in which this continues, that too is far from guaranteed given the precarious situation on Ukraine's borders.
"The Arctic could be that place where you have, hopefully not the last one, but one of the last bastions of dialogue that could provide confidence-building measures open for dialogue," Sfraga said. "All of us are hoping that that's what the Arctic can provide. I don't know how productive it would be in the short term if there is an invasion."
With or without an invasion, still hyped by Washington and dismissed by Moscow, the trend toward militarization in the Arctic may be difficult to reverse.
"I'm concerned that that, aside from the dialogue, that we don't then spin up more military activity and more military buildup even if there isn't the conflict," Sfraga said. "If there is, then now you have permanent expansion all over the Arctic, and we're already moving in that direction."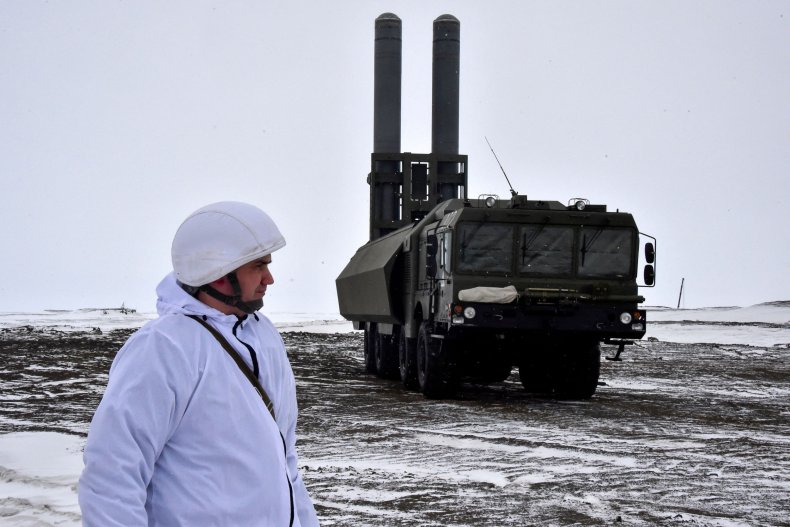 This article has been updated to reflect that five Arctic Council members are also members of the NATO alliance.