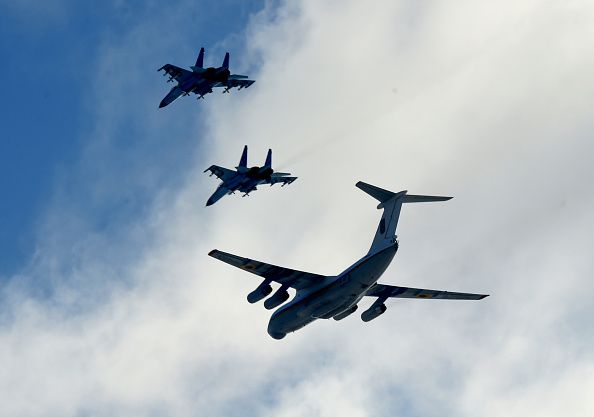 The U.S. military carried out an "extraordinary flight" over Ukraine on Thursday as a show of force after Russian forces attacked Ukrainian navy ships on November 25.
"Russia's unprovoked attack on Ukrainian naval vessels in the Black Sea near the Kerch Strait is a dangerous escalation in a pattern of increasingly provocative and threatening activity," the Pentagon said in a statement.
"The United States seeks a better relationship with Russia, but this cannot happen while its unlawful and destabilizing actions continue in Ukraine and elsewhere," the statement added.
The attack took place as the Ukrainian navy ships were entering the Sea of Azov via the Kerch Strait. Russia, which has been making it harder for Ukraine's military to access the ports near the Crimean Peninsula, claims that the Ukrainians were trying to provoke its forces. But independent analysts used open source data and radio intercepts and determined that Russia had pursued the Ukrainians into international waters. What's more, the researchers determined that Russia was attempting to use lethal force.
Ukraine's President Petro Poroshenko has said that Russia has 80,000 troops stationed in the parts of Ukraine occupied by Russia and is preparing for a ground invasion. Moscow annexed the Crimean Peninsula from Ukraine in 2014 and has been backing pro-Russian separatists in the eastern part of the country known as the Donbass. Some analysts say that the U.S. will need to do more than conduct "extraordinary flight" if it's going to counter Russian aggression toward Ukraine.
"It's useful to see how many forces Russia has arrayed on Ukraine's borders, but this does nothing to bolster Ukraine's defenses," Michael Carpenter, a former deputy assistant secretary of defense in charge of Russia, Ukraine and Eurasia, told Newsweek. "The U.S. should be sending ships to make port calls in Odessa and ramping up security assistance by giving Ukraine land-based anti-ship missiles, radars for maritime domain awareness, and ISR [intelligence, surveillance, reconnaissance] assets. The key right now is to strengthen Ukraine defenses and impose costs on Russia. Surveillance flights are great, but not enough."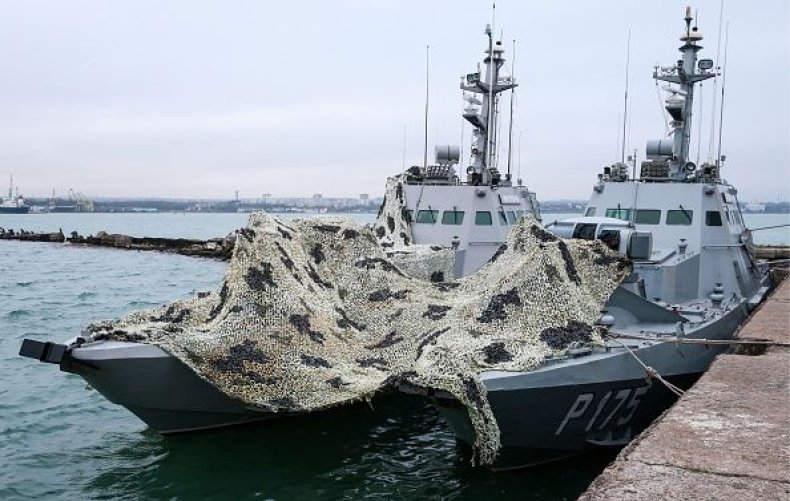 Russia is holding 24 Ukrainian sailors in custody and has not said when it plans to release them. President Donald Trump said he canceled a meeting he had scheduled with Russian President Vladimir Putin at last week's G20 summit because of the incident.
On Wednesday, Russian media reported that Trump had said he would meet with Putin once the issue with Ukraine was resolved.
"The reason for canceling the meeting on the G20 sidelines is Russia's detention of Ukrainian vessels and their crew members. Russia did not free them in order to de-escalate the situation. As President Trump has already said, he expects that the meeting will be held after the situation is resolved," an anonymous Trump administration official reportedly told Russian officials.
The White House did not immediately respond to requests for comment about a potential meeting.
John Herbst, former U.S. ambassador to Ukraine from 2003 to 2006, said the decision to cancel the meeting and launch the "extraordinary flight" are sensible ways to respond to Russia's actions in the Kerch Strait, but argues that they must be followed up by further action.
"The two steps taken do not necessarily mean that the U.S. will provide new military support to Ukraine. But I believe that over the next two or three months the administration will take some steps to let Moscow know that what it did was dangerous and should not be repeated," Herbst told Newsweek.
"Such steps could include additional sanctions; the supply of additional military equipment to Ukraine—for instance, surface-to-ship missiles; and increased NATO-U.S. naval patrols in the Black Sea," he said.