President Donald Trump wants to meet with Russian President Vladimir Putin once Moscow has resolved its standoff with Ukraine over the use of the Kerch Strait, Russian state media claimed, citing an anonymous "high-ranking" U.S. official.
Trump had canceled his scheduled meeting with Putin, which was planned for the G20 summit in Argentina over the weekend. The two men did, however, meet briefly on the sidelines of the international forum.
"The reason for canceling the meeting on the G20 sidelines is Russia's detention of Ukrainian vessels and their crew members. Russia did not free them in order to de-escalate the situation. As President Trump has already said, he expects that the meeting will be held after the situation is resolved," an anonymous Trump administration official allegedly told Russian officials.
The White House has not commented on or confirmed whether Trump plans to reschedule the meeting or whether the Kremlin has correctly quoted the official. The White House did not immediately respond to requests for comment from Newsweek.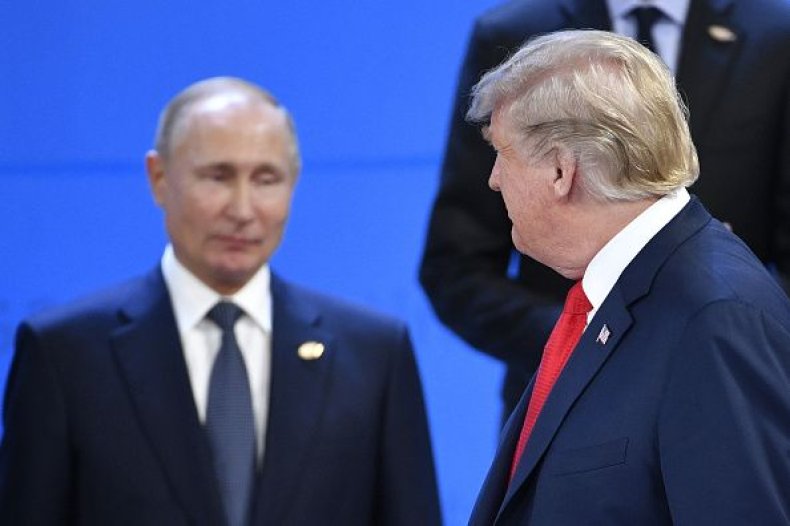 Earlier reports in the Russian press suggested that Trump had approached Putin during the G20 summit, where the Russian leader had described his version of the events in the Kerch Strait, which connects the Sea of Azov to the Black Sea. At least one report claimed that Trump had "listened carefully" to Putin's description.
On November 25, Russian forces clashed with three Ukrainian navy vessels that were entering the Sea of Azov from the Black Sea via the Kerch Strait. Around 24 Ukrainian soldiers are still detained by Russia.
Russia has claimed that Ukraine had provoked the Russian soldiers. But intercepted Russian military radio conversations show that it was the Russians who were pursuing the Ukrainians and attempting to use lethal force. Russia has made it difficult for Ukraine to access the ports near the Crimean peninsula, which Russia annexed from Kiev in 2014.
Russian officials have consistently said that they do not believe that Trump canceled the meeting because of the conflict with Ukraine.
"Was the provocation organized by Kiev in this region the real reason for cancellation?" Maria Zakharova, the Kremlin's spokeswoman, asked during a press conference shortly after Trump canceled the meeting. "Publicly, we heard just such an explanation; we took note of it. Is this a reality?... I think that you still need to look for answers in the U.S. domestic political situation."
The comments were widely interpreted as referring to Trump's longtime fixer and lawyer Michael Cohen, who pleaded guilty to lying to Congress on the same day the commander-in-chief canceled his meeting with Putin. Cohen has admitted that he lied to Congress about the timeline of Trump's efforts to open a Trump Tower in Moscow.
Secretary of State Mike Pompeo, however, called it "ludicrous" to suggest that Trump canceled the meeting because of Cohen.
"[The] President's made clear the conditions for that meeting," Pompeo said about the prospect of Trump meeting Putin.