US Says Kim Jong Un Preparing ICBM Launches, Asks China, Russia to Stop Him
A senior official of President Joe Biden's administration has revealed that the United States believes that North Korea's most recent launches involve technology likely to be used for upcoming intercontinental ballistic missiles tests.
And while the senior administration official said Washington remained committed to pursuing potential diplomacy with Pyongyang, the official also said that Supreme Leader Kim Jong Un's administration has yet to respond to such overtures.
"As we have said, and North Korean officials including Kim Jong Un have publicly noted, we continue to seek diplomacy and we are prepared to meet without preconditions," the senior administration officials told a press call Thursday. "President Biden himself has previously made clear that he is open to meeting with Kim Jong Un when there is a serious agreement on the table, which would need to be based on working-level negotiations."
The senior administration official said a leaders' summit alone would constitute "no guarantee of progress," referencing the past two summits held between Kim and then-U.S. President Donald Trump in 2018 and 2019. The previous administration's push for a peace-for-denuclearization deal with North Korea, officially the Democratic People's Republic of Korea (DPRK), ultimately unraveled.
Tensions have since returned to the Korean Peninsula, but Kim has so far maintained a self-imposed moratorium on conducting nuclear tests and ICBM launches, something North Korea has not done since 2017.
Now even this restraint appears to be at risk. The senior administration official said launches on February 26 and March 5 that North Korea claimed were part of a satellite program actually "involved a relatively new intercontinental ballistic missile system that the DPRK is developing."
The senior administration official said the new missile system, called Hwasong-17 by North Korea, was seen on display in an October 2020 military parade and later in a defense exhibition in October 2021. The senior administration official described the system involved in the recent events as "an ICBM-capable platform," but noted that "these launches themselves, these tests themselves did not demonstrate ICBM ranges."
"This is a serious escalation by the DPRK," the senior administration official said. "But, unlike the DPRK's three ICBM tests in 2017, neither of these launches demonstrated ICBM range or capability."
"These launches are likely intended to test elements of this new system before the DPRK conducts a launch at full range," the senior administration official added, "which they will potentially attempt to disguise as a space launch."
Seeking broad international support to condemn Pyongyang, a senior Biden administration official also called on North Korea's powerful northern neighbors, China and Russia, to rein in North Korea's missile ambitions in a statement sent to Newsweek.
"We are still in the early stages of consultations on this issue," the senior administration official said. "These developments should be of concern to all countries, particularly those that share a border with the DPRK."
The DPRK's decision to return to ICBM tests is a clear escalation," the senior administration official added, "and China and Russia should send a strong message to its DPRK partners, to refrain from additional provocations and engage in sustained diplomacy."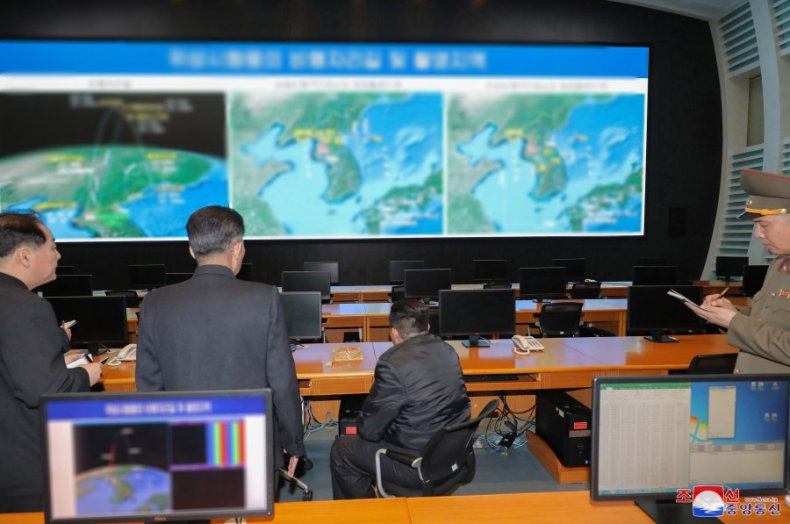 Pentagon Press Secretary John Kirby also later weighed in on the issue, echoing the words of the senior administration official on Thursday's press call.
"While the DPRK chose not to publicize information on the systems involved in these launches," Kirby said in a statement, "the United States is revealing this information publicly and sharing it with other allies and partners because we believe that the international community must speak in a united voice to oppose the further development and proliferation of such weapons by the DPRK."
"The United States strongly condemns these launches, which are a brazen violation of multiple United Nations Security Council resolutions, needlessly raise tensions and risk destabilizing the security situation in the region," he added.
The U.S. remarks came just a day after North Korea's state-run media reported on Kim's visit alongside top officials to his country's National Aerospace Development Administration.
The third-generation North Korean ruler, who has presided over his nation now for more than a decade following the death of his father, lauded successes in satellite imagery demonstrated by the recent launches. He said that such technology would be used to spy on the military movements of the United States and its allies in the region.
"It is our Party's important strategic and tactical policy on bolstering the national defence capability to keep a close eye on and distinguish the character of hostile military actions against the DPRK committed by the aggression troops of the U.S. imperialism and its vassal forces in and around the Korean Peninsula," Kim was cited by the Korean Central News Agency as saying, "and enhance the capability for controlling situation and improve the rapid counteraction capability of the armed forces of the state according to the relevant situations."
Kim also reportedly "set forth the militant goals related to the development and operation of the reconnaissance satellite in the period of the five-year plan to implement this policy."
This plan was first outlined during the 8th Congress of the ruling Korean Workers' Party in January of last year, and included frameworks both to shore up the country's ailing economy and invest in new and more advanced weapons platforms, including hypersonic missiles tested in recent months.
The supreme leader also was said during his visit to have explicitly stated that "the purpose of developing and operating the military reconnaissance satellite is to provide the armed forces of the DPRK with real-time information on military actions against it by the aggression troops of the U.S. imperialism and its vassal forces in south Korea, Japan and the Pacific."
News of the visit came just hours after the results of South Korea's presidential election was announced, with opposition leader Yoon Suk-yeol of the conservative People Power Party defeating ruling Democratic Party choice Lee Jae-myung by a margin of less than 1%.
Yoon has said he would continue outgoing President Moon Jae-in's bid to restart talks with North Korea, but has expressed a tougher stance toward the nuclear-armed neighbor and seeks to boost South Korea's own military power and strengthen defense ties with the U.S.
"We will deal with North Korea's illegal and irrational behavior sternly in accordance to principles, but open the door for inter-Korean dialogue at any time," Yoon said in remarks to reporters on Thursday.
He also cast some doubt on the leader-level summits held by his soon-to-be predecessor, saying he would not sit down with Kim just for the sake of putting on "a show."
So far, however, Kim appears to have rebuffed the efforts of both U.S. and South Korean leaders to arrange high-level contacts, citing a "hostile policy" pursued by the two allies in the form of joint military activities and economic sanctions.
Kim's sister, Korean Workers' Party Central Committee Vice Department Director Kim Yo Jong, had described Moon's efforts to establish an end-of-war declaration officially bringing peace to the Korean War that raged from 1950 to 1953 as "interesting" in September, but no such measure has come to fruition, and Moon is set to leave office on May 10.
At the same time, Kim Jong Un has continued to flaunt his launching technology. A day after his visit to the National Aerospace Development Administration, the supreme leader was seen in Friday morning's edition of official Korean Workers' Party Central Committee newspaper Rodong Sinmun, published Thursday afternoon Washington time, taking a tour of the Sohae Satellite Launching Ground.
Kim reportedly offered guidance on how to further plans to develop military reconnaissance and other multi-purpose satellites and called for the expansion of the site to include additional facilities. He hailed as "significant" his country's ability to have "successfully launched two artificial earth satellites with its own efforts and technology, true to the intention of the great leaders in their lifetime."
"It is a noble duty of the space scientists and technicians of our Party and era," the report said, "to wonderfully change the Sohae Satellite Launching Ground with the great dream and ambition of our state for a space power buried like seeds into an outpost and starting line of space conquest according to the dignity of the Republic, looking far ahead into the future."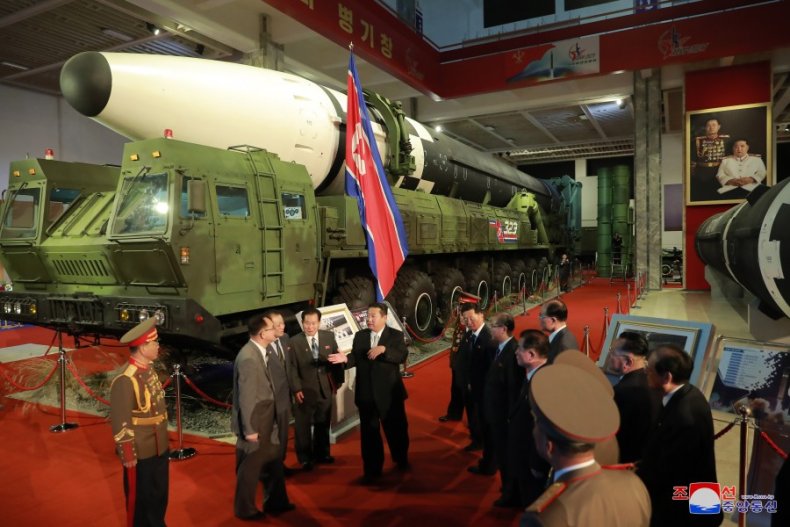 Questions have also arisen as to how shifting politics on the domestic and international fronts may impact the situation on the Korean Peninsula, where North Korean officials have recently held contacts with China and Russia, have blocked U.N. Security Council resolutions seeking more sanctions against their common neighbor.
Kim sent a message to Chinese President Xi Jinping late last month to congratulate him on a successful conclusion to the Winter Olympic Games in Beijing. The North Korean ruler also took the opportunity to present a united front among the two allies against the U.S.
"Noting that the two parties of the DPRK and China and the two countries are defending and advancing socialism, their common cause, while frustrating the undisguised hostile policy and military threat of the U.S. and its satellite forces by strengthening the bilateral strategic cooperation and unity," the North Korean readout said, "the message expressed the will to more firmly consolidate the DPRK-China relationship into the invincible one together with General Secretary Xi Jinping and to positively contribute to building a peaceful and developing world."
On Thursday, Chinese Foreign Ministry spokesperson Zhao Lijian also addressed the election outcomes in South Korea, officially the Republic of Korea, and offered congratulations to Yoon.
"China and the ROK are close neighbors that cannot be moved away and important cooperative partners that cannot be separated from each other," Zhao said. "This year marks the 30th anniversary of the establishment of diplomatic ties between China and the ROK."
"Over the past 30 years, China-ROK relations have witnessed rapid development, bringing tangible benefits to the two countries and two peoples and making positive contributions to regional peace and development," he added. "We stand ready to make joint efforts with the ROK to take the opportunity of the 30th anniversary of diplomatic ties to promote the sound and steady development of bilateral relations and bring more benefits to the two countries and peoples."
Russia President Vladimir Putin also congratulated Yoon after his victory, telling the president-elect he would "expect that your activities as head of state will contribute to boosting bilateral relations for the benefit of our peoples, in the interest of strengthening security and stability on the Korean Peninsula and in Southeast Asia in general."
The message came just days after the Russian Foreign Ministry included South Korea along with a number of other mostly West-aligned countries on a list of nations and territories that have adopted an "unfriendly" position toward Russia since the launch late last month of a military intervention on behalf of allied separatists in neighboring Ukraine.
North Korea is one of the few countries that have come out in open support for Russia's attack, which many countries, including both the U.S. and South Korea have decried as an invasion, while others such as China and India have opted to stay neutral.
Last week, the North Korea Foreign Ministry said European Affairs Department Director-General Kim Jong Gyu met with Russia's ambassador to North Korea, Alexander Matsegora, and discussed bilateral ties and international affairs.
"Both sides exchanged views on the DPRK-Russia relations and regional and international situations which are raised as urgent and concern both sides at the present time," the ministry said, "and discussed the issues on further strengthening the strategic cooperation between the two countries."
This article has been updated to include a report published by North Korean newspaper Rodong Sinmun and a statement issued by Pentagon Press Secretary John Kirby.