U.S. Shares 'Deep Concerns' on China's Ties to Russia After 'Intense' Talks
President Joe Biden's administration shared serious concerns over China's growing relations with Russia after seven-hour talks Monday between Washington and Beijing officials.
Speaking to reporters after the conclusion of the discussions, led by White House national security adviser Jake Sullivan and the Chinese Central Foreign Affairs Commission in the Italian capital of Rome, a senior administration official said that "we do have deep concerns about China's alignment with Russia at the time, and the national security adviser was direct about those concerns and the potential implications and consequences of certain actions."
And while the senior administration official would not comment directly on press reporting citing U.S. officials that claimed Moscow had asked Beijing for economic and military assistance as Russia's war in neighboring Ukraine continued through a third week, the senior administration official said U.S. officials "are communicating directly and privately to China about our concerns about the kinds of support that other countries might be providing to Russia."
The talks, which were described on the call as "intense " and "very candid" consultations "reflecting the gravity of the moment," were said to have been prescheduled as a follow-up to Biden's virtual summit with Chinese counterpart Xi Jinping in November.
Asked about the lengthy duration of the talks, which were said to have been held in multiple sessions, the senior administration official said it was "important to take that opportunity to cover the wide range of issues not only in U.S.-China relations but of international interest and import."
"We believe that it is important to keep open lines of communication between the United States and China, especially on areas where we disagree, and it's incredibly important to be able to have candid and direct conversations about those things," the senior administration official said, "and so certainly that is what occurred today."
Building on Biden and Xi's last conversation, among the key goals of Monday's discussions was "managing the competition between our two countries to ensure that it does not veer into conflict."
In addition to the topic of Russia's war in Ukraine, the two sides also discussed North Korea, which the senior administration official described as "also an escalating situation that demands our attention," given recent satellite launches the Biden administration has alleged used intercontinental ballistic missile-capable technology.
On the agenda as well were "crisis management and ways to manage strategic risks," along with Washington's "concerns about Beijing's courses and provocative actions across the Taiwan Strait," where the U.S. continues to maintain informal diplomatic and military ties to the self-ruling island of Taiwan despite Beijing considering it to be part of China.
The Taiwan Defense Ministry reported Monday that the mainland's People's Liberation Army flew 13 warplanes into the island's self-declared Air Defense Identification Zone as part of a larger pattern of incursions that has played out on a regular basis.
Amid lingering tensions between cross-strait rivals, Sullivan was said to have "described to Yang the unity of the United States and its allies and partners, the unprecedented coordination with our European and NATO Allies in particular, as well as the intense and unprecedented engagement by Asia-Pacific allies in bringing the cost on Russia for its actions."
While the Taiwan issue has been described by both Beijing and Washington as the most sensitive between the two leading powers, the U.S. side emphasized that the conflict in Ukraine appeared to have featured especially prominently during Monday's talks.
"Mr. Sullivan raised a range of issues in U.S.-China relations, with substantial discussion of Russia's war against Ukraine," the White House said in a readout of the talks. "They also underscored the importance of maintaining open lines of communication between the United States and China."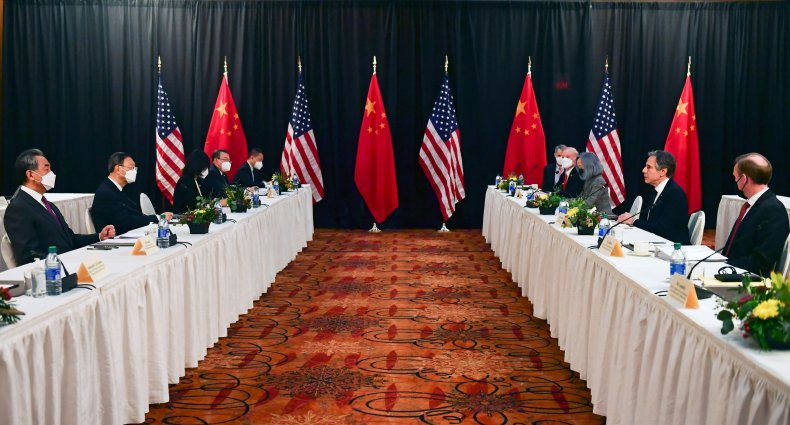 China has outright rejected the media reports suggesting Russia had asked the People's Republic for assistance in the conflict sparked by the Kremlin's decision late last month to launch a "special military operation" against Ukraine as the country sought to join the U.S.-led NATO Western military alliance.
"Recently, the U.S. has been maliciously spreading disinformation targeting China," Chinese Foreign Ministry spokesperson Zhao Lijian told reporters earlier Monday. "China's position on the Ukraine issue is consistent and clear. We have been playing a constructive part in promoting peace talks. The top priority at the moment is for all parties to exercise restraint, cool the situation down instead of adding fuel to the fire, and work for diplomatic settlement rather than further escalate the situation.
Zhao also pushed back against Sullivan's recent claims that Chinese officials knew ahead of time that Putin was planning something against Ukraine amid an unprecedented Russian troop buildup near Ukraine's borders, even as Moscow denied such an incursion would take place.
"China has been making independent judgment and expounding on our position based on the merits of the matter itself and in an objective and just manner," Zhao said. "On the Ukraine question, any disinformation that dismisses China's efforts, misrepresents China's intention and smears China is designed to deflect the problem, stoke provocation and profit from the issue. It is neither responsible nor ethical."
China has emphasized the importance of diplomacy to resolve hostilities between Moscow and Kyiv, and Xi himself stressed this point during a call with Russian President Vladimir Putin just days into the war. The Kremlin announced an openness to hold talks between Russia and Ukrainian officials after the conversation, an initiative that has since produced three rounds of direct talks, the latest of which both sides said produced significant progress, as well as a fourth virtual conversation that took place Monday.
While China has established a "strategic partnership" with Ukraine over the years, Beijing has built a far deeper "comprehensive strategic partnership of coordination for the new era" with Moscow, a bond displayed during the last summit held by Putin and Xi early last month before the beginning of the Winter Olympic Games in Beijing.
While China has remained officially neutral on the Russian war effort launched just days after the end of the Olympics, officials have supported the Kremlin's longstanding concerns about the eastward expansion of NATO and U.S. military activities in Eastern Europe.
China has also backed Russian appeals for more information on U.S. military-funded biological research facilities in Ukraine, calling on the Biden administration to reveal the full nature of activities conducted at such sites across the globe. U.S. officials have dismissed the claims and allegations that biological or chemical weapons were being developed in such places as a conspiracy theory, and the White House warned such allegations may be a leadup to a Kremlin plot to use such weapons in Ukraine as part of a "false flag" plot to blame Washington.
As Ukraine calls for even greater military support from the U.S. and its allies, including a no-fly-zone that would threaten direct clashes between NATO and Russia, something Biden has rejected as untenable because it would lead to "World War III," officials in Taiwan have raised concerns that China too may seek to soon pursue military action with Washington entangled in Europe.
A delegation of former top U.S. security and defense officials attempted to allay these fears in a rare delegation visit earlier this month, a trip followed by recent Taiwanese media reports indicating that a nearly $250 million arms deal to purchase the Field Information Communications System had been finalized.
Zhao condemned the deal during Monday's press briefing.
"The Chinese side firmly opposes U.S. arms sales to China's Taiwan region, which severely violates the one-China principle and the three China-US joint communiqués, especially the August 17 Communiqué, interferes in China's internal affairs, and harms China-US relations as well as peace and stability across the Taiwan Strait," Zhao said.
"The U.S. should earnestly abide by the one-China principle and the three China-US joint communiqués and stop arms sales to and military ties with Taiwan," he added.
The senior Biden administration on Monday's press call said Sullivan "reiterated our One China policy based on the Taiwan Relations Act, Three Communiqués, and Six Assurances."
These historic declarations marked Washington's shift from recognizing Taipei to Beijing more than half a century ago but the U.S. continues to adhere to a "one-China policy" rather than a "one-China principle," through with the U.S. does not explicitly recognize China or Taiwan's sovereignty over one another and continues to deal unofficially with Taiwan based on the 1979 Taiwan Relations Act. Such U.S.-Taiwan interactions have expanded in recent years, especially with the adoption of the Taiwan Travel Act under former President Donald Trump in 2018.
In a signal of even further U.S. alignment with Taiwan, Congress recently passed the Consolidated Appropriations Act of 2022, which effectively bans U.S. government entities from using maps that show the island as part of Chinese territory.
Zhao criticized this development as well on Monday.
"There is only one China in the world. Taiwan is an inalienable part of the Chinese territory. This is a historical and legal fact and an international consensus. Any accurate map should be based on these facts," Zhao said. "The U.S.' move grossly interferes in China's internal affairs, pursues political manipulation with the map of the Taiwan region, and attempts to create the false impression of 'two Chinas' and 'one China, one Taiwan.' China deplores this and firmly opposes this."
And he issued a warning along with this condemnation.
"A stern warning to the U.S. side: playing the 'Taiwan card' is like playing with fire," Zhao said. "It will not only push Taiwan to a precarious situation, but also bring unbearable consequences for the U.S."
"The U.S. should stop hollowing out the one-China principle and stop condoning or abetting "Taiwan independence" moves," he added. "It should return to the original and true meaning of the one-China principle, honor its political commitments to the Chinese side, earnestly safeguard peace and stability across the Taiwan Strait, and safeguard the overall China-U.S. relations."
While Moscow has always backed Beijing on the Taiwan issue, Russian officials have increasingly emphasized their alignment on the matter. And with Taipei joining a global coalition of sanctions against Moscow, the Russian Foreign Ministry included the island on a list of countries and territories, including the U.S. and its allies in Europe and Asia, accused of adopting "unfriendly" policies over the crisis in Ukraine.
Asked about Taiwan's inclusion, Zhao argued that Taipei deserved it.
"As to why Taiwan is on the list, the answer is clear to all," Zhao said. "If Taiwan is sanctioned, it has only itself to blame."