U.S. Soldiers Praised for Saving Dozens of Lives in South Korea Stampede
A trio of American soldiers have been saluted as heroes after reportedly saving "more than 30 lives" during Saturday's Halloween crush in the South Korean capital of Seoul, which left at least 156 people dead.
Jarmil Taylor, 40, Jerome Augusta, 34, and 32-year-old Dane Beathard, said they pulled people out of the stampede, allowing the injured to receive medical attention.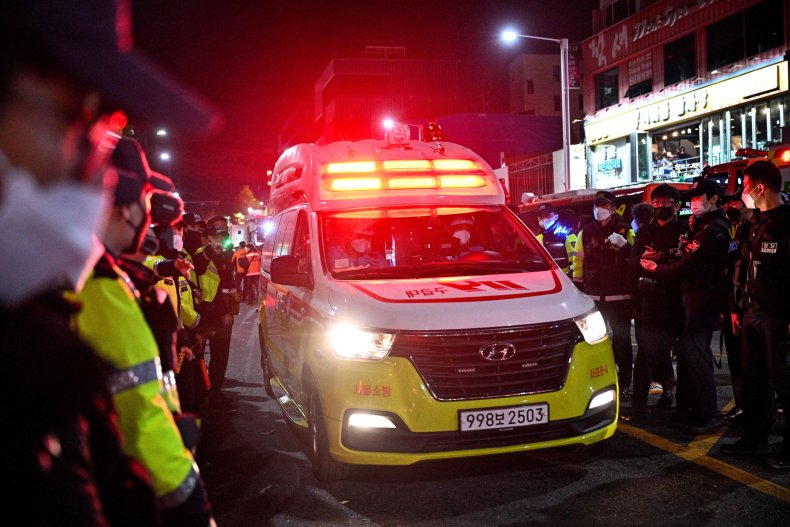 Yonhap News Agency, a South Korean media organization, reports that the three men saved "more than 30 lives."
The crush took place after more than 100,000 people, many wearing costumes, crowded into Seoul's Itaewon nightlife district to celebrate Halloween.
Speaking to the news agency, one survivor, a man in his 20s from the city of Cheongju, said he was pulled out of a narrow alleyway after fainting in the crowd.
The man said he is convinced that his rescuer was one of the off-duty U.S. soldiers.
The survivor added: "The circumstances of the Itaewon disaster and rescue activities that the three U.S. soldiers revealed in their interviews are exactly identical to what I experienced."
The man is hoping to meet the American soldiers to thank them in person, telling Yonhap the number of casualties was decreased by their actions.
Taylor told AFP that the disaster began when "everybody just fell on top of each other like dominoes."
The soldier added: "There were people on top of people; it was layers of people. They didn't have enough people there to help them at once.
"People in the pile were panicking which made the situation worse. There were sounds everywhere that made it impossible, screaming people just drowned out all the sounds.
"We were picking a lot of people and taking them into the nearby clubs since they had finally opened them up. The clubs' floors was filled with people laid on the ground," Taylor added.
Describing the soldiers' ad-hoc rescue mission, Beathard said: "We helped pull people out all night," before adding: "It was a long time for people stuck in there not to breathe."
Augusta said that the casualties were disproportionately young women: "There were a lot of women in the crowd who got crushed.
"I think because they were smaller, their diaphragms were crushed. And because they were panicking, which made it more chaotic."
Speaking to The Korea Times, 31-year-old Abdo Al-Kader, who was on the scene, described how the crush took place.
He said: "Last night, there were a lot of people here. People didn't know what to do. Police came, they took people down, and many people were doing resuscitation on those on the ground. Everything happened in a moment."
Taylor, Augusta and Beathard said they were based out of Camp Casey, an American military base in the city of Dongducheon, just north of Seoul. The U.S. has 27,000 troops stationed in South Korea, to guard against potential aggression from North Korea.
Among those killed in the Seoul Halloween disaster were two American citizens.
Speaking to Newsweek by email a U.S. State Department official said: "We can confirm that two U.S. citizens were among those killed in the tragedy in Itaewon on October 29."
United States Forces Korea, which commands American military personnel on the Korean peninsula, has been contacted for comment.