U.S. Stands With Australia After China Threatens Economic Retribution Over Coronavirus Origins Inquiry, Pompeo Says
Secretary of State Mike Pompeo said Wednesday the U.S. would continue to support Australia in its pursuit of an independent inquiry into the origins of the novel coronavirus pandemic.
Australia's call for an independent inquiry into the virus' origins last month has received pushback from China, where doctors in Wuhan first reported the presence of COVID-19 in late 2019. Though Australia's inquiry request gained support from countries around the world, with more than 100 signing on to a motion submitted to the World Health Organization Assembly earlier this week, China retaliated against Australia by imposing new economic pressures at a time when the pandemic has already caused measurable damage to the global economy.
"We stand with Australia and the more than 120 nations who have taken up the American call for an inquiry into the origins of the virus so we can understand what went wrong and save lives," Pompeo said during a Wednesday news briefing.
China, which is currently Australia's biggest trading partner for both exports and imports, began halting some Australian beef imports last week. China continued to turn up the dial on economic pressures this week when it announced 80-percent tariffs on Australian barley imports.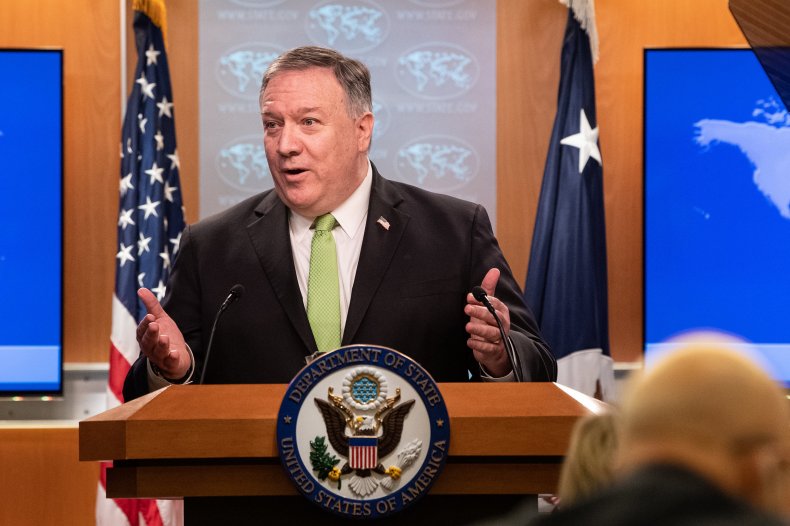 Despite the mounting pressures, Australian Prime Minister Scott Morrison said during a press briefing on May 15 that the country planned to continue pursuing its inquiry. Though Morrison described Australia's trading relationship with China as one grounded in "mutual benefit," he said conflicts did occasionally arise that need to be worked out.
"We are standing our ground on our values and the things that we know are always important," Morrison said regarding the latest impacts on trading. "We draw very clear lines about things that are very important to us, as does the Chinese government."
Newsweek has contacted the Chinese foreign ministry for comment and will update this article with any response.
In addition to emphasizing America's alignment with Australia, Pompeo called for more transparency from the Chinese government and criticized the country's response to the pandemic thus far.
"China's contributions to fighting the pandemic are paltry compared to the costs that they have imposed on the world," Pompeo said. He referenced the rising COVID-19 death toll in the U.S., which recently surpassed 90,000, as well as the economic impact on the country. As of May 14, more than 36 million Americans have lost jobs since pandemic restrictions began forcing business closures in March.
"It's been 142 days since doctors at Wuhan Central Hospital first started sharing information about a SARS-like virus," Pompeo said. "As we all sit here this morning, Beijing continues to deny investigators access to relevant facilities, to withhold live virus samples, to censor discussion of the pandemic within China and much, much more."