Why Are U.S. Stock Markets Booming When Everything Is So Bleak?
At the end of March, news about the coronavirus sent markets into a tailspin as investors digested the potential knock the virus could give the economy. Stocks saw a dramatic crash across a plethora of sectors.
The Dow Jones Industrial Average is now basically trading at the same level it was a year ago, although it is nearly 6 percent down from its levels in January.
Similarly, the S&P 500 is trading higher than at this point in August last year, and has gained 2.3 percent since the beginning of the year.
And the NASDAQ is now 12.2 percent higher than its peak before the markets collapsed.
Since the stock market crash in March, investor confidence has seemingly returned to the market. This is despite continued gloomy economic warnings elsewhere.
The coronavirus has prompted renewed lockdowns and delays in reopening some vital parts of the economy. For example, economically important states such as California, Texas, and Florida are still shuttered in part.
The unemployment rate and GDP have also taken a hammering. U.S. GDP fell 32.9 percent in the second quarter, its worst contraction on record.
"The stock market is very good at adjusting to new information," said Chris Beauchamp, chief market analyst at IG in London.
"The reason there was such a big selloff was because nobody saw the coronavirus coming—it's always the crisis you don't see coming that really catches you out.
"Investors have ignored the economic data, and are doing a heroic forward-looking exercise.
"Maybe people are looking at the market and thinking it is good value, if there is a decent economic rebound."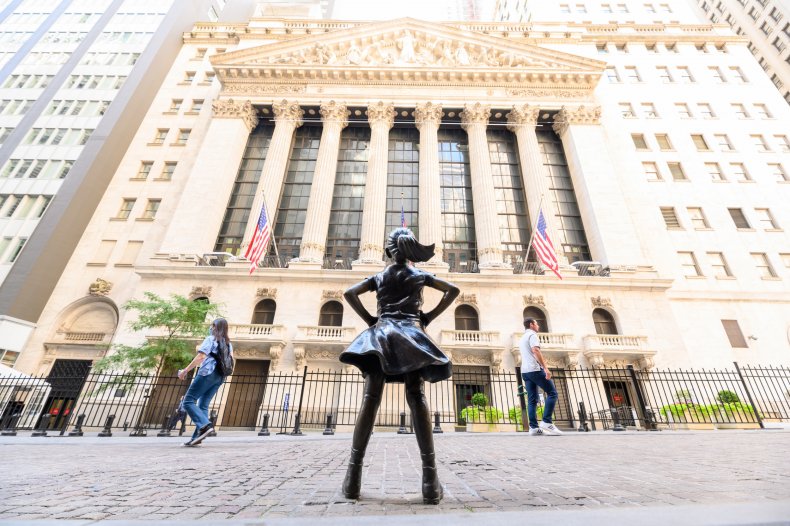 Alongside this, there are other reasons for investors to be optimistic. Despite disagreements in Congress, a fifth package of coronavirus relief is in the pipeline.
Democrat and Republican lawmakers only have days to come to an agreement before senators are scheduled to leave Washington, D.C for recess.
They've managed to agree on at least one part of the bill, but when it comes to liability protections, school funding, and expanded unemployment, the two sides remain divided.
Potential treatments and vaccines are on the horizon, too. If these are successful, they will accelerate an economic recovery and return to normality faster than expected.
Two weeks ago, Oxford University and AstraZeneca said their vaccine in development is "safe and induces an immune reaction," according to the findings of the first phase of human trials.
It is still to early to conclude whether the vaccine can offer full protection against the COVID-19 virus, with the report into early findings stating that further testing is still needed to establish if this is the case.
Larger trials are currently under way. For now, the threat of a second wave looms.
"Looking at the Q2 data, perhaps things might get bad again, but perhaps they won't be as bad," IG's Beauchamp said. "If there's another big wave of infections, it seems the market won't react in quite the same way."