U.S. Supreme Court taking on case of high school football coach fighting for right to pray on 50-yard line
Justices to hear case on April 25
For six seasons, Coach Joe Kennedy would walk to the middle of the football field, drop to one knee and briefly give thanks to God.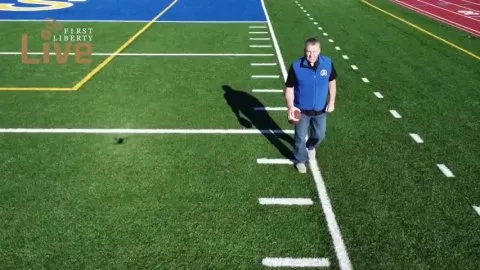 This ritual – a prayer that barely lasted 30 seconds – went almost unnoticed in a stadium at Bremerton High School, located in a Navy town of 40,000 people on Puget Sound due west of Seattle.
Sometimes the coach prayed alone; other times, players and other coaches – including some from rival teams – joined him.
No one remarked about these gatherings until a coach from a rival high school expressed admiration to Principal John Polm for allowing such holy huddles. As the season was kicking off in the fall of 2015, the tiny Bremerton School District told Kennedy to stop the prayers. Kennedy's defiance of that order and his subsequent ban from coaching has led to a showdown at the U.S. Supreme Court with arguments scheduled for April 25.
It's the first significant case on prayer for the court's new conservative majority. Four conservative justices – Clarence Thomas, Neil M. Gorsuch, Samuel A. Alito Jr. and Brett M. Kavanaugh – expressed interest in taking it on.
"I fear that the court is going to get this wrong," University of Virginia law professor Douglas Laycock wrote Newsweek. "It would be the first step to eroding the school prayer cases, which have protected public school students from government-imposed religion for sixty years now."
But does a lone coach dropping to one knee after a high school game constitute "government-imposed religion?" At issue is the First Amendment – whether its provisions guaranteeing the free exercise of religion and free speech give the coach the right to pray on the 50-yard line or whether its establishment clause – which prohibits the government from making any law "respecting an establishment of religion" – bars it.
The publicly funded school district believes it's the latter. Sixty years have passed since Engel v. Vitale, the 1962 ruling that said any kind of school-sponsored prayer violated the establishment clause of the U.S. Constitution. In the 2000 case of Santa Fe Independent School District v. Doe, the court ruled that beginning school football games with student-led prayer violated the same clause. However, there are differences between these two cases and the Kennedy case, where the coach is praying by himself, albeit in a highly visible forum.
And if a coach is allowed to pray on the 50-yard line, must a group like the Satanic Temple – whose Seattle chapter petitioned the district to pray alongside the coach with invocations to Satan – be allowed on the field with him?
"You want freedom of religion at a high-school football game?" opined Seattle Times columnist Danny Westneat at the height of the controversy in October 2015. "OK, you're about to get it."
A Tough Childhood
Kennedy v. Bremerton School District has drawn widespread support for the coach, including 54 Republican members of Congress, numerous religious groups, former President Donald Trump and eight former National Football League players, who have filed an amicus brief asserting that prayer among players and coaches is an acceptable activity at high school football games.
On the opposite side are school officials, some parents, and clergy aligned with the Washington, D.C.-based Americans United for Separation of Church and State, which is providing the legal muscle and funds to argue the case on the school district's behalf.
"Coach Kennedy has used his position of power here in the Bremerton School District to put pressure on these local students to participate in a post-game ritual which involved Christian prayer," says the Reverend Gregory Reffner, pastor at Brownsville United Methodist Church in Bremerton. "Even though Coach Kennedy may not have intended to apply that pressure, the fact is there was an impact of it being there."
The Plano, Texas-based First Liberty Institute, a 50-year-old law firm that is representing Kennedy, says Kennedy, a retired Marine Corps veteran, was just trying to exercise his right to privately thank God as he sees fit. Kennedy, who began working part-time in 2008 as an assistant coach for the high school varsity team and head coach for the junior varsity team, says he wasn't hired for his expertise in football strategies, but for his pastoral approach to mentoring young male athletes.
That came from a tough childhood where, as the son of a teenage mom, he was adopted by a childless couple, then kicked out of the house at the age of 9. Years of living in one foster and group home after another and nearly flunking out of school led to a downward spiral that only turned around when he joined the Marines.
"I don't want any kid to go through what I went through," he says. "That's why I was so successful as a coach."
His one contact with religion was occasional appearances at Holy Trinity, a Catholic church in hilly east Bremerton that his family attended. So did a girl named Denise Castle, his future wife. The Bremerton area, according to a Gallup poll, is the least religious in Washington state, itself one of the least-churched states in the country. Bremerton is a transient military town – the site of Naval Base Kitsap, the home of multiple guided missile destroyers, submarines and a nuclear-powered aircraft carrier. Only 26 percent of the residents are classified as religious, with Pentecostal churches claiming the most adherents.
But it's still seen as a culturally Christian enclave, says Rachel Laser, president and CEO for Americans United.
"If this had been a Jewish rabbi or Muslim imam praying who had been out there at the 50-yard line... that wouldn't have been allowed to go on and parents would have absolutely spoken up," she says.
Not so, says Bruce Cameron, a labor law professor at Regent University School of Law and staff attorney for the National Right to Work Legal Defense Foundation." A Muslim praying at the 50-yard line would have the same rights as Kennedy," he says.
He said a coach praying at the 50-year-line does not mean the school district is endorsing prayer.
"It obviously isn't," he says.
Kennedy, who served 20 years in the Marine Corps, including in the Gulf War and Operation Desert Storm in Iraq, said he was not a particularly religious man until he watched "Facing the Giants," a Christian family movie about how a coach turns around a losing high school football team after resolving to trust God. Deeply moved, Kennedy says he vowed to God that he would give thanks, at the close of each game, by dropping to one knee at the 50-yard line.
For six seasons, no one seemed to mind or notice. For those who cared to join him, Kennedy added short motivational speeches laced with religious references and joined in with the pre- and post-game locker room prayers, a tradition that pre-dated his arrival.
Paul Peterson, who worked with Kennedy at the Puget Sound Naval Shipyard before Kennedy retired in 2006 as a quality improvement manager and a parent of one of Kennedy's junior varsity players, said he thought the activities on the field were post-game pep talks.
"I had no idea there was a post-game sectarian prayer being offered by the coach on the field," he said, adding that Kennedy's public devotions were "not helpful to the students."
Then Polm was alerted of the prayers in early September 2015, the 25th anniversary year of post-game prayer circles in the NFL. At the school district level, alarm bells began to ring.
On Sept. 17, Bremerton School District Superintendent Aaron Leavell forbade Kennedy from engaging in any outward religious activity. His letter admitted that no students had been coerced into joining him, nor had the coach encouraged or required that students join him in prayer.
District employees were allowed to engage in religious activity, the superintendent added, but "such activity must be physically separate from any student activity, and students may not be allowed to join such activity."
A larger-than-usual crowd – including State Rep. Jesse Young, a Republican whose district includes Bremerton – showed up for a Sept. 18 game. The coach complied with the superintendent's order and gave an after-game speech that didn't mention faith. But while in his car on the way home, he said he felt God telling him to return to the field and pray at the 50-yard-line after everyone had left the stadium.
A month later, he announced he'd resume prayers at the Oct. 16 homecoming game. That same day, his attorneys had sent an 11-page letter to Leavell, saying he must allow Kennedy to pray.
"There can be no legitimate concern that the District is somehow establishing religion because it merely permits one of its coaches, on his own time, to say a short personal prayer after a football game," it said.
Thanks to an Oct. 14 Seattle Times article, students, parents and TV crews joined him on the field during that game. Young, the state representative, also attended.
"What is under-reported and missing in all of the media coverage I've seen is ... all of the players kneeling with him were the players of the opposing teams who chose, with no prompting or coercion, to come back onto the field themselves and pray because they were not prohibited from exercising their rights and joining him like his own team was," Young wrote Newsweek in an email.
"That begs the question of whose rights were really being trampled upon and by whom."
Suing the district
On Oct. 23, Leavell wrote Kennedy again.
"While on duty for the District as an assistant coach, you may not engage in demonstrative religious activity, readily observable to (if not intended to be observed by) students and the attending public," Leavell wrote.
That sentence in particular nettled Kennedy's legal team.
"Do teachers shed their constitutional rights when they enter the school house gate?" asks Jeremy Dys, special counsel for First Liberty. "It's like 15-30 seconds he's out there – like someone finding a lost contact lense."
The district also said the coach could pray in a building hundreds of feet from the field or in the press box. Kennedy refused and after games on Oct. 23 and 26, he knelt for prayer at mid-field.
Leavell put Kennedy on paid administrative leave, then refused to rehire him.
The coach sued the district the following August, an awkward situation because Denise Kennedy was a supervisor for the district's human resources department.
"God's got a weird sense of humor," says Kennedy, in describing those years, "but it was worth the fight even though I'm dragging my family through it."
Kennedy quickly became a celebrity, his case defended by 2016 presidential candidates Ben Carson and Trump. All the lower courts sided with the school district, including the U.S. District Court for western Washington and an appeals court for the Ninth Circuit.
"No case law requires that a high school teacher must be out of sight of students or jump into the nearest broom closet in order to engage in private prayer," the Ninth Circuit opinion said, "but it cannot be denied that this football coach's prayer at the fifty-yard line, immediately after a game, under stadium lights and in front of players and spectators, objectively sent a public message."
The Supreme Court turned the case down in 2019, but signaled it could reconsider if the petitioners filled in missing gaps in their filing. The coach's lawyers resubmitted the case a year later and this past January, it was accepted.
Meanwhile, the Kennedys had sold their home in nearby Port Orchard and moved to Florida to be with family members while waiting out the case. The coach says that if he wins, he would move back to the area to take the job, as he has children living in the area.
On March 2, several members of Congress filed an amicus brief with the Supreme Court on Kennedy's behalf, led by Oklahoma Sen. James Lankford and Missouri Rep. Vicky Hartzler, both Republicans.
"If Coach Kennedy took a knee during the National Anthem, his school would have praised him, but instead he took a knee after a football game to pray so the school fired him," Lankford said. "Schools cannot pick and choose which type of free speech or faith expression they like or do not like."
One major question in the case involves whether students ever felt coerced to pray with the coach. When the Seattle Times interviewed three current and former student football players about the matter in 2015, none of them said they felt coerced.
However, the district did locate one parent who said his son felt pressured to attend the prayer sessions out of fear he'd get to play less if he refused.
"That is absurd," Kennedy says. "I've had 60 kids per team and if anyone felt pressured, no one ever said that."
But silence does not imply consent when it comes to high school students, says the Right Reverend Douglas Avilesbernal, executive minister of the Evergreen Association of American Baptist Churches, which includes Bremerton.
"Everyone who plays in a sports team, they know that after the game, the coach is going to speak to you," he says. "They know that's going to happen. If coach goes to the center of the field, you know he has something important to say. The last thing you want to do is not be there ... and if he starts praying, you don't just walk away."
Both sides have marshaled their top guns to argue the case. Americans United legal director Richard Katskee will speak for the district and former U.S. Solicitor General Paul Clement, a partner with the law firm Kirkland & Ellis, will represent Kennedy.
{{#isDisplay}} {{/isDisplay}}