U.S. Trade Adviser Navarro Backtracks After Calling China Trade Deal 'Over'
On a Monday Fox News interview, White House trade adviser Peter Navarro said that the U.S. trade deal with China is "over." However, Navarro later clarified that he meant to say that U.S. trust in China was "over" and that the trade deal is still in place.
In the interview, Fox News anchor Martha MacCallum said, "[U.S President Donald Trump] obviously really wanted to hang onto this trade deal as much as possible. And he wanted [China] to make good on the promises, because there had been progress made on that trade deal, but given everything that's happened and all the things you just listed, is that over?"
"It's over," Navarro replied. "Yes."
Navarro then said that Chinese trade officials signed off on their deal with the U.S. "a full two months after they knew the (COVID-19) virus was out and about." He then said that "everyone" in the White House and "around America" knew that "China lied, Americans died."
Shortly after Navarro's comment, Dow futures dropped sharply by 340 points, CNBC reports. The reporting of Navarro's comment prompted him to clarify.
"My comments have been taken wildly out of context," Navarro said. "They had nothing at all to do with the Phase I trade deal, which continues in place. I was simply speaking to the lack of trust we now have of the Chinese Communist Party after they lied about the origins of the China virus and foisted a pandemic upon the world."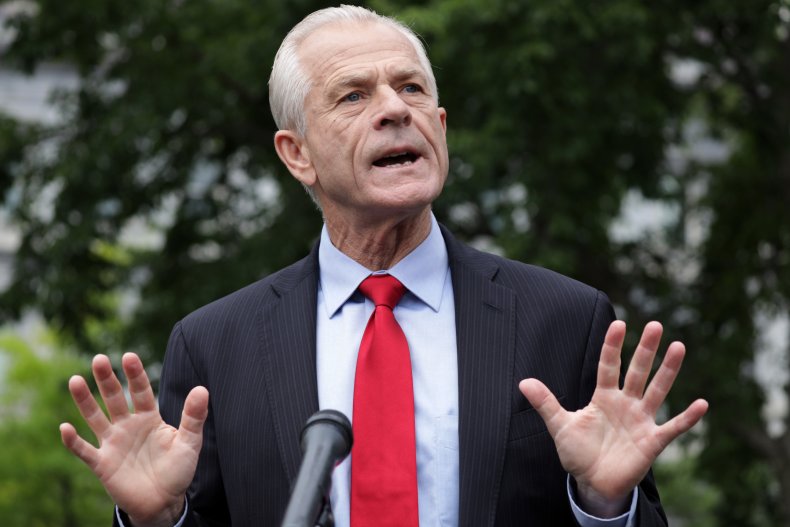 Following Navarro's comments, Trump published a tweet which read, "The China Trade Deal is fully intact. Hopefully they will continue to live up to the terms of the Agreement!"
Phase one of the trade deal involves a pledge by China to buy an additional $200 billion in U.S. goods and services by 2021 on top of the 2017 buying levels.
Navarro's comments also arose shortly after a Monday afternoon Fox News interview with U.S. Treasury Secretary Steven Mnuchin in which Mnuchin suggested that the Trump Administration may consider "decoupling" itself from China, essentially separating the two countries' economies and supply chains.
Mnuchin's comments echoed a June 18 tweet from Trump in which Trump wrote, "The U.S. certainly does maintain a policy option, under various conditions, of a complete decoupling from China."
The coronavirus epidemic has placed additional stress on the already-strained U.S.-China trade deal. The deal, signed in mid-January 2020, came after a year-long trade war that had culminated in each country placing billions of dollars worth of tariffs on each other's imported goods.
The trade war has been ongoing for 19 months and threatens to heighten global tensions between the world's two largest economies. Since the start of the pandemic, Chinese officials and state-owned media have accused the U.S. of blaming China to deflect its own mishandling of the virus and its ultimate worldwide spread.