U.S. Goes After Russian Tech, U.K. Targets Russian Media in Fresh Sanctions
The United States and the United Kingdom have enacted new sanctions on Russia, this time against the country's media and technology companies.
The U.S. Department of the Treasury announced on Thursday that they will be imposing new sanctions against 21 Russian tech entities and 13 individuals, calling them "instrumental to the Russian Federation's war machine." Among the companies targeted in the sanctions is Joint Stock Company Mikron, which exports more than half of all microelectronics produced from Russia.
"Russia not only continues to violate the sovereignty of Ukraine with its unprovoked aggression but also has escalated its attacks striking civilians and population centers," said Secretary of the Treasury Janet Yellen in a statement. "We will continue to target Putin's war machine with sanctions from every angle, until this senseless war of choice is over."
Similar sentiments were echoed by U.K. Foreign Secretary Liz Truss on Thursday, who announced that 14 new sanctions have been added to the country's growing list of sanctions against Russian entities. In the announcement, she referred to those affected by the sanctions as "Russian propagandists" who will no longer be allowed to broadcast or conduct business deals with British entities. Among those targeted were employees and owners of RT, which had its license recently revoked by the U.K. Office of Communications (Ofcom).
"Following Ofcom's decision to revoke RT's broadcasting licence, these sanctions will ensure RT will not be able to find its way back on UK televisions, and will prevent companies and individuals operating in the UK from doing business with Russian state propaganda vehicles RT and Sputnik, and key figures in those organisations," said Truss.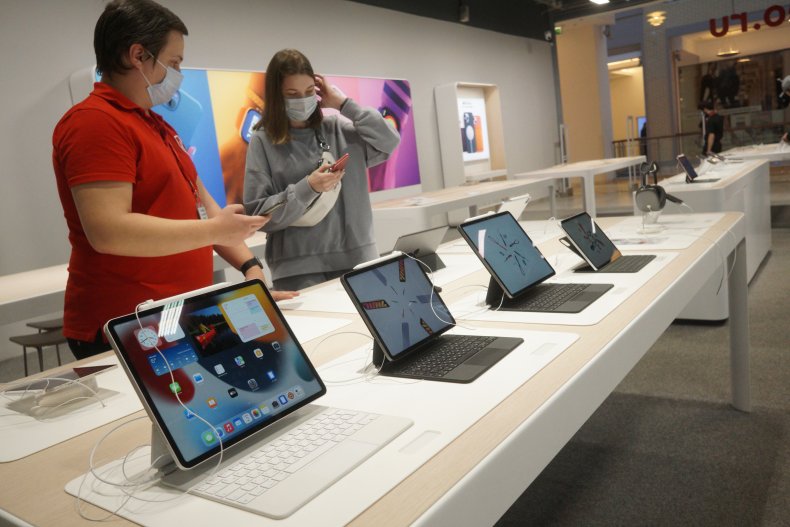 The sanctions are the latest to be placed on Russian companies and individuals since the country invaded Ukraine last month. Despite their drastic nature, there have been signs that the sanctions have proven significant in damaging Russia's economy. On March 23, Russian Foreign Minister Sergey Lavrov said that Moscow was surprised by the increasing sanctions enacted by the U.S. and the European Union.
"When the reserves of the Central Bank were frozen, no one who was predicting what sanctions the West would pass could have pictured that," said Lavrov during a speech at the Moscow State Institute of International Relations.
However, he remained confident that the sanctions will allow Russia to become more self-sufficient.
"The Russian Federation must be made to never again depend on supplies from abroad," Lavrov continued. "Russia has more than enough resources and brains to be self-sufficient."
It is unclear whether other countries will adopt either the U.S. or U.K.'s sanctions, as the European Union has worked closely with both countries to strategize how to reprimand Russia for invading Ukraine.
Update 03/31/22, 1:07 p.m. ET: This article was updated with additional information.