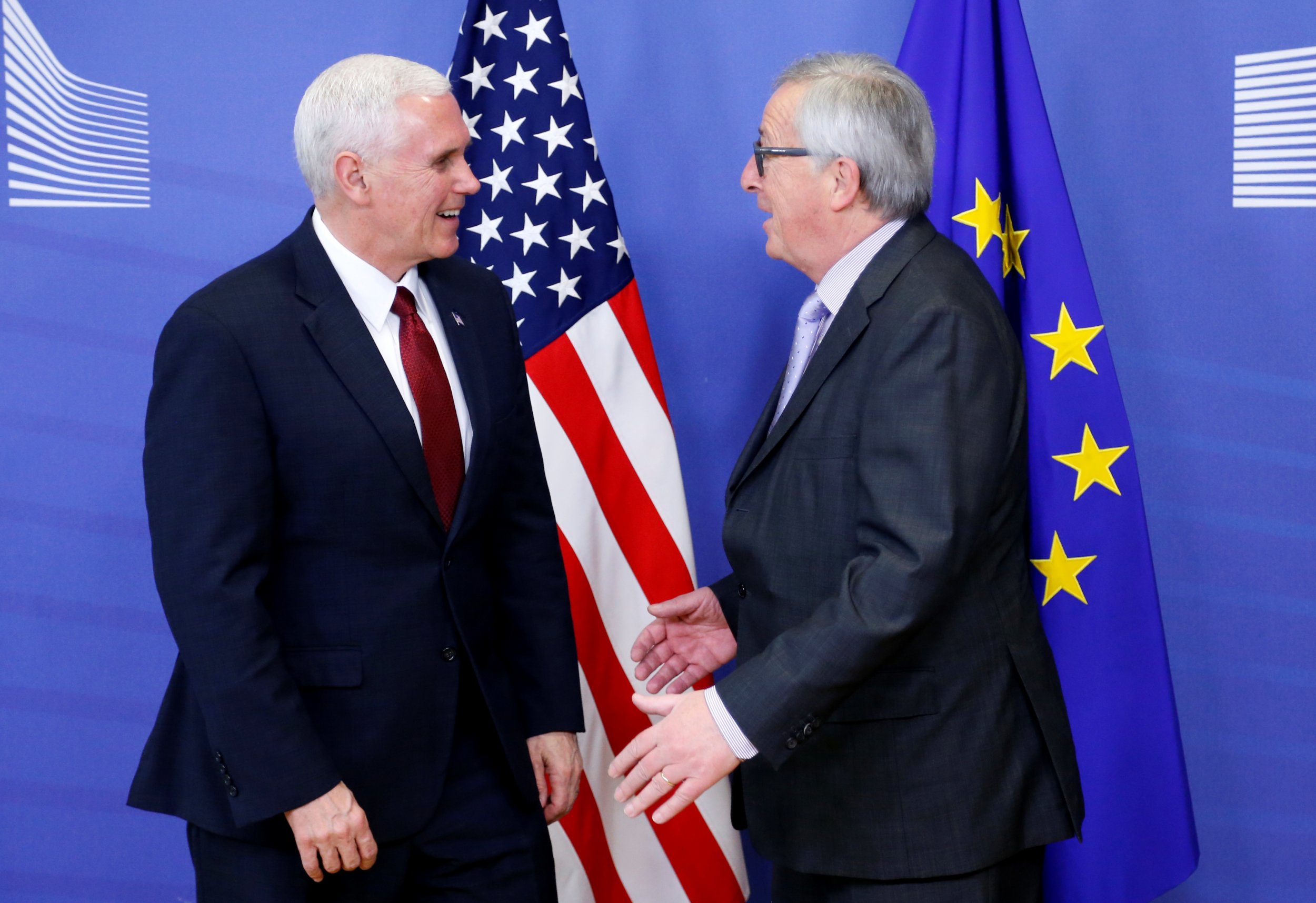 U.S. Vice President Mike Pence is meeting with EU leaders to affirm Washington's commitment to its allies in Europe, after the U.S. defense secretary and secretary of state did the same last week.
Pence claimed to voice President Donald Trump's position when he met with Baltic allies and Ukraine's leadership over the weekend, vowing to "hold Russia accountable." His promise, similar to statements from State Secretary Rex Tillerson and Defense Secretary James Mattis last week, clashed heavily with the persistent but vague position of his boss—Trump.
Trump's statements in favor of Russian President Vladimir Putin have also been dogged by shady links between his campaign team and Kremlin-friendly organizations. His security advisor Michael Flynn lost his job last week after admitting to have mislead both Trump and Pence about his conversations with the Russian ambassador in December.
Shortly after the scandal, Trump's vice president and two of his most important cabinet members embarked on visits to Europe, preaching trans-Atlantic unity and condemning Russia in ways Trump himself seldom has.
After meeting with leaders from Russia's nervous neighbors Sunday, Pence went a step further, pledging to deepen cooperation with the EU at large, meeting with the president of the commission, council and the bloc's top diplomat.
Speaking about collective security, Pence told the President of the European Council Donald Tusk that Washington's plans involved "continuing and expanding" joint efforts to combat extremist, Islamist groups. He also added that the U.S. and EU "must stand strong in defense of the sovereignty and territorial integrity of nations in Europe in the wake of Russian efforts to redraw international borders by force," noting his support for NATO efforts in the Baltics and Poland.
Pence also vowed to "deepen the political and economic partnership" between the U.S. and EU, concluding that the two were "separated by an ocean but we are joined by a common heritage and by a common commitment to freedom, to democracy and the rule of law."
His words to European Commission President Jean Claude Juncker were similar in tone, carrying a message of the "determination of the U.S. to build on the cooperation and partnership with the European community and the EU."
Although in both meetings Pence claimed to represent the position of Trump, the president himself showed no signs of breaking from his campaign behavior as he embarked on another tour of rallies at home.
Over the weekend, he surprised EU member Sweden by listing "what's happening last night in Sweden" as a scene of apparent horror, tantamount to Germany, Belgium and France, which have endured extremist attacks over the last year. After Swedish media and government probed Trump to explain what had happened in their home country that they had all apparently missed, he clarified that the incident in question was his viewing of a report on cable television that indicated that "large-scale immigration in Sweden is working out just beautifully. NOT!"
The president's own attitude to Russia also continues to hang over his administration as he is currently looking for a replacement of national security adviser Flynn, whose conversations with the Russian Embassy became the topic of fierce debate ahead of his early dismissal earlier this month.