U.S. Wildfires Map, Update As California, Oregon and Washington Blazes Burn Nearly 1.5M Acres
Several wildfires are continuing to burn across the U.S. as the Dixie Fire in California is threatening thousands of homes and the Bootleg Fire in Oregon surpasses more than 400,000 acres destroyed.
There are currently 86 active large fires burning across 12 U.S. states, as more than 22,200 wildland firefighters and incident management teams are battling the blazes that have so far burned 1,498,205 acres, with that figure expected to reach 1.5 million on Monday.
Along the U.S. West Coast, California, Washington and Oregon have been badly affected, with nine, 10 and seven blazes burning respectively in the states, according to the National Interagency Fire Center.
As of Monday morning, the Dixie Fire, currently the largest burning in California, has destroyed 190,625 acres in the state while only being 21 percent contained, according to data provided by the California Department of Forestry and Fire Protection (CAL FIRE).
The fire, which began burning in California on July 14, has so far destroyed 16 structures and damaged one more, while it is threatening 10,721 buildings in the Butte and Plumas counties.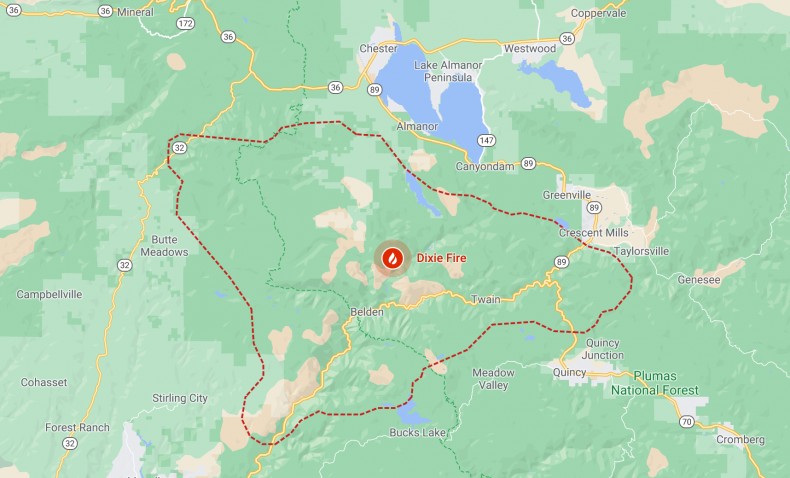 More than 5,000 firefighters and emergency personnel are battling the large fire, as CAL FIRE revealed that several areas of the state including Tehama County are facing evacuation orders as the blaze remains "active" with it closing in on destroying 200,000 acres.
Rick Carhart, spokesman for the California Department of Forestry and Fire Protection, said that it is going to be "a long haul" tackling the fire, as "it has been burning in extremely steep canyons, some places where it is almost impossible for human beings to set foot on the ground to get in there."
On Friday, California Governor Gavin Newsom declared a state of emergency in Alpine, Lassen, Plumas and Butte counties, which allows officials tackling the nine blazes in California to access greater resources.
In Oregon, the Bootleg Fire, currently the largest blaze burning across the U.S., passed more than 400,000 acres burned over the weekend and is currently standing at 408,930 acres, while being 46 percent contained.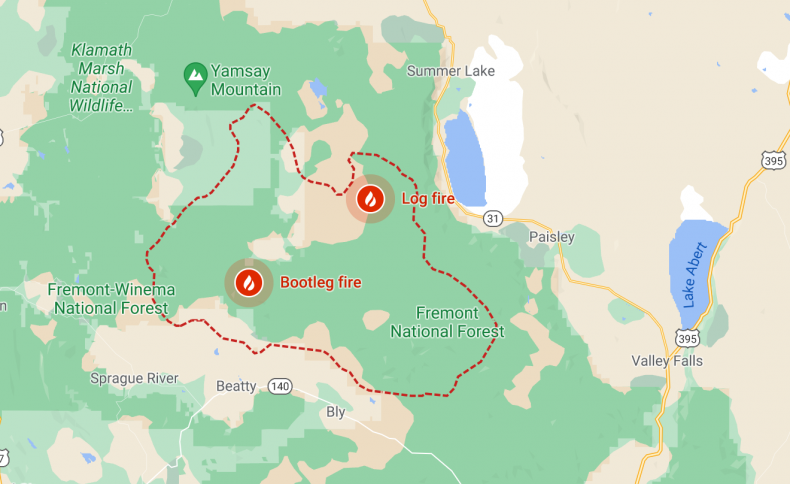 Fire crews have managed to slow down the amount of acres burned by the fire, but it is continuing to destroy areas across the state. It has so far burned more than 637 square miles, which is larger than the city of London in England or Delhi in India.
Oregon Governor Kate Brown told CNN on Sunday that federal and state authorities will need to invest heavily in fire protection, as she warned: "The harsh reality is that we're going to see more of these wildfires.
"They're hotter, they're more fierce, and obviously much more challenging to tackle. And they are a sign of the changing climate impacts."
Washington does not have any blazes close to the same size as the Bootleg and Dixie fires, but is struggling with multiple small wildfires that have broken out across the state.
The Cedar Creek Fire has so far burned more than 22,000 acres while being 11 percent contained, and the Cub Creek 2 Fire is 10 percent contained after burning over 42,000 acres of Washington land.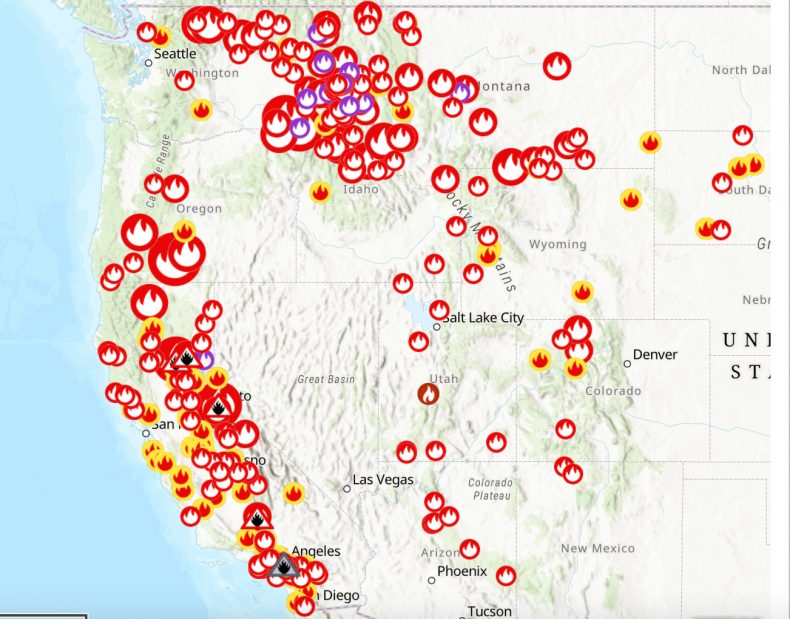 The nine fires currently burning in California have so far burned 324,642 acres, while Washington has seen 126,609 destroyed from 10 blazes and Oregon has recorded 541,336 acres burned from just seven wildfires.
Although a majority of the fires burning are located in Idaho and Montana, with the former currently battling 23 blazes and the latter still tackling 20 wildfires, only 192,889 acres have been burned in Idaho and around 117,000 in Montana.
Across the United States, more acres have burned this year compared to this point in 2020, but less than in 2019. The country recorded 36,467 fires with 2,770,454 acres affected from January 1 to July 19, 2021, according to the National Interagency Fire Center.
That compares to 30,316 fires and 1,930,420 acres for this period in 2020 and 24,809 fires and 3,419,295 acres in 2019.