U.S. 'Will Take Action' if Needed Against Iraq Attack, But Awaiting Details
The White House has said the United States would retaliate against a new round of rocket attacks in Iraq if deemed necessary, but was awaiting an investigation into the responsible party.
The attack Wednesday involved ten rockets that struck Iraq's Ain Al Asad Airbase, where a U.S. contractor died as a result of "cardiac arrest" during the barrage, according to the Pentagon.
It follows a similar incident last month that killed a contractor in the northern city of Erbil, and prompted President Joe Biden to order airstrikes against what his administration identified as two Iran-backed militias in eastern Syria, reportedly killing one militia member and injuring two others.
In the wake of the most recent assault, White House Press Secretary Jen Psaki said a similar response could be carried out, pending an investigation by the U.S. and Iraqi authorities.
"We are still assessing the impact of this latest rocket attack including determining precise attribution, of course, they just happened over the course of last night," Psaki said. "We responded to recent Iranian-backed attacks on coalition and U.S. forces in a manner that was calculated, proportionate and fully covered by legal authorities. That will be our model moving forward."
"If we assess a further response is warranted, we will take action, again, in a manner and time of our choosing," she said, "and we reserve that option."
She said Biden has been briefed on the attack, and more information was needed to avoid a response that would inadvertently worsen the volatile situation.
"What we won't do is make a hasty or ill-informed decision that further escalates the decision," Psaki said, "or plays into the hands of our adversaries."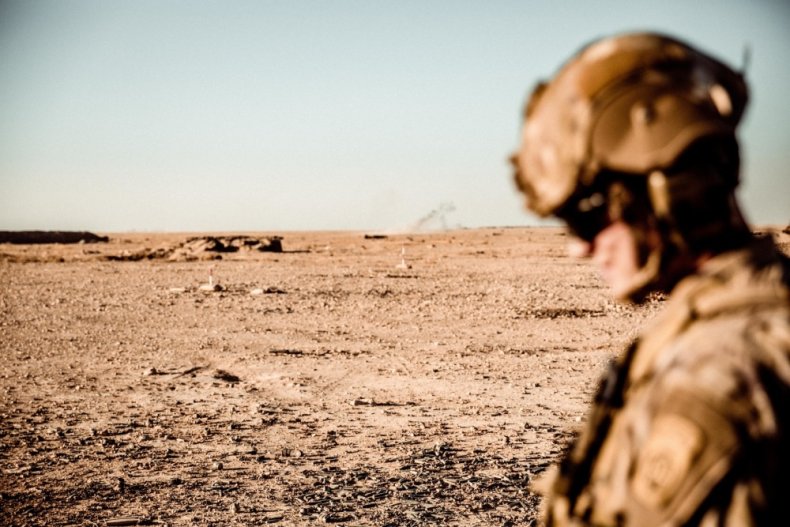 Ain Al Asad Airbase was first taken over by U.S. troops in the wake of the 2003 invasion that toppled then-Iraqi President Saddam Hussein, and was later used in anti-insurgency campaigns against Al-Qaeda and the Islamic State militant group (ISIS), a common foe of Washington and Tehran.
But Ain Al Asad was also the target last year of a powerful Iranian missile attack unleashed as revenge for the U.S. killing of Revolutionary Guard Quds Force commander Major General Qassem Soleimani in Baghdad.
The slaying embodied a high point for worsening tensions between Washington and Tehran since former President Donald Trump withdrew from a 2015 nuclear deal in 2018. The agreement, signed under former President Barack Obama, granted Iran sanctions relief in exchange for severe restrictions on its nuclear program.
State Department spokesperson Ned Price acknowledged the shortcomings of the Trump-era "maximum pressure" campaign during a press briefing later Wednesday.
"Iran has advanced key elements of its nuclear program," Price said. "Of course, it was the United States, not Iran, that became isolated under the previous policy. And of course, as we've been talking about now, these escalations and these provocations by Iran and its proxies started in the aftermath of this maximum pressure policy that did not have any sort of diplomatic offramp."
The Biden administration has said it sought to reenter the agreement but has refused to lift Trump-era sanctions on the Islamic Republic until it complied with nuclear accord measures suspended in the wake of the U.S. exit and non-compliance of European signatories that have failed to normalize trade ties due to Washington's restrictions.
The two sides have so far struggled to overcome the impasse.
Tensions meanwhile continue to play out across the Middle East, affecting other top Iran rivals Israel, whose commercial ship was recently hit by an explosion in the Gulf of Oman, and Saudi Arabia, which has been under frequent attack by the Iran-aligned Ansar Allah, or Houthi, rebel movement that the kingdom's at war with in neighboring Yemen.
Syria and its ten-year civil war have also proven a battleground for geopolitical tensions. After attempting to oust the government by supporting an insurgency, the U.S. has since focused on the anti-ISIS fight by backing a mostly Kurdish militia known as the Syrian Democratic Forces, while Iran and Russia have come to Damascus' aid.
The Syrian government has condemned both Israeli and U.S. airstrikes on its territory, and the country's permanent mission to the United Nations told Newsweek on Wednesday that the Biden administration's decision to strike Syria would have regional ramifications.
"The Syrian Arab Republic has strongly condemned the American aggression against its sovereignty, independence, unity, and territorial integrity as it gravely violates the principles of international law and provisions of the UN Charter," the mission said. "Syria has warned that this aggression will lead to consequences that will escalate the situation in the region and threaten peace and security."