USA's Trayvon Bromell Reacts to Missing Men's Olympic 100m Final
Team USA sprinter Trayvon Bromell has thanked his supporters after failing to qualify for the final of the men's 100 meter sprint at the Tokyo Olympic Games.
The 26-year-old—tipped as a pre-games favorite for the gold medal—was not fast enough to progress from his semi-final race at Tokyo's Olympic Stadium on Sunday.
Bromell posted a time of 10.00 seconds, losing out to Nigeria's Enoch Obaloluwa Adegoke also on 10.00 seconds and Great Britain's Zharnel Hughes who ran 9.98 seconds.
"I want to say thank you to everyone who's been with me on this journey," Bromell wrote on Twitter shortly after the race.
"Lord knows how much I wanted to be in that final. BUT I walk away with a smile because I know I showed many that after 4 years out, you can still fight and make dreams come true," adding "APTTMH," a religious acronym meaning "All Praise to the Most High."
British sprinter Adam Gemili, a former 200m Olympic finalist, showed his support for Bromell.
"People haven't seen the journey brother," he tweeted. "2 years ago you struggled to finished a warm up. From that to aN Olympic Gold Medal contender. Your best is yet to come."
In Sunday's final, Fred Kerley went on to win the silver for Team USA with a time of 9.84 seconds. Italian Marcell Jacobs—who was born in El Paso, Texas—won gold with a time of 9.80 seconds. American Ronnie Baker came in fifth with a time 9.95 seconds.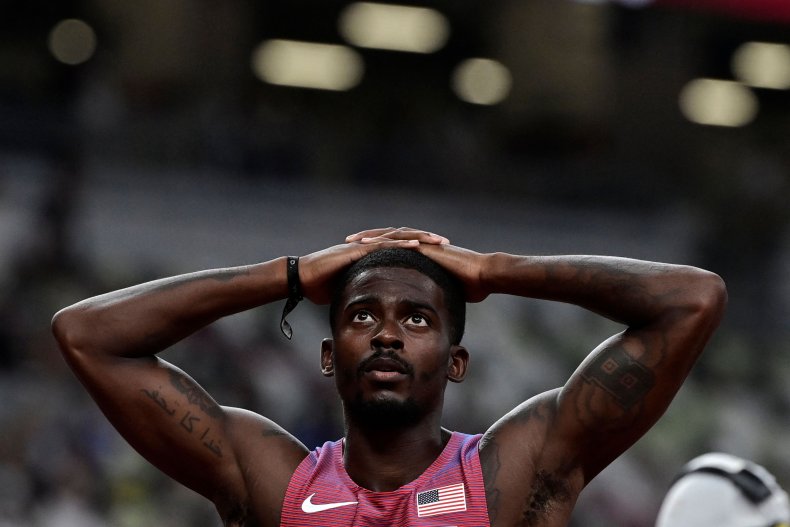 Bromell has beaten both Kerley and Baker at the Olympic Trials recording a time of 9.80, the same time that won Jacobs Sunday's medal.
Bromell had been hoping to be the first 100 meters Olympic champion of the post-Usain Bolt era. The Jamaican sprinting legend won the title in 2008 in Beijing, 2012 in London, and 2016 in Rio de Janeiro.
Bromell sustained an Achilles tendon injury at the Rio games in 2016, leaving the contest in a wheelchair. Bromell tore the tendon running in the final of the men's 4x100 relay race.
Much of the pre-games coverage focused on Bromell's road to recovery, and possible redemption. Bromell had to overcome another injury in 2019—this time to an abductor muscle in his upper leg—and was even told by doctors he would never race competitively again.
An American athlete has not won the men's 100 meters since Justin Gatlin took gold in Athens in 2016. The U.S. teams remain the most successful in men's 100 meters history, winning 39 medals—16 of them gold.