Who Is Lamont Marcell Jacobs? Meet Italy's Texas-Born Tokyo Olympics 100m Champion
Italian sprinter Lamont Marcell Jacobs is the new men's 100 meters Olympic champion, taking gold in Sunday's final with a time of 9.80 seconds.
The 26-year-old was born in El Paso, Texas, to Italian mother Viviana Masini and an American father. Jacobs only lived in the U.S. for a month, moving to Italy with his mother when his father was deployed to South Korea with the U.S. Army.
"It was impossible for us to follow him," Masini told the Corriere della Sera newspaper in March. From then, Jacob and his mother had no contact with his father. "We didn't talk to my dad for many years, I considered him a stranger," Jacobs said.
Jacobs grew up in the town of Desenzano del Garda in northern Italy, on the shores of Lake Garda. Jacobs played basketball and soccer as a child, later taking up athletics. Though born in the U.S., Jacobs told La Stampa earlier this year: "I feel 100% Italian."
Jacobs told the newspaper that it was a sports coach who turned him on to the idea of track and field. "Since I never caught the ball, but I ran fast, he said to me: 'Why don't you try another sport like athletics?'"
Jacobs was initially a long jumper, winning several competitions at the junior and senior levels including at the Italian Athletics Championship in 2016. He switched to sprinting after suffering an injury in 2018. Jacobs bears a tattoo reading "Crazylongjumper" on his chest, the same as his Instagram handle.
It was then that Jacobs moved to Rome to continue his training. He still lives in the city with his partner Nicole and his two children, Anthony who was born in 2019 and Megan who was born 2021. Jacobs has a third child from a previous relationship, Jeremy, who was born in 2013.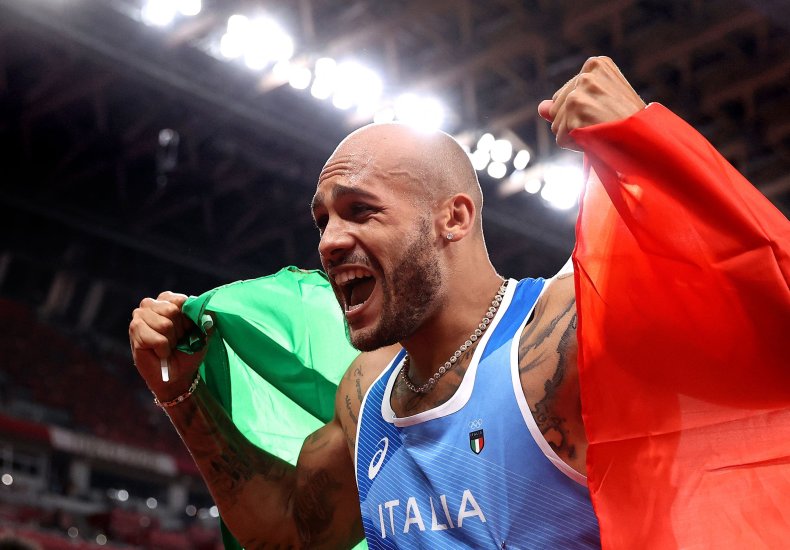 Though considered an outsider for the Olympic 100 meters title, Jacobs has been setting time records over the past 12 months. He is the current holder of the Italian records for the 60 meters (6.47 seconds), the 100 meters (9.80 seconds), and the 4x100 meter relay (38.11 seconds).
Jacobs told La Stampa he is "strong and combative, but also lonely, just like the tiger I tattooed on my back...I don't usually open up very much, but if people know me, they understand that I'm not the person they expected."
After his Olympic success, Jacobs posted a picture of himself imposed on a large gold medal with a two word caption: "ORO OLIMPICO" (Olympic Gold).