Usain Bolt: Sprint Greats Have Their Say On Jamaican's Gold Medal Chances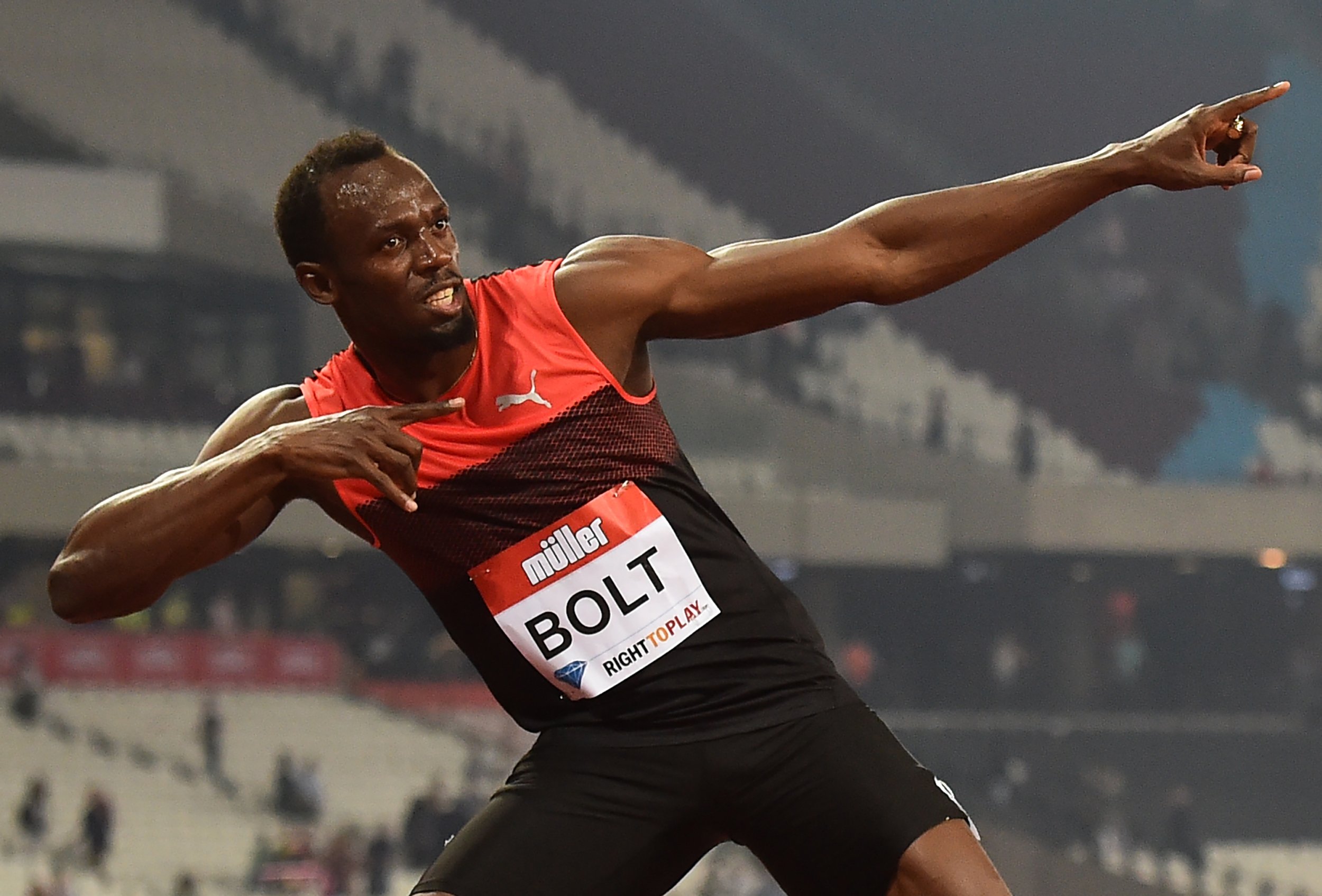 Usain Bolt begins his campaign for an unprecedented three gold medals at three separate Olympic Games in Rio de Janeiro on Saturday.
Bolt won the first of his Olympic 100 meters titles in Beijing in 2008 in a world record time, and followed it up at London 2012 with gold in 9.63 seconds.
That time in London was only just behind the world record Bolt set in Berlin in 2009, a 9.58 seconds that stands to this day.
Can Bolt, at 29 and in his last Olympics, bow out in glory again? Or will his rivals, including Justin Gatlin, finally overtake the Jamaican in a major race? To find out, Newsweek spoke to three of the greatest sprinters of all time, each with a special insight on the world's fastest man.
What is it about Bolt that makes him so good?
Linford Christie (100 meters gold medal winner at the 1992 Olympics in Barcelona, now coach to British sprinter James Ellington): Of course, he (Bolt) is incredibly fast and that is the first component. When he came on the scene he was a 400 and 200 meters runner. Not that I'm comparing myself to Bolt but it is the same path I took, because it was a 200 meters runner and then I became a 100 meters runner.
I always say it's a mistake a lot of people make when they think it's all about speed. Speed without strength is absolutely no good at all. Everybody wants to specialize and run one event but the 200 meters gives you the strength and the 100 meters gives you the speed, so they go hand-in-hand.
The 100 meters is not about how fast you start but how fast you finish. You can be quick as anything at the first part of the race but if you're not quick over all of the race then it's no good at all and I think sometimes people make that mistake.
Bolt is tall and on top of all that height, the speed at which he can turn his legs over are like that of a short person. A freak of athletics in the nicest sense of the word. The guy is huge. They thought I was big but he's even bigger than me.
A lot of the athletes these days believe you need to be big and strong but they go too far one way. They've got too much muscle which you've then got to carry and it's going to go tight.
Donovan Bailey (100 meters gold medal winner at the 1996 Olympics in Atlanta and former world record holder): Ultimately, at 6 foot 5 inches (1.95 meters) he has developed an innate ability to get out of the blocks and get into a drive phase with the shorter sprinters. When he gets to top speed, his stride is about a meter and a half longer than anyone else. He can gap them very easily. It's very much like what I did in Atlanta.
Bolt can make a mistake, he can have a terrible start. But the fact is his stride pattern and gait is so much wider than anyone else who is competing. He is the only sprinter that can make a mistake and win.
The shorter sprinters are always going to have a more consistent start. Just like Ato and Frankie (Fredericks) in my generation, they were always going to have a more consistent start than me. But my gait was so much wider than theirs. That's why the only person even in the same realm as I am in terms of top speed is Bolt.
Ato Boldon (100 meters bronze medal winner at the 1996 Olympics in Atlanta, now lead track and field analyst for NBC's Olympics coverage): Bolt has to take fewer steps to complete the 100 meter dash. At the last Olympics, we saw he takes 41 steps. Just about everybody else takes 43 or 44. When you start with him having to do less work to complete 100 meters, that's why he's lost three 100 meter races and one 200 meter race in the last nine seasons. As everyone who has ever watched him knows, he is a 6 foot 5 inches gentleman who has the stride rate of someone who is significantly shorter. So he has the best of both worlds. When his stride is at its maximum, he is covering more ground than anybody else. But he's also able to effect that stride at a more rapid rate.
In a lot of ways, it's not a fair fight with Bolt against anybody else that he races. He has to have a really bad night, and by that I mean a really problematic start. He has to really buckle in the first 20 or 30 meters. Nobody has ever beaten Bolt by passing him. When Bolt has lost since 2007, it's because he has bungled the first 20 or 30 so he has no pickup in the middle. And then that rush that he has at the end is ineffective, because he has ceded too much time to somebody else having a good night.
How does Bolt's training differ from his rivals?
Christie: Bolt trains the old way with a lot of longer runs, everyone else wants a shortcut running 150 meters and a lot of 60s. They're quick but when it comes to putting it out there (on the track) they are not strong. They haven't got the same speed and strength endurance that Usain has, and that's why he's so much better than anybody else.
Bailey: One of the great things about Usain is that he's a 400 metres runner so it's obvious that he is a big guy who has had years of speed endurance training. And that's still a big part of his training today. When his coaches got hold of his speed and power, it's obvious that was going to translate into the speed you're seeing today.
Bolt might be slowing down at the same pace as everyone else. But if you're slowing down at the same pace as your opponent, and you are a stride ahead of the next guy, you are still going to separate yourself from those people.
Boldon: When we analyze his numbers, his ten-meter segments from zero to 100, when he gets to his top speed which I think is superior to everybody in history not named Donovan Bailey in 1996, he is not going to fall off significantly towards the end. More than any other sprinter, Bolt holds his top-end speed. We know the human body is going to decelerate late, but Bolt is decelerating less than everybody else.
What Bolt is essentially training is the ability to hold top speed. He already has natural top speed that's going to be better than just about anybody else. When he gets in proper shape, what he is able to do is to get to that top speed and hold it. And once he has that, all he waits for is the inevitable. The inevitable is that everybody else in the other seven lanes is going to decelerate more. And that's all the 100 meters is about. Get to the lead and have everybody else decelerate more than you are in the race.
How does Bolt use psychology?
Christie: Aura is a big thing. He is supremely confident and when you run 9.58 you can be extremely confident. That helps tremendously, but with his height and his stature when he walks into a room, everybody thinks, 'Wow, there Usain Bolt' and that creates, for some, an intimidating factor. I think if he was a lot shorter he wouldn't have that same persona. He is easily recognizable.
Bolt has this way of taking people out their comfort zone. He'll stand on his line and he'll do his hair and the lightning bolt thing. Look now and you realize everybody is trying to have some sort of gimmick.
We always say the race is won before you get onto the track. Everybody now is thinking who's going to come second, or that we have to run 9.5 to beat him. No, you don't have to run 9.5 to beat him, you just have to beat him.
The other guys now are doing gimmicks, but you've got to focus just on your lane. Anything to your left or your right is nothing to do with you at all. You don't want to worry about what people are doing. If you watch when I was competing I just stood there, I did not move. I was focused on getting to the finishing line. We are entertainers but everyone now is creating something. They are trying to be Bolts and it is just not them.
Bailey: I was very much like Bolt, relaxed, smiling. Speaking to commentators now, so many of them who know me now say that I didn't look like I was focused. Because I think a lot of the old sprinters looked stiff and serious, and I was never like that. The old days were full of the serious guys.
Linford stood pretty straight and a lot of the Americans were very much the same way. But I was very chilled, I would be the guy talking on the line. So I completely understand where Bolt is coming from. To keep the height of what you want your body to achieve, you can't maintain it for half an hour. That's just ridiculous. It's exhausting. So my focus was when I stepped on the blocks. I was completely at ease until then. That was part of my racing. And when I placed my foot on the blocks it was serious.
Boldon: There's no question he gets inside people's heads. I remember certain sprinters talking about the Carl Lewis era, and it's funny because Carl would beat you in much the same way. He would run you down. They talked about how they knew if Carl was in the race, they were running for second. I never understood that because in my era, we had so much parity anybody could win on any given day. But when I retired and I saw Bolt show up, I realized exactly what this generation has to deal with. It's somebody who has to have such an imperfect night for them to win.
From week to week in my era anybody could win. But nobody is going to beat Bolt when he is on. It has not happened in nine seasons. But these guys train knowing that if he does have a bad night on a big stage, at a big moment, you have to be ready. And I think that's why Justin Gatlin was so frustrated last year at the World Championships. When you've been running 9.7 seconds all year and you catch Bolt on a day where he takes 9.79 to win, and you run 9.8—that's where the frustration was. It doesn't happen often.
What's Bolt like off the track?
Bailey: Bolt has set some incredible records. But he has the personality to boot. He has transcended track and field to become a global star.
The biggest star when I was growing up was Carl Lewis. Definitely, from where Carl took it to, and then Linford and then myself and then the Americans, Bolt has raised the bar exponentially. Carl will always be respected for making track and field professional. You're respected and you're paid accordingly. Linford carried that on and so did I. But Bolt has carried it to another level and that's why he's such an incredible ambassador. But in doing so, he has always respected the 100 meter guys before him. Not only is he a good dude and incredible ambassador and does great things on the track, all around he is just a great kid.
Boldon: I've had the chance to interview him and be around him quite a bit. Bolt has done the most amazing thing. He has converted nervous energy into relaxed energy. He's dispelled this notion that everybody in the sport is uptight and aggressive. We were always told the more relaxed you are, the faster you would be. Yet there we were doing the exact opposite before the race. Bolt has clearly figured out something which I think sprinters had missed prior to him.
Who can rival him in Rio?
Christie: I do believe Bolt's major rival will come from the Americans. If we look at form, there is Gatlin and after what happened last year at the world championships he's going to be up there to correct his mistakes and try be more of a competitive force. Trayvon Bromell's come in and he's a very talented kid, he's young and has no fear. I think it could be one [Olympics] too early for him. He won the world indoors but I think Usain is going to be too strong and too experienced for him this time round. Fingers crossed his time will come.
Bailey: I don't care what Gatlin runs. At some point in the race, he will recognize that Bolt is in the race. I think people, on the whole, don't really understand this. It's the psychology of track and field whereby you cannot make a mistake. If Gatlin is going down the track and an eyelash gets in his eye, that's a distraction. Bolt can do that and still win. Gatlin knows Bolt is a bigger, stronger, faster guy. The psychology that Bolt has over Gatlin and the whole field is crazy. If Bolt makes an incredible mistake he will lose, we know that. But the fact that he's only ever lost a race in one he wasn't actually in, that's a pretty significant resume.
Ultimately, no matter what, Bolt is in Gatlin's head. You can practise all you want at not tightening up, not thinking, about not thinking about whatever else is going on. But what do you do when it's time, at 80 meters and someone is on your shoulders. What do you do. That's the psychological question. At this point, looking at physical times and what Gatlin has done over this year, his consistency and the fact he has put a lot of dark clouds behind him, he's made good with the governing bodies… he has done a good job but ultimately, the race is not on the track only but psychologically.
Boldon: Bolt's last two Olympics have resulted in 9.6 second performances. I wouldn't bet against a 9.6 performance. I have seen nothing from Blake that indicates he's ready to run that fast. His season's best time is 9.9 seconds. The history of people who have that kind of surgery that he is coming off says you never get back to your absolute best, and I think he is proving that to be accurate. I think, if anything, the challenge could possibly come from a Jimmy Vicaut who is running 9.8. But I think it will be tough to run anything much faster. Or a Trayvon Bromell. I don't think Bolt has three threats in this race. I think he has one, maybe two. One being Gatlin. I think the other could be Bromell or Vicaut. It has to be somebody capable of putting distance between themselves and Bolt in the first 60 meters.
There are fans of Gatlin and fans of Bolt, though the fans of Bolt will probably outnumber the Gatlin fans. I don't put them on the level of Darth Vader and Luke Skywalker. Because what is that going to sound like if Justin Gatlin wins the Olympic title this year. I think you would have to be very flawed in your professionalism as a journalist. I get that people think this is a sport struggling for credibility.
People don't want somebody with a drug past to be the champion in a blue riband event. I get that. But at the same time, my allegiance is to the sport. And Justin Gatlin is within the rules to compete. And as a result, I cannot broadcast with what he did or what he was adjudged to have done foremost on my mind. It's going to skew my broadcast. And if Justin Gatlin wins, I would not want to look back at my broadcast and say, well, you did not give him his due because he failed a test in 2005. You're supposed to look at the race objectively, you're not supposed to rule for one side or the other. I was disappointed to see many journalists take a side last year, I don't think it's the way to go.