USC Removes John Wayne Exhibit After Drive to Rename Airport Named for Star
The University of Southern California (USC) School of Cinematic Arts is removing an exhibit dedicated to John Wayne due to renewed outrage over racist remarks made by the long-dead Hollywood star.
The school installed the exhibit in 2012, sitting relatively undisturbed for 7 years. Student activists began calling for its removal last year after Wayne's controversial 1971 Playboy magazine interview resurfaced, which also sparked demands that a Southern California airport named after the actor be renamed.
"Conversations about systemic racism in our cultural institutions along with the recent global, civil uprising by the Black Lives Matter movement require that we consider the role our School can play as a change maker in promoting antiracist cultural values and experiences," Evan Hughes, the school's assistant dean of diversity and inclusion, said in a statement. "Therefore, it has been decided that the Wayne exhibit will be removed."
USC's removed exhibit, which featured a statue of Wayne and several of his personal items before being updated last December to include additional context, will now be housed in the school's archive of Hollywood artifacts being preserved for the purposes of scholarship and research.
"The primary goal of the USC School of Cinematic Arts is to create an environment in which all students feel seen, heard and supported throughout their academic careers; the controversy around the exhibit prevented this from happening," said Hughes in an email to Newsweek.
"As a research institution we promote rigorous scholarship around cinema through multiple lenses," he added. "The John Wayne materials will be available to researchers and scholars to explore the collection and examine John Wayne's place within the history of cinema."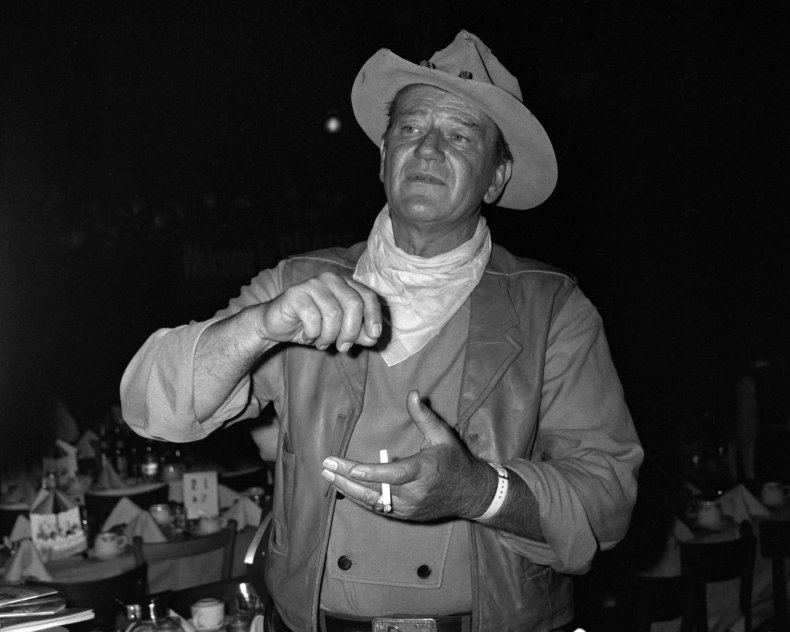 Wayne's remarks in 1971 expressed explicit support for white supremacy, drawing widespread condemnation when the interview went viral on Twitter last year. Demands that Santa Ana, California's John Wayne Airport be renamed were amplified this year in the wake of mass protests against racial injustice sparked by the death of George Floyd.
Late last month, the Democratic Party of Orange County issued an emergency resolution calling for the airport to adopt a new moniker that does not mention Wayne. However, the plan may not come to fruition due to opposition from the county's Republican-controlled board of supervisors.
In the interview, the famed actor took time to denounce "the Indians [who] were selfishly trying to keep" their own lands out of the hands of white settlers, while spending even more time making a series of racist remarks aimed at Black people.
"With a lot of blacks, there's quite a bit of resentment along with their dissent, and possibly rightfully so," Wayne said in the interview. "But we can't all of a sudden get down on our knees and turn everything over to the leadership of the blacks. I believe in white supremacy until the blacks are educated to a point of responsibility. I don't believe in giving authority and positions of leadership and judgment to irresponsible people."
"I don't feel guilty about the fact that five or 10 generations ago these people were slaves. Now, I'm not condoning slavery," he added. "It's just a fact of life, like the kid who gets infantile paralysis and has to wear braces so he can't play football with the rest of us. I will say this, though: I think any black who can compete with a white today can get a better break than a white man. I wish they'd tell me where in the world they have it better than right here in America."
Wayne, whose legal name was Marion Morrison, stood out as a noted conservative in mostly left-leaning Hollywood before his death in 1979. He starred in over 170 films during his career, most famously westerns, winning an Academy Award for his role in 1969's True Grit.
When he wasn't acting, he was an avowed supporter of Hollywood blacklists and other campaigns targeting purported communism in the entertainment industry. Wayne was also reportedly a member of the far-right organization the John Birch Society, before leaving the group when it promoted a conspiracy theory that fluoride was being placed in water was part of a communist plot.