John Wayne's Name May Be Stripped From Airport for White Supremacy Remarks
The John Wayne Airport in Santa Ana, California may revert to its original name of the Orange County Airport.
Friday, the Democratic Party of Orange County (DPOC) issued an emergency resolution to rename the airport, due to a number of racist comments the actor, born Marion Robert Morrison, made.
"Orange County is now a diverse region far different from the time when John Wayne was chosen as namesake for the airport," the DPOC wrote. The John Wayne Airport was given that name in 1979, the same year the actor died.
"There have been numerous calls to remove John Wayne's namesake from Orange County's airport because of Wayne's white supremacist, anti-LGBT, and anti-Indigenous views which were shared in part in a a 1971 interview, where Wayne is quoted saying, 'I believe in white supremacy' and 'I don't feel guilty about the fact that five or 10 generations ago these people were slaves,'" the DPOC added.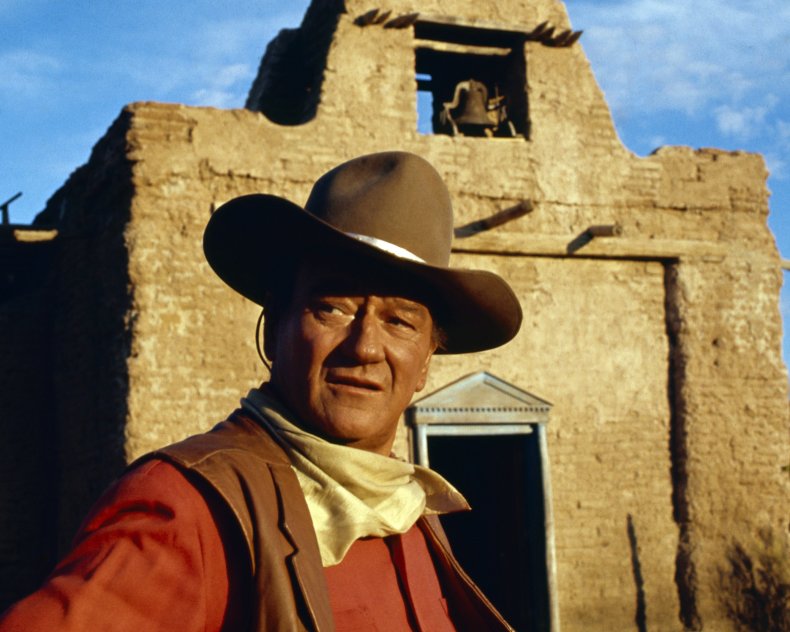 The 1971 interview in question appeared in Playboy magazine. In a question about Black activist Angela Davis saying that some people would revoke her teaching credentials because she is Black, Wayne said he didn't believe in giving authority to "irresponsible" people.
"With a lot of blacks, there's quite a bit of resentment along with their dissent, and possibly rightfully so. But we can't all of a sudden get down on our knees and turn everything over to the leadership of the blacks. I believe in white supremacy until the blacks are educated to a point of responsibility. I don't believe in giving authority and positions of leadership and judgment to irresponsible people," Wayne said.
"I don't feel guilty about the fact that five or 10 generations ago these people were slaves. Now, I'm not condoning slavery. It's just a fact of life, like the kid who gets infantile paralysis and has to wear braces so he can't play football with the rest of us. I will say this, though: I think any black who can compete with a white today can get a better break than a white man. I wish they'd tell me where in the world they have it better than right here in America," he said later in the interview.
In the same interview, Wayne also said "I don't feel we did wrong in taking this great country away from" indigenous people, saying "There were great numbers of people who needed new land, and the Indians were selfishly trying to keep it for themselves."
This is not the first time efforts have been made to change the name of John Wayne Airport. In 2019, there was a push to rename the airport after the Playboy interview resurfaced on Twitter.
Ada Briceño, chair of the DPOC, told the Los Angeles Times, the move to rename the airport is similar to the efforts to rename U.S. military bases named after Confederate figures and pull down statues of Confederate leaders. Briceño said it's part of "a national movement to remove white supremacist symbols and names [that are] reshaping American institutions, monuments, businesses, nonprofits, sports leagues and teams."
Newsweek reached out to John Wayne Enterprises, LLC, for comment. This story will be updated with any response.
Wayne started his acting career in 1929, appearing in the film Words and Music as Duke Morrison. He was given the stage name John Wayne in his next role, and his first starring role, in 1930's The Big Trail. Though that film flopped commercially, after his breakout role in 1939's Stagecoach, directed by John Ford, with whom Wayne would work nearly two dozen more times. For much of his career, Wayne appeared in the Top Ten Money Makers Poll of films between 1949 and 1971, appearing more times than any other actor.
He was a staunch anti-communist, and appeared in the film Big Jim McLain as an investigator for the House Un-American Activities Committee (HUAC). Wayne also produced that film, which he made to show his loyalty to the HUAC's actions.
On May 26, 1979, his 72nd birthday and two weeks before his death of cancer, Wayne was awarded the Congressional Gold Medal. A year later, on June 9, 1980, President Jimmy Carter posthumously awarded Wayne the Presidential Medal of Freedom. Both medals are the highest civilian awards given by the U.S. government.
In 1999, the American Film Institute named Wayne the 13th Greatest Male Screen Legend. In his career, Wayne won one Best Actor Oscar for the 1969 film True Grit, directed by Henry Hathaway. Wayne made over 170 films throughout his career, and though the final film he starred in is The Shootist in 1976, Wayne voiced Garindan in Star Wars, though his voice was processed.
Update (4/27/2020, 11:10 p.m.): This article has been updated to include more information about John Wayne's career.