USDA Finds Numerous Starved and Ailing Animals at 'Tiger King' Zoo
An unannounced June 22 inspection by the U.S. Department of Agriculture (USDA)'s Animal and Plant Health Inspection Service (APHIS) at Jeff Lowe's G.W. Exotic Animal Park, the Oklahoma-based wildlife attraction featured in Netflix docuseries Tiger King, found numerous instances of animal neglect and abuse.
The APHIS's report said that the park, formerly known as the Greater Wynnewood Exotic Animal Park, kept injured and sickly animals in unsanitary and dangerous living conditions.
Around June 13, a 17-year-old male tigon—a tiger and lion hybrid—named Young Yi allegedly died of renal failure, an inability of the kidneys to remove toxins from the blood. The tigon had not been given veterinary care in the last four months of its life.
"He had no teeth," a representative from the park texted investigators. "At this age, most of them pass on due to renal failure. We could tell by the appearance of his urine."
The animal hadn't ingested the usual amount of water that an animal of its size should have during its last few days, investigators said.
The corpse of Young Yi was left partially burned and rotting near a woodpile alongside another tiger corpse, leaving "a foul odor of decomposing flesh and many flies."
An approximately 16 week-old lion cub named Nala was reportedly "lethargic, depressed, and thin and would not get up out of the mud from a sitting position" when called by investigators. She had rapid, shallow breathing and discharge accumulating in her nose and eyes.
Two old, arthritic wolves that had been isolated from the other wolves had pressure sores on their back ends. Neither been given medicine prescribed by a veterinarian nor proper bedding to help alleviate their joint pain. The wolves slept on concrete floors with just a few strands of hay.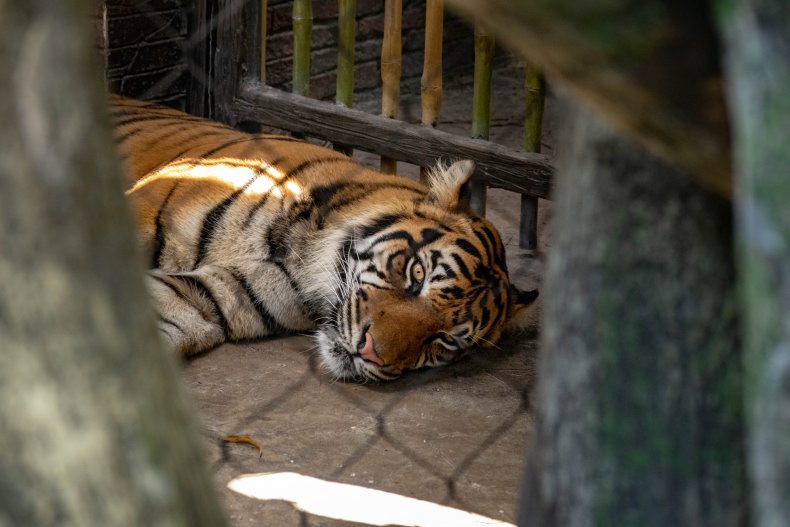 Two grizzly bears were so thin that their spines and hip bones were easily visible through their skin, possibly due to internal parasites or inadequate diet. The bears exhibited neurotic behaviors, such as repeatedly pawing through the bars, suggesting "captive psychosis," a mental condition that occurs when enclosures are too small or the animals aren't mentally stimulated.
A Fisher Cat—a small, carnivorous mammal that looks a bit like a river otter—had a disabled left rear leg and thinning hair. The lemur cage had rusty jagged metal edges and other cages in which the park's porcupines, kangaroos, tigers and primates lived had openings that could injure their limbs.
Inspectors told park operators to provide proper veterinary care and to rebuild enclosures to ensure animal safety by the end of June. It's unclear if the park met all of the inspectors' required measures.
Newsweek contacted the park and the USDA for comment.
The park's owner, Jeff Lowe came into possession of the park after Joseph Maldonado-Passage, the park's previous owner who is known as "Joe Exotic", accepted Lowe's offer to help resolve financial troubles after Carole Baskin, an animal rights activist, sued Maldonado-Passage for copyright infringement.
In April 2019, Maldonado-Passage was found guilty of eight violations of the Lacey Act, a federal law prohibiting the illegal acquisition and transport of rare animals, and nine violations of the Endangered Species Act for killing five tiger cubs. He has publicly appealed to Trump for a pardon.
Lowe's park came under investigation in late June after animal rights activists shared videos of juvenile lions allegedly living at the park and suffering from medical neglect.