USPS Board Backs DeJoy Despite Calls to Resign From Congressional Dems
U.S. Postmaster General Louis DeJoy received the support of the United States Postal Service (USPS) Board of Governors on Friday.
DeJoy was appointed by President Donald Trump in May to take the reins of the USPS which has faced financial shortfalls and strong competition from other delivery services. Trump has claimed that the USPS cannot handle the volume of mail that would result from widespread mail-in voting, a method Trump has claimed would cause election fraud. Most studies have shown little to no evidence of widespread fraud stemming from mail-in voting. Democrats have alleged that Trump and Postmaster DeJoy are working together to prevent Americans from voting by mail.
DeJoy's budget cuts to the USPS have also resulted in slower service, causing some individuals to receive much needed medications later than anticipated. Democrats have called for DeJoy's resignation. In face of opposition against DeJoy, the USPS Board of Governors said Friday that he had their "full support."
"Postmaster General Louis DeJoy has the full support of the Governors," a joint statement released Friday said. "He was selected to help bring needed changes to the Postal Service, which has experienced a decade of financial losses and faces the need for fundamental reform. The essential public service functions of the Postal Service must be maintained, and the Postmaster General's reform initiatives will help ensure that they can be for many years to come."
The Governors said that any American that wants to vote by mail "will be able to do so and have their votes counted."
Democrats have pushed for an expansion of mail-in voting nationwide by saying that in-person voting could present a health threat due to the potential spread of COVID-19.
DeJoy's budget cuts included the removal of mail sorting machines from postal hubs and post offices and the removal of mail collection boxes in some states. In response to criticism about the institutional changes, DeJoy announced a suspension of the budget cuts on Tuesday.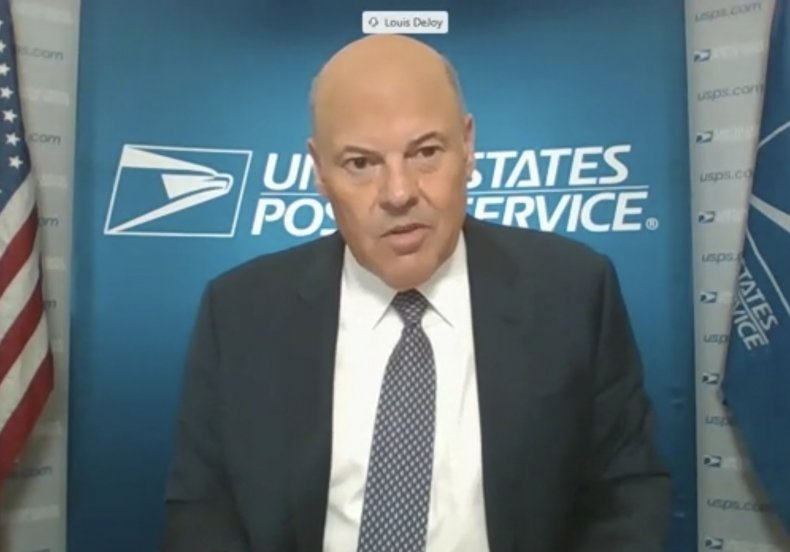 Democratic Speaker of the House Nancy Pelosi said DeJoy's decision was "wholly insufficient and does not reverse damage already wreaked" in a Wednesday statement. Citing a personal conversation between DeJoy and herself, Pelosi said DeJoy "frankly admitted that had no intention of replacing the sorting machines, blue mailboxes and other key mail infrastructure that have been removed." Pelosi said DeJoy's changes would prevent mail being delivered in a timely fashion.
"All of these changes directly jeopardize the election and disproportionately threaten to disenfranchise voters in communities of color," Pelosi said.
Newsweek reached out to Speaker Pelosi's office for further comment.
During a Congressional hearing on Friday, DeJoy said the mail sorting machines would not be replaced because "they're not needed." DeJoy also told lawmakers that his policy about voting by mail had not changed.
"I think the American public should have the opportunity to vote by mail," DeJoy stated.
In their version of a second coronavirus stimulus package, Democrats proposed a $25 billion allocation to the USPS and $3.5 billion to assist election processes on a state level. President Trump said in August that he would veto such a measure in order to thwart mail-in voting.
"They need that money in order to have the post office work so it can take all of these millions and millions of ballots," Trump said in an interview with Fox Business. "If they don't get those two items, that means you can't have universal mail-in voting because they're not equipped to have it."
On that same day, Trump said during a press conference that he would not specifically veto any coronavirus economic stimulus package that included USPS funding.
"But one of the reasons the post office needs that much money is they have all these millions of ballots coming in from nowhere and nobody knows from where and where they're going," Trump told reporters.