USPS Employee Arrested After Mail Found Next to Dumpster in New Jersey
A United States Postal Service (USPS) employee has been charged over bundles of discarded mail found abandoned near a dumpster outside a shopping center in New Jersey.
The letters were found wrapped in rubber bands by officers in North Arlington, Bergen County, on Friday. USPS was alerted and the items were collected. The recovered mail was returned for delivery after copies had been made as evidence.
Among the 1,875 pieces of mail were "627 pieces of first class, 873 pieces of standard class, two pieces of certified mail, 99 general election ballots destined for residents in West Orange, and 276 campaign flyers from local candidates for West Orange Town Council and Board of Education," the U.S. Attorney's Office for the District of New Jersey said in a media release.
"Nicholas Beauchene, 26, of Kearny, New Jersey, is charged by complaint with one count of delay, secretion, or detention of mail and one count of obstruction of mail," the U.S. Attorney's Office stated.
If found guilty for delay of mail, Beauchene faces a "maximum penalty of five years in prison and a $250,000 fine. The obstruction of mail charge is punishable by a maximum penalty of six months in prison and a $5,000 fine."
A statement released by North Arlington Police on their Facebook page said: "On Friday October 2, 2020, at approximately 3:10 pm, the North Arlington Police Department received a report of mail located in a dumpster behind a local business at 19 Schuyler Ave.
"Officers responded and once on scene did observe several loose (rubber banded) bundles of mail, as described by the caller, which were secured accordingly.
"The U.S. Postal Police were contacted, responded and took possession of all mail items located. The incident is being investigated by the U.S. Postal Police, Office of the Inspector General."
According to the New Jersey News 12, the mail was destined for residents in nearby West Orange.
Bergen County board of election commissioner, Rich Miller, told the news station that his district expected over 500,000 ballots.
"When dealing with that much paper, there'll be missteps," he said. "We are trying to safeguard ballots and do the best job possible."
USPS spokesperson George Flood told Newsweek: "The mail that was recovered in North Arlington was reported, collected and delivered. This matter was then turned over to our Office of Inspector General. We are unable to comment further at this time."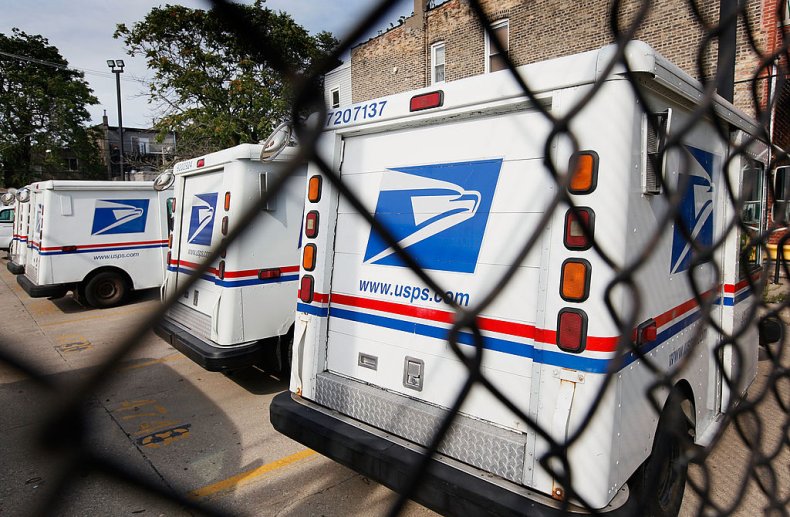 The incident comes amid heightened scrutiny of the USPS, which is facing huge demand with an unprecedented number of mail-in ballots expected ahead of this year's general election.
This is driven in part by the coronavirus pandemic, which has left many voters favoring voting by mail rather than in person on November 3.
In North Carolina, around 11,000 voters were mailed pre-filled voter registration forms with incorrect information, according to the North Carolina State Board of Elections (NCSBE).
While in Indiana, vote-by-mail requests are being sent in record-breaking numbers amid a push by Democrats and Republicans for people to register to cast their absentee ballot in the state.
Counties have reported all-time highs in requests for such ballots, with Lake County announcing that it is expecting nearly five times the number of its previous record high in 2008.
Update 10/7/20, 12:45 p.m. ET: This article was updated with new information on an arrest made in this case.