USS John S. McCain: Singapore Leads Search and Rescue for Missing U.S. Navy Sailors
A search-and-rescue operation is underway for 10 missing sailors after the U.S. Navy destroyer USS John S. McCain collided with an oil tanker east of the Strait of Malacca and Singapore.
Singapore is leading the efforts, deploying a combination of helicopters and vessels, and the U.S. Navy said a helicopter and an aircraft had been deployed to support in the operation. Four of the five injured sailors were taken to Singapore General Hospital, while the fifth did not require medical attention.
The incident happened around 5:30am local time and is now being investigated by the Singaporean Marine and Port Authority (MPA). The USS John S. McCain was heading to Singapore for a routine port visit when it collided against the Alnic MC, a Liberian-flagged 600-foot oil and chemical tanker with a gross tonnage of 30,000, which was heading to Singapore from South Korea.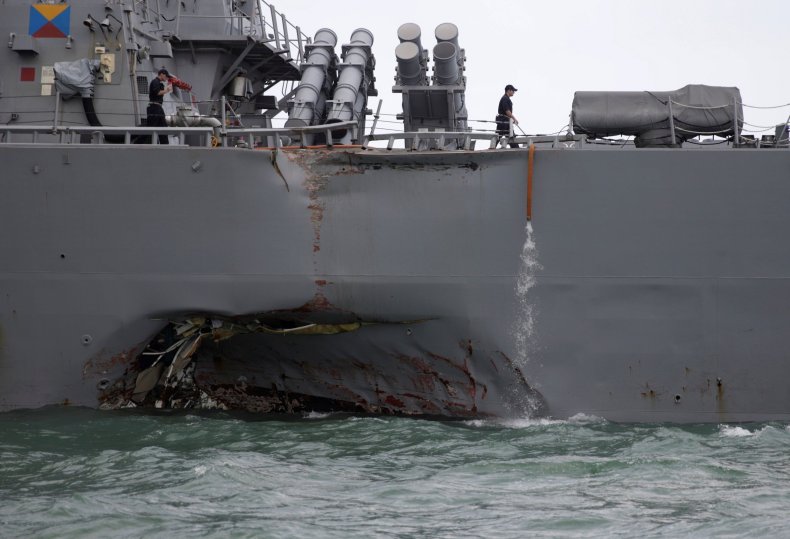 Get your unlimited Newsweek trial >
The USS John S. McCain sustained damage and requested assistance, according to statements from the U.S. Navy and the Singaporean government. The oil tanker suffered damage to her Fore Peak Tank above the waterline, but no crew members were injured and no oil leaking has been reported.
In a statement, the U.S. Navy said: "USS John McCain has arrived at Changi Naval Base. Significant damage to the hull resulted in flooding to nearby compartments, including crew berthing, machinery, and communications rooms. Damage control efforts by the crew halted further flooding."
According to reports from White House pool reporters, President Donald Trump's initial reaction to news of the incident was "That's too bad."
Get your unlimited Newsweek trial >
He later put out a statement on his personal Twitter account: "Thoughts and prayers are with our US Navy sailors aboard the USS John S. McCain where search and rescue efforts are underway."
Republican Senator John McCain, whose father and grandfather were the veteran Navy admirals who lent their names to the ship, also wrote a message on Twitter. "Cindy & I are keeping America's sailors aboard the USS John S McCain in our prayers tonight - appreciate the work of search & rescue crews," he said, mentioning his wife, Cindy McCain.
Usually stationed in the Pacific, the USS John S. McCain conducted a "freedom of navigation operation" earlier this month—the third since Trump became president—in the South China Sea, coming within 12 nautical miloes of an artificial island built by China to reinforce its territorial claims over the disputed waters, in a move that angered Beijing.
Read more: Trump's response to the crash of the USS John McCain left reporters baffled
This is the second naval incident in two months involving a U.S. Navy destroyer in the Pacific. Seven U.S. Navy sailors between the ages of 19 and 37 years died in June, when the U.S. Navy destroyer USS Fitzgerald collided with a merchant vessel near the coast of Japan.
The U.S. Navy found in its investigation that the collision was "avoidable." "Both ships demonstrated poor seamanship. Within Fitzgerald, flawed watch stander teamwork and inadequate leadership contributed to the collision," it said in a statement on Thursday, announcing that the leaders of the destroyer had been dismissed from their duties as a consequence.
USS John S. McCain: Singapore Leads Search and Rescue for Missing U.S. Navy Sailors | World