Utah's Republican Governor Spencer Cox deplored the "deeply troubling" political polarization in America on Sunday, saying that partisanship has impeded his state's vaccination rate and other efforts to curb the virus.
"Politics is becoming religion in our country," Cox said on CBS' Face the Nation. "Politics is becoming sport and entertainment in our country. That everything is political. It is a huge mistake, and it's caused us to make bad decisions during this pandemic and in other phases of our life as well. It is deeply troubling."
In May, Biden set a benchmark to fully vaccinate 160 million adults and ensure 70 percent receive their first dose by the Fourth of July, but the country is still at least weeks away from the goal. 149 million adults are now fully vaccinated and around 66.7 percent have received at least their first shot, according to the Centers for Disease Control and Prevention.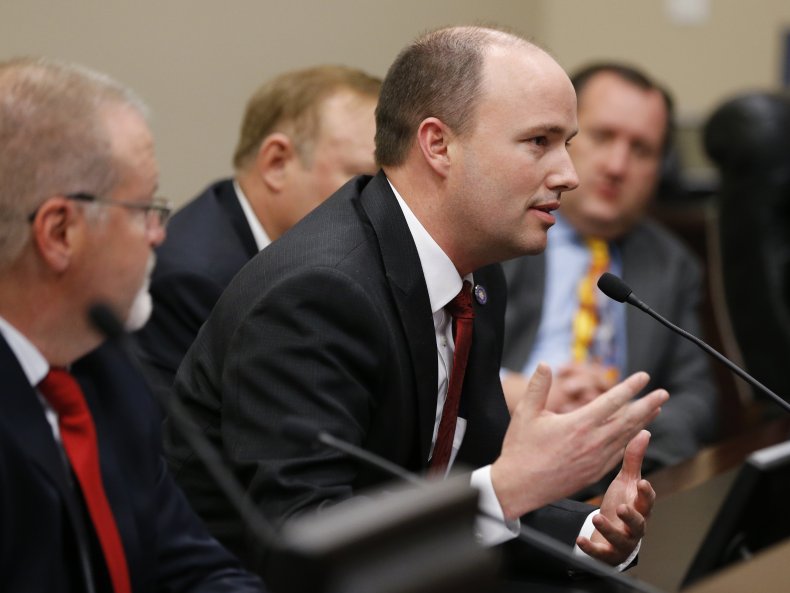 A new Washington Post-ABC News poll indicated a strong resistance to the vaccine among Republicans, with only 45 percent saying they received their first dose compared to 86 percent of Democrats. 20 states—including California, Delaware, Hawaii, Minnesota, New York and Pennsylvania—have reportedly reached Biden's 70 percent goal, but Utah, a conservative-leaning state with a high portion of younger people, fell below the nation's 64 percent average.
The survey results came amid warnings from President Joe Biden and Dr. Anthony Fauci that the Delta variant, also known as B.1.617.2, is more contagious than other variants and poses a greater threat to unvaccinated people.
U.S. Surgeon General Vivek Murthy warned on Friday that the Delta variant was "doubling nearly every two weeks" and will continue to spread rapidly in areas with low vaccination rates. CDC Director Dr. Rochelle Walensky said that an estimated 25 percent of all active cases of COVID-19 were due to the variant.
Cox expressed concern about the threat and called on vaccine-skeptics to "get the vaccine now." He added, "It's very simple and very easy. Those are deaths that don't have to happen, hospitalizations that don't have to happen."
Fauci appeared on NBC's Meet the Press on Independence Day to warn of expected virus spikes in areas with low vaccination rates. He also urged conservatives and anti-vaxxers to "put aside their differences" and get vaccinated.
"We're dealing with a historic situation with this pandemic and we do have the tools to counter it," he said. "So for goodness sake, put aside all of those differences and realize the common enemy is this virus and we do have the tool, a highly effective tool, against this virus."
Newsweek reached out to Cox's office for further comment. This story will be updated with any response.