COVID Conspiracy Theorists Repeatedly Entering Utah Hospital Over False Claims, Officials Warn
Conspiracy theorists are trying to gain access to a hospital in Utah over unfounded rumors that their intensive care units are not at near-capacity as a result of COVID-19.
Utah Valley Hospital administrator Kyle Hansen said people have been sharing videos online of empty waiting rooms as proof that hospitals are not overwhelmed with COVID patients.
Others have even lied about having symptoms to gain entry to the building, with hospital staff fielding some telephone calls from people regarding similar false conspiracy theories.
Speaking at a Provo City Council online meeting, Hansen explained that the hospital classes itself at near-capacity if there is not enough staff to deal with the number of patients, rather than the number of free beds.
"I want the community to know that it's true what is being said," Hansen said.
"We are very stretched and our staffs are at this point in the year very exhausted. We are utilizing lots of resources to try and help combat that, including contracted nurses from out of state who are here helping us provide care."
Hansen said they know of at least five occasions where people had entered the building under false pretenses to try and prove their fake theories, but had been made aware of others via social media.
Hansen added while these people aren't "beating down the doors at every entrance," it still proves a major challenge and irritant for the hospital and its staff.
Hansen said that they have also had to change certain security measures and may also implement stricter management of the hospital's entrances.
"Trying to chase people out of here that are trying to gain access for reasons that are not legitimate, not appropriate, is a waste of everybody's time," Hansen said.
"We certainly ask for the help of those that might be thinking about doing that, to spend their time doing something else."
Hansen added that doubts about the severity of the COVID-19 pandemic may have been amplified as it is an election year.
"I've never seen such distrust of the scientific community and the healthcare experts who are trying to be visible and trying to be a voice for what is happening and what's going on," Hansen said.
"The politics have gotten involved in this, unfortunately, where really they should not have and that's made the misinformation part that much more difficult."
Utah is one of a number of states experiencing a sharp rise in new COVID-9 cases. It has recently introduced a new mask mandate in order to help stop the spread.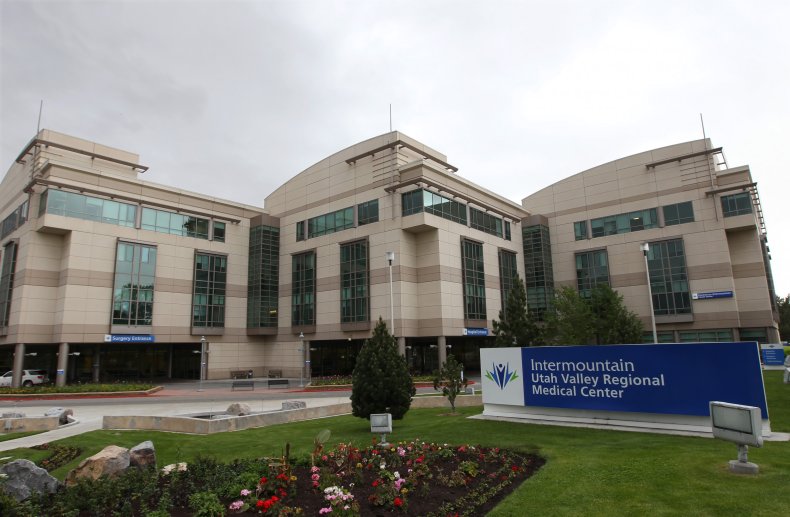 In a statement about the conspiracy theorists to Fox 13, Intermountain Healthcare, which operates Utah Valley Hospital, said: "Although these situations are few and isolated, stopping attempts to gain inappropriate access and responding to fake conspiracy theories diverts attention from providing lifesaving care provided at the hospitals.
"COVID-19 is real and the hospital is seeing large increases in patients with the virus. Staff are stretched and are working many extra hours to meet community needs.
"We ask the public to join with us, mask up, wash hands, social distance, and stay home when sick so we can overcome the challenges of this pandemic in our communities."
This graph, provided by Statista, shows how U.S. COVID-19 hospitalizations have soared to record highs.