Utah Monolith Disappearance Prompts Theories of Aliens, The Grinch And More
In another bizarre 2020-ism, the mysterious monolith discovered last week in a Utah desert has vanished prompting people to offer up even more bizarre theories as to where it went.
Utah's Bureau of Land Management, which administers the area, has said that the object was removed "by an unknown party."
"[We] did not remove the structure which is considered private property," a Bureau of Land Management spokesperson said in a statement. "The structure has received international and national attention and we received reports that a person or group removed it on the evening of 27 November."
Officials added that they do "not investigate crimes involving private property"—they are "handled by the local sheriff's office."
Utah helicopter pilot Ryan Bacher told local news outlet KSL that he visited the monolith Friday, but 24 hours later when his friend went to see it, it had vanished.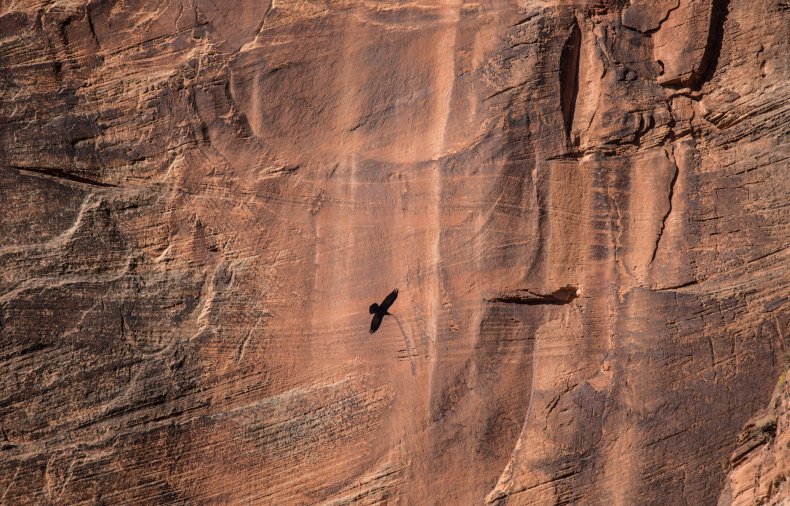 "Twenty-four hours later, my close friend, who is also a helicopter pilot, flew his family down to see as well and found it taken down," he said.
The Utah Department of Public Safety's helicopter crew first discovered the 10 to 12ft tall installation on 18 November during a count of bighorn sheep.
Photos posted to social media show that some rocks and a small silver pyramid-shaped object are all that seem to have been left behind.
Some have speculated that the object is the artwork of the late sculptor, John McCracken. However, a spokesperson for gallerist David Zwirner told The Guardian that it isn't but then told the New York Times that it could be.
One person tweeted: "Relax. The prophesy foretells that we'll be fine as long as nothing happens to the mysterious monolith in Utah."
Many have unsurprisingly attributed the mystery to extraterrestrials.
While another person suggested it was The Grinch that stole the monolith.
Blink 182 singer Tom DeLonge even claimed responsibility.
Regardless, the monolith's origins remain unknown. The helicopter pilot that discovered it, Bret Hutchings spoke of his excitement at spotting such a sight in the wilderness.
"One of the biologists spotted it, and we just happened to fly directly over the top of it," Hutchings told KSL. "He was like, 'Whoa, whoa, whoa, turn around, turn around!' And I was like, 'What.' And he's like, 'There's this thing back there – we've got to go look at it!'"
He said last week that the structure was "about the strangest thing that I've come across out there in all my years of flying."
"We were kind of joking around that if one of us suddenly disappears, then the rest of us make a run for it," Hutchings said comparing the installation to the famous monolith in Stanley Kubrick's 2001: A Space Odyssey.